Notebook: Phinisee makes key plays in IU's first road win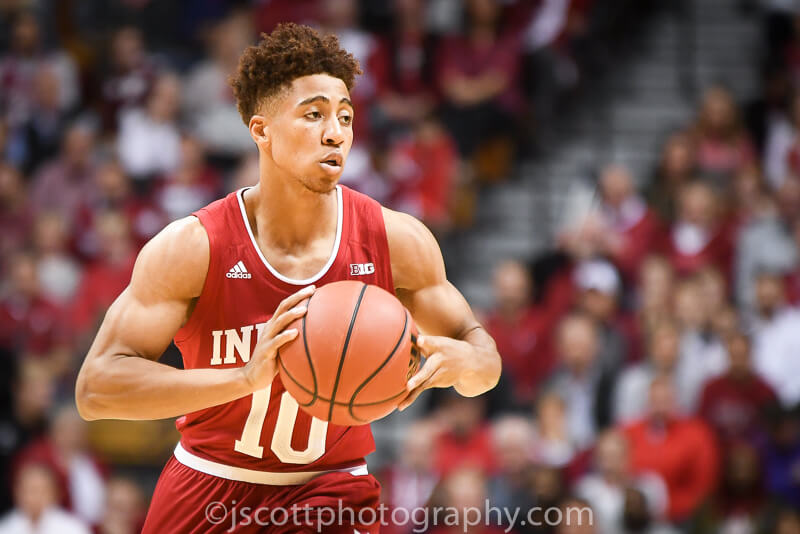 STATE COLLEGE, Pa. – Indiana was seemingly in control with just under four minutes to play at the Bryce Jordan Center.
A quick run from Penn State hauled the Nittany Lions right back into it, however. After having a comfortable nine-point lead with just under four minutes remaining, Indiana found itself clinging to a two-point lead with just 1.7 seconds remaining.
Someone needed to make a defensive play with Penn State inbounding from under the hoop to prevent a shot that could have forced overtime or even sent the Hoosiers home with a loss. It was freshman point guard Rob Phinisee that made that defensive play to seal a 64-62 Hoosiers (7-2, 2-0 Big Ten) win over Penn State (4-4, 0-2 Big Ten).
"Coach [Miller] drew it up before they actually ran it, so we had an idea of what was going on," Phinisee said of the final sequence. "I wasn't suppose to switch but I did, I saw Justin (Smith) was held up on the screen… I knew where the ball was coming and I knew Lamar Stevens was probably getting it, so I just made a play on the ball.""
It wasn't just on defense that Phinisee made an impact on Tuesday night, though.
Indiana has been searching for a third viable option on the offensive end of the floor throughout the opening month of the season.
Archie Miller's Hoosiers likely aren't going to be where they want come March if star freshman Romeo Langford and senior Juwan Morgan are being expected to carry the load every night with sporadic contributions from the rest of the lineup.
In the final 20 minutes of Tuesday night's often ugly contest, the Hoosiers may have found that third regular contributor in Phinisee.
With Morgan questionable with a right leg injury until just before tip, Tuesday night in Happy Valley was a great time for Phinisee to step up and complement Langford and Morgan on the offensive end of the floor.
While Langford led the Hoosiers with 17 points, Phinisee was a key contributor in the deciding moments of the game. He finished with 12 points – tied for second most on the team – 10 of which came after halftime. Being more aggressive and recognizing isolation situations when defensive attention was elsewhere was key to the effort.
"[Rob] was a lot more aggressive, he had a lot better pace about him in transition," Miller said. "He was downhill a lot more in the second-half, being aggressive at the rim.
"I thought he got into the paint much more than he had been getting into the paint. He made plays, he did a nice job for us. He got to the basket in transition, he got to the basket late. He made some really big plays for us in the middle of that second half where he was able to score the ball which he hadn't been doing."
After leading all scorers with 15 points in the first half, Langford went quiet in the second half with just two points. So the contributions from Phinisee were needed to help close the game out. Shooting 4-of-9 from the field, Phinisee put in a strong effort into what was a decent night shooting the ball from the field for the Hoosiers following the horrific 1-of-11 start to the game.
"Rob came up clutch down the stretch for us when we weren't really getting that many points and they started to make a comeback," Langford said. "He had a big three and two big layups."
Filed to: Robert Phinisee