6-Banner Sunday: One final week before long-awaited season opener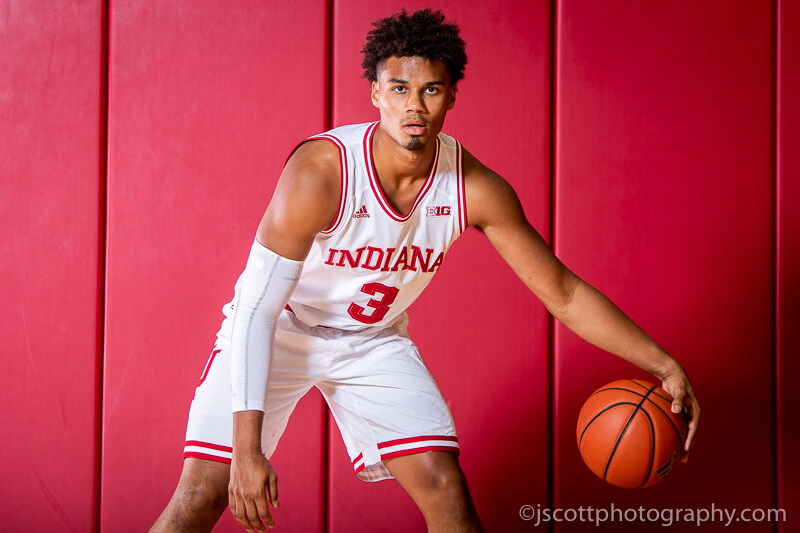 6-Banner Sunday is Inside the Hall's weekly newsletter in partnership with The Assembly Call. More than 6,000 Indiana fans receive the newsletter each week. In addition to appearing each week on the site, you can also opt to receive 6-Banner Sunday by email. A form to subscribe via email is available at the bottom of this week's 6-Banner Sunday.
Welcome to another edition of 6-Banner Sunday, a joint production between The Assembly Call and Inside the Hall where we highlight the six most essential IU basketball stories of the past week.
It's finally here!
Indiana will participate in a closed scrimmage later today against Loyola Chicago, then will take the court at Simon Skjodt Assembly Hall this Thursday for its only exhibition game against Southern Indiana.
Below, check out some season preview content to get yourself in the right frame of mind for basketball season.
In this week's edition:
• Inside the Hall Player Previews
• College Basketball Corruption Trial Verdict
• Podcast on the Brink mailbag; "The Matchup" debut
• Big Ten Power Rankings
• IU Men's Soccer wins Big Ten Championship
• Hoosiers in the NBA; Oladipo's Album
Banner #1
Inside the Hall Player Previews
With the season drawing ever closer, Inside the Hall is well into its annual preseason player profiles. Profiles on Devonte Green, Al Durham Jr., Clifton Moore, Justin Smith, and Race Thompson were posted in the last week.
Ben Ladner dove deep into what to expect from Smith this season. He's particularly intrigued by Smith's defensive potential.
Even if Zach McRoberts remains Archie Miller's preferred option on scoring wings, Smith could emerge as Indiana's most dynamic and important defender. His versatility increases Miller's lineup flexibility, as he can trust Smith to handle any defensive assignment handed to him. Last season, Smith played mostly at power forward and emerged as a crucial piece of small, fast lineups featuring Juwan Morgan at center – a look to which Miller should return to this season. He'll likely spend more time on the wing this year, defending more perimeter-oriented players and clearing more room in the frontcourt for Indiana's bundle of forwards.
My profile of Green also previewed the importance of the point guard position for Indiana.
The production Indiana gets out of the point guard position could similarly impact this year's team. Green has been locked in a battle for the starting job and for minutes with freshman Rob Phinisee and sophomore Al Durham Jr. With a potentially game-changing shooting guard added to the squad in Romeo Langford, Indiana's ability to set him and Juwan Morgan up for success could define this year's team.

Miller, a former guard himself, knows the importance of strong guard play.

"We came down to so many games in the last four minutes, and that's usually when it comes down to winning time," Miller said at IU media day. "And I always say if you've got great guards the last four minutes of the game, you trust those guys to make the plays."
Wyandotte Safety Solutions is your one-stop shop for safety training and safety products. WSS offers CPR & First Aid training, fall protection, and lift training. We also sell PPE, AEDs, and First Aid supplies.
We are an Indiana company serving Indiana and all of North America. Check out our website for more information: ptsarcflash.com.
Banner #2
College Basketball Corruption Trial Verdict
A verdict was reached on Wednesday in the college basketball corruption trial. All three defendants — James Gatto, Christian Dawkins and Merl Code — were deemed guilty of wire fraud and conspiracy to commit wire fraud. All three face prison time.
The universities were deemed as the victims in the case, as Adidas fraudulently paid recruits behind the schools' backs. How this impacts NCAA amateurism rules and how the NCAA enforces its rules, along with how (if at all) it will impact Adidas' relationships with its flagship schools, remains to be seen.
Sports Illustrated legal analyst Michael McCann effectively summarized where this verdict leaves things, and what impact the decision will have on the sport.
While the NCAA was not a party in this trial, its ability to enforce compliance of rules stands to gain from it. The fact is, agents, sneaker executives and coaches will now be much less likely to "bribe" recruits. They know it's possible that federal informants are watching. And they know they could face years in prison if caught. For that same reason, recruits and their parents can expect fewer offers of payments.
Rob Dauster of NBC Sports released a podcast with Jason Belzer, an attorney who represents several college basketball coaches, about the trial and the verdict. Belzer's law background provides a different perspective to the case, making it well worth listening to.
Banner #3
Podcast on the Brink mailbag; "The Matchup" debut
This week's Podcast on the Brink was basically a double episode.
In the first part, Alex and Jerod answered listener questions about various aspects of Indiana basketball heading into the season. Some of the topics discussed include free-throw shooting, IU's supporting cast behind Romeo Langford and Juwan Morgan, Indiana's crunch-time lineup, and more.
In the second part (starting at 53:40), Ben and I debut our new podcast, "The Matchup." Throughout the season, we'll record episodes discussing recent and upcoming key matchups for the Hoosiers.
To start things off in this episode, we overviewed IU's schedule and took a deeper look at some of the bigger games on the calendar, including Marquette, Duke, Louisville, Michigan, Purdue, and others. This opening episode is the only time we'll be combined with a POTB episode — going forward, our podcasts will stand alone in the POTB feed.
Additionally, the Assembly Call guys were joined by Chronic Hoosier for this week's edition of Assembly Call Radio. Jerod, Andy, and Chronic discussed the verdict of the college basketball corruption trial as well as Indiana's outlook for the upcoming season and some favorite memories.
Banner #4
Big Ten Power Rankings
Heading into the start of the season, Inside the Hall power ranked the Big Ten for the first time this year. Indiana checked in at No. 3, behind Michigan and Michigan State. Wisconsin, Nebraska, and Purdue followed the Hoosiers in that order.
Alex wrote that Indiana's biggest unknown is at point guard, which will be crucial to the success of Juwan Morgan and Romeo Langford.
The Hoosiers boast what is arguably the best duo in the league in Juwan Morgan and Romeo Langford and have upgraded their overall talent significantly over last season. Justin Smith appears primed for a breakout as a sophomore and beyond Langford, the Hoosiers welcome several four-star recruits who could contribute right away. But is Devonte Green ready to grab the reins at point guard? It won't take long to find out as he'll go head to head with Markus Howard (Marquette) and Tre Jones (Duke) in the first month of the season.
Alex said that despite losing key players, Michigan needs to be taken as a very serious threat to win the Big Ten.
After a run to last season's title game, the Wolverines also have plenty to replace. Muhammad-Ali Abdur-Rahkman, Duncan Robinson, and Moritz Wagner are all gone, but Michigan returns the league's best defensive point guard in Zavier Simpson and one of the league's best forwards in Charles Matthews. Sophomore Jordan Poole should thrive in an expanded role and freshman Ignas Brazdeikis could be the league's best freshman not named Romeo Langford. John Beilein has proven that he's one of the top coaches in the country and we're betting that he once again molds Michigan into a contender.
Banner #5
IU Men's Soccer wins Big Ten Championship
After falling just short of a national championship a year ago, Indiana Men's Soccer is out for revenge. IU reclaimed the outright Big Ten Championship for the first time in eight years with a 1-0 win over Ohio State on Wednesday. The No. 2-ranked Hoosiers can complete a perfect Big Ten season with a win over Michigan State on Sunday.
Jeremy Price wrote of the step forward in IU's quest for revenge and a ninth national championship for Hoosier Sports Report.
Despite not losing a match until the national championship a year ago, the Indiana men's soccer team failed to bring home a single trophy.

The second-ranked Hoosiers took the first of what they hope to be three steps in righting that wrong on Wednesday night, clinching the outright regular-season Big Ten championship with a 1-0 victory at Ohio State.

"It's great (to win the title), the guys have been so close the last couple years," IU coach Todd Yeagley said. "We felt every game this year we were really focused on having a moment like this, and I'm super happy for the seniors in particular because of how good they've been in the course of their time here, and this Big Ten run is quite special, this streak we have. To get rewarded with the trophy was great."
Banner #6
Hoosiers in the NBA; Oladipo's Album
Several former Hoosiers were in the same NBA arena on Friday when the Sacramento Kings defeated the Washington Wizards. Yogi Ferrell and Troy Williams each played 12 minutes off the bench for the Kings. Ferrell shot 2 for 3, including 1 for 2 from 3-point range, for six points, along with one rebound and one assist. Williams made his only shot, a 3-pointer, and added a rebound and a steal. Thomas Bryant didn't play for the Wizards, but it's probably the highest number of former Hoosiers you'll see in any one game this year.
Victor Oladipo had two solid games this week in a loss to the Minnesota Timberwolves and a win over the San Antonio Spurs. Against Minnesota, Oladipo put up 20 points, seven rebounds, and three assists. He recorded 21 points, five rebounds, and nine assists against the Spurs.
It was a notable week for Oladipo off the court as well. On Thursday, he announced his upcoming album, "V.O." and released a single from the album, "Connected" featuring PnB Rock. The release got coverage from Billboard.
Branching off of "Connected," the Indiana Pacers' star guard is readying a Songs About You EP follow-up with his V.O. debut album. Oladipo is yet to announce a concrete release date, but informed Billboard that R&B titans Trey Songz and Tory Lanez will guest on the anticipated effort.
And with that, the joy of hanging Banner #6 is now one week closer.
Thanks for your continued support for The Assembly Call and Inside the Hall. We'll be back next weekend with a new roundup.
Now go enjoy yourself a 6-banner Sunday. If you'd like to receive this newsletter in your inbox each Sunday, please enter your email address below:
Filed to: