Preseason Bracketology: 13-16 Seeds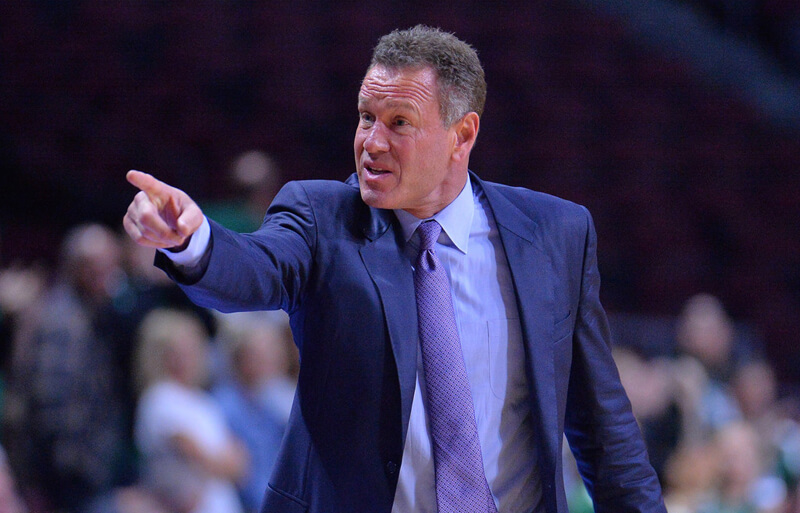 Editor's Note: We're excited to welcome Andy Bottoms and his terrific Bracketology insights back to Inside the Hall for the 2018-19 season. Andy is a longtime friend of the site and a co-host of The Assembly Call postgame show. He's also one of the Web's best and most respected bracketologists.
In just over one week, the college basketball season officially tips off, so it's time to go on record with some preseason bracket projections. This set of projections are the toughest to do because there simply isn't actual data to use. Early season results provide the opportunity to overreact, but at least those overreactions are based on things we've actually seen as opposed to complete speculation. Ultimately that's why I rarely produce another set of projections until after the first of the year.
In terms of methodology, I try to absorb as much preseason content as I can, whether that's online or in print, data-driven or subjective. I review the 1-353 rankings that many sites are posting and look through past performance, returning production, and potential breakouts for the teams that profile as contenders in their league or the at-large pool.
No matter how futile this preseason exercise may seem, it's one I always enjoy. From a practical standpoint, it helps to build my initial list of teams to monitor as the season begins. But above and beyond that, it gets me excited for the upcoming season.
The field will be released over the next four days, hitting four seed lines at a time. So without further ado, here's a look at the 13-16 seeds, who represent my picks to win the automatic bids in their respective conferences.
16 Seeds
Bethune-Cookman (First Four) – The Wildcats tied for the MEAC Championship in coach Ryan Ridder's first season and will be aiming to grab the school's first NCAA tournament bid this season. The duo of Isaiah Bailey (16.1 ppg, 5.3 rpg, 4.8 apg) and Shawntrez Davis (14.7 ppg, 8.7 rpg, 1.2 bpg) provides a formidable 1-2 punch to go along with reigning MEAC defensive player of the year Soufiyane Diakite, who nearly averaged a double-double last season. Perennial contender North Carolina Central and Norfolk State feel like the teams most likely to challenge Bethune-Cookman for league supremacy.
Grambling (First Four) – APR issues rendered the Tigers ineligible for the post-season a season ago, but that didn't stop them from winning the SWAC regular season title. Senior Ivy Smith, Jr. (16.7 ppg, 5.0 apg, 2.1 spg) is the straw that stirs the drink on both ends of the floor. A pair of other starters return along with a number of important role players, which should put Grambling firmly in the mix at the top of the SWAC. Prairie View A&M, Arkansas-Pine Bluff, and Texas Southern rounded out the top four in the league last year and should be a cut above the rest this season as well.
St. Francis, PA (First Four) – I have yet to find anyone other than the Red Flash picked to win the NEC this year and for good reason. They return three starters who scored at least 14 points per game in 2017-18, led by All-Conference performers Keith Braxton and Jamaal King. The 6-foot-5 Braxton tallied 15 double-doubles on his way to averaging 17.2 points and 9.5 rebounds as a sophomore, while King scored 18.2 points per game and led the team in assists. St. Francis had by far the most efficient offense in the league last season, and there's no reason to believe that will change this time around.
Lehigh (First Four) – Bucknell ran away with the Patriot League last season but should take a step back this year. Lehigh appears poised to take advantage of the opportunity with four players back who averaged at least 9.3 points last season, led by guard Lance Tejada, who scored 14.7 points per game and knocked down over 45 percent of his 3-pointers. Forward Pat Andree also hit at over a 40 percent clip from long range and grabbed nearly six rebounds per game as well. Boston, Bucknell, and Colgate should also be in the Pat League mix.
Hartford – After improving their win total by 10 a season ago, the Hawks will be looking to take the next step in 2018-19. Hartford returns four starters, including three who averaged at least 13.4 points last year. Senior forward John Carroll led the team in points (15.2 ppg) and rebounds (6.4 rpg), while point guard J.R. Lynch leads a senior-laden backcourt. The Hawks need to improve defensively to unseat Vermont, who lost just one conference game last year. The Catamounts lost the America East player of the year but still have plenty of firepower with a healthy Anthony Lamb leading the way.
Radford – The Highlanders finished second in the Big South but claimed the auto-bid by winning the conference tournament, and with six of their top seven scorers returning, a return trip to the Big Dance seems like a good bet. Do-it-all forward Ed Polite, Jr. (13.3 ppg, 7.9 rpg, 1.9 spg) will lead the way and should challenge for conference player of the year honors, and the backcourt is in good hands with the duo of Carlik Jones and Donald Hicks. Don't be surprised if Radford wins the league by multiple games, as the gap between the Highlanders and the rest of the conference feels relatively wide.
15 Seeds
Rider – All five starters return from a squad that tied for the MAAC regular season, led by Dimencio Vaughn, who led the team in points (16.1 ppg), rebounds (6.7 rpg), and steals (1.8 spg). In all, the Broncs bring back five double-digit scorers and six players who averaged at least seven points, and that depth will once again prove important for a team that ranked among the top ten in the nation in tempo. Canisius and Iona look like the biggest threats to Rider's hopes at back-to-back regular season titles.
Lipscomb – The Bisons went dancing for the first time last season, and with their top six scorers all back in the fold, it seems unwise to bet against a return trip. The headliner is senior Garrison Mathews (21.7 ppg, 5.5 rpg), who leads the way for Lipscomb's uptempo attack. Just in case that wasn't enough, they also return Nathan Moran, who led the team in assists in 2016-17 but missed last season due to injury. Rob Marberry (15.9 ppg, 5.8 rpg) shot over 60 percent from the field last season and provides another strong offensive option. Florida Gulf Coast has been the team to beat in the Atlantic Sun the last few years and won't relinquish their spot atop the league quietly.
Wright State – Two teams set themselves apart in the Horizon League last season, with Northern Kentucky winning the regular season by one game over Wright State, who won the conference tournament. The Raiders lose leading scorer Grant Benzinger but are hopeful that Drake transfer Billy Wampler will pick up the slack. Sophomore big man Loudon Love nearly averaged a double-double as a freshman with 12.9 points and 9.7 boards per game. Wright State finished just outside the Top 50 in adjusted defensive efficiency, which will allow them to stay in games while the offense sorts itself out. Northern Kentucky will also be in the mix once again with senior Drew McDonald leading the way.
Stephen F. Austin – The top three scorers are back from a team that won 28 games a season ago, led by Shannon Bogues (15.4 ppg) and Kevon Harris (14.5 ppg, 5.5 rpg). Throw in defensive stalwart TJ Holyfield (12.9 ppg, 6.4 rpg, 1.3 bpg), and you have a pretty formidable trio that coach Kyle Keller can surround with solid role players. The Lumberjacks led the nation in defensive turnover rate last season, and the depth is there to maintain their aggressive, uptempo style of play. Southeast Louisiana seems like SFA's primary competition for the Southland title after winning the regular season crown last year.
14 Seeds
Grand Canyon – New Mexico State has owned the WAC in recent years, but Dan Majerle has led Grand Canyon to at least 22 wins in each of the last three seasons. The top returnees are Alessandro Lever (12.2 ppg, 4.4 rpg), who earned WAC freshman of the year honors last season, and do-it-all junior Oscar Frayer (9.6 ppg, 5.2 rpg). Majerle will need some of his talented newcomers to step in immediately, most notably Western Washington transfer Trey Dreschel as well as Michael and Tim Finke. Michael is a grad transfer from Illinois, while his younger brother Tim becomes one of the best recruits Majerle has landed during his time at Grand Canyon. Based on recent history, New Mexico State cannot be counted out despite losing four starters.
UC Irvine – The Anteaters return their top eight scorers from a team that finished just one game behind Big West regular season champ UC Davis, so it doesn't feel like a stretch to assume they can finish atop the league this time around. The defensive efficiency numbers are solid thanks to the fifth best effective field goal percentage defense, while Evan Leonard and Tommy Rutherford both scored at least 10 points per game and knocked down at least 39.6 percent from beyond the arc. That said, the conference race should be an interesting one with Cal St. Fullerton, UC Davis, and UC Santa Barbara all capable of winning the league.
Georgia State – The Panthers finished second in the regular season before winning the Sun Belt tournament to earn the automatic bid. They return a significant portion of last year's roster as Ron Hunter will field a team full of juniors and seniors. Guard D'Marcus Simonds is the headliner after scoring over 21 points per game last season on his way to being named the conference's top player. Simonds also chipped in nearly six rebounds per contest to go with 3.4 assists, and his overall game was on display during a 32-point outburst against Cincinnati in the NCAA tournament. He'll be flanked by a trio of seniors who averaged at least 9.6 points for a team that ranked just outside the Top 100 in adjusted offensive and defensive efficiency. Louisiana and Georgia Southern seem like the only teams capable of keeping Georgia State from winning the league.
Belmont – Once again it looks like Belmont and Murray State will be the class of the Ohio Valley Conference. Despite losing three starters, I'm giving the nod to the Bruins based largely on the coaching acumen of Rick Byrd who enters his 33rd season at the helm in Nashville. Belmont will undoubtedly be led by senior Dylan Windler, who averaged 17.3 points, 9.3 rebounds, 2.7 assists, 1.0 steals, and 0.9 blocks while knocking down over 42 percent from long range. He scored in double figures in 31 of 33 games and tallied 15 double-doubles. Fellow senior Kevin McClain (12.6 ppg) is the other key returnee, as Byrd will look to integrate a number of new faces with a handful of veterans.
13 Seeds
UNC Greensboro – The Spartans have won 52 games over the last two seasons, including last year when they claimed but the regular season and tournament titles in the Southern Conference before giving Gonzaga all they could handle in the first round of the NCAA tournament. Leading scorer Francis Alonso (15.2 ppg, 3.0 apg) returns to lead the offensive attack, but defense is UNCG's calling card. The Spartans finished 26th in adjusted defensive efficiency last season, ranking 35th or better in effective field goal percentage, turnover rate, and defensive rebounding rate. Expect a close race at the top of the league, as there isn't much separation between UNC Greensboro and Wofford.
South Dakota State – Two-time Summit League Player of the Year Mike Daum will look to make it a three-peat to cap off a tremendous college career. He averaged 23.9 points and 10.3 rebounds last season, while knocking down over 42 percent from long range and 85 percent from the foul line. Fellow senior David Jenkins (16.1 ppg, 3.2 rpg) provides additional offensive punch for the Jackrabbits, who won 19 of 20 games before losing to Ohio State in the NCAA tournament. Virtually every preview I've seen has pegged SDSU to win the Summit League once again, but South Dakota and Denver appear the most likely to challenge for the automatic bid.
Montana – The Grizzlies went 16-2 in the Big Sky last season and return six of their top seven scorers, led by a trio of players who averaged at least 12.8 points. Ahmaad Rorie (17.2 ppg, 3.7 apg) led Montana in points and assists, while backcourt mate Michael Oguine (15.8 ppg, 5.5 rpg, 1.4 spg) is the reigning Big Sky defensive player of the year. Junior Jamar Akoh (12.8 ppg, 6.6 rpg) provides an inside presence for the Grizzlies, who will be looking to get back to the NCAA tournament for a second straight season. Like a number of these other mid-major teams, Montana is a unanimous pick to win their league, but if any team is going to unseat the reigning champs, it would seem to be Weber State.
Harvard – Virtually everyone is back from a team that tied for the Ivy League championship last season, led by junior forward Seth Towns (16.0 ppg, 5.7 rpg), who was named Ivy League player of the year. Fellow juniors Bryce Aiken and Chris Lewis both averaged at least 12.8 points, although Aiken missed roughly half of last season with knee issues. The Crimson finished just outside the Top 50 in adjusted defensive efficiency, but the offense ranked nearly 250th, leaving plenty of room for improvement there. While Harvard appears to be the class of the Ivy League, Penn and Yale are the most likely to challenge Tommy Amaker's squad.
Follow Andy on Twitter (@andybottoms) for more thoughts on college hoops and to receive an update whenever new brackets are posted.
(Photo credit: Sam Wasson/Getty Images North America)
Filed to: 2018-2019 bracketology