6-Banner Sunday: Captains announced as top prospects remain uncommitted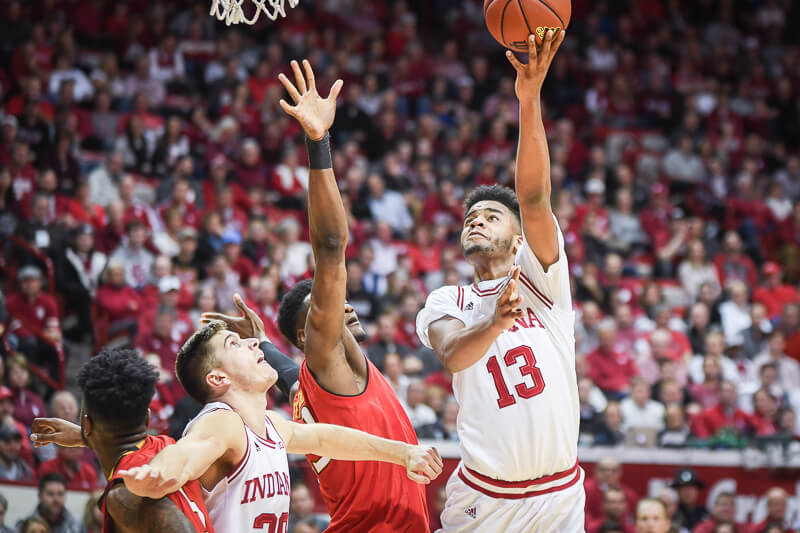 6-Banner Sunday is Inside the Hall's weekly newsletter in partnership with The Assembly Call. More than 5,800 Indiana fans receive the newsletter each week. In addition to appearing each week on the site, you can also opt to receive 6-Banner Sunday by email. A form to subscribe via email is available at the bottom of this week's 6-Banner Sunday.
Welcome to another edition of 6-Banner Sunday, a joint production between The Assembly Call and Inside the Hall where we highlight the six most essential IU basketball stories of the past week.
The start of another Indiana basketball season is now less than a month away. The gap between Hoosier Hysteria and the first game of the year tends to create equal amounts of excitement and impatience.
Until November 6, when the Hoosiers host Chicago State in the season opener, that eagerness can be satiated only by news and notes from the team, the recruiting trail, and around the Big Ten.
In this week's edition:
• Morgan & McRoberts named team captains
• Suspense builds around Brooks and Jackson-Davis
• Inside the Hall previews the Big Ten
• Hoosiers gearing up for NBA season
• Anunoby remains away from Raptors in wake of father's death
• IU posters and schedule cards still available
Banner #1
Morgan & McRoberts named team captains
Seniors Juwan Morgan and Zach McRoberts were named team captains for the 2018-19 season this week, the team announced Monday.
Both players were regular starters on last year's team and figure to be key pieces on this year's squad. Given their experience and talent, Morgan and McRoberts will be expected to lead both by word and by example this season.
"Juwan and Zach have shown the qualities that you would expect from experienced players in the program," Archie Miller said. "They lead by example on the floor every day with their work ethic and in the locker room by not being afraid to hold their teammates accountable in representing the standards we expect when you wear Indiana across your chest."
McRoberts started 17 games, averaging 2.8 points and a team-high 1.3 steals per game. While his minutes may be slightly dialed back this season to accommodate the incoming wing talent on IU's roster, his defense and energy will be vital to the team's success.
Morgan, who was named to the All-Big Ten second Team last season, averaged 16.5 points and 7.4 rebounds while shooting nearly 58 percent from the floor as a junior. He projects to carry a significant responsibility on both ends of the floor again this season.
So far it looks like he is ready to do exactly that. Archie Miller announced last night that Juwan was awarded the first Gold Jersey of the season following the first week of practice. Archie noted that Morgan was +31 better than the next closest competitor. That's how a captain sets the tone for a new season.
Wyandotte Safety Solutions is your one-stop shop for safety training and safety products. WSS offers CPR & First Aid training, fall protection, and lift training. We also sell PPE, AEDs, and First Aid supplies.
We are an Indiana company serving Indiana and all of North America. Check out our website for more information: ptsarcflash.com.
Banner #2
Suspense builds around Brooks and Jackson-Davis
Top recruits Keion Brooks and Trayce Jackson-Davis remain uncommitted. The two attended Hoosier Hysteria on their official visits to IU last weekend.
"The atmosphere was crazy," Brooks said of the event in an interview with Rivals.com, noting his appreciation for the fans' support of him. "It was just a very humbling experience, and that's something that will stick with me for the rest of my life."
Brooks also has unique connections to Indiana, as IU assistant coach Ed Schilling was Brooks' father's head coach at Wright State from 1998-1999. Schilling also recruited Brooks while serving as an assistant under Steve Alford at UCLA. He and Miller have both been active in pursuing Brooks in recent months.
"[Miller] does a great job, not only recruiting me, but recruiting my family –- my older brother, my two younger brothers as well," Brooks said. "That they're taking the time to do that, I think that's a really good thing about Indiana."
Brooks has official visits scheduled to Kentucky and North Carolina, and may still visit Michigan State and Purdue as well.
Despite attending different high schools, Brooks and Jackson-Davis were AAU teammates this past summer, and both appear to be strongly considering Indiana. "It's a possibility," Brooks said of teaming up with Jackson-Davis in college. "We don't really talk about it in depth. We just kind of leave each other alone when it comes to that."
Jackson-Davis took his official visit to Michigan State this weekend. Armaan Franklin issued a not-so-subtle reminder about what he thought of that.
Banner #3
Inside the Hall previews the Big Ten
Inside the Hall is rolling out its team-by-team previews of the Big Ten, which provide detailed looks at every team in the conference and evaluate where they stand relative to their peers.
Read up on Purdue, Illinois, Penn State, Iowa, Maryland, Northwestern, Ohio State, and Minnesota at Inside the Hall.
About Purdue, Ryan Corazza wrote:
While Purdue lost a ton of talent off last year's impressive squad, Edwards' presence makes the Boilermakers a contender in the top half of the league. If Purdue is to get there, improvement from Eastern and Haarms — along with strong play from Boudreaux — will be key. Depth could be an issue for the Boilermakers this season, as could attempting to re-tool on the fly.
Banner #4
Hoosiers gearing up for NBA season
The NBA season is but nine days away, and a handful of former IU standouts will participate in the 2018-19 campaign.
In Indiana, Victor Oladipo will look to follow up on his breakout 2017-18 campaign and lead the Pacers back to the playoffs. Oladipo was magnificent in his first season with the Pacers, earning both third team All-NBA and first team All-defensive team honors.
Eric Gordon's three-point shooting slipped a bit in 2018, but his overall production and efficiency improved over the previous year. After the Rockets' offseason roster changes, Gordon could start this season after coming off the bench each of the last two years, adding another lethal dose of shooting and playmaking to an already-explosive offense. Regardless of where he begins the game, Gordon will play a significant role in Houston's pursuit of the Warriors in 2019.
Cody Zeller will return to the Hornets starting lineup after taking a backseat to Dwight Howard last year. If Charlotte is to make a playoff push, it will almost certainly need Zeller, who has missed 69 games over the last two seasons, to remain healthy.
After spurning the Mavericks for Sacramento, Yogi Ferrell figures to provide solid minutes at point guard behind young starter De'Aaron Fox. Ferrell shot over 37 percent from deep last season and played in all 82 games.
Noah Vonleh inked a one-year, minimum deal with the Knicks this offseason. With Kristaps Porzingis set to miss most of the season, Vonleh could be in line for consistent rotation minutes.
Former teammates Thomas Bryant and Troy Williams are on the preseason rosters for the Wizards and Pelicans, respectively, and both must fight to stave off final cuts before the regular season commences. Williams, whatever his faults, is a big, athletic wing with floor-spacing potential, a sort of player New Orleans desperately needs. Bryant is a long center with theoretical shooting and rim-protecting ability.
OG Anunoby, meanwhile, figures to play a crucial role on what could be a championship contender in Toronto. The Raptors have a fleet of long, athletic forwards and wings flanking Kyle Lowry and Kawhi Leonard, and Anunoby's shooting and defensive versatility will be key to unlocking the team's fullest potential.
Unfortunately, Anunoby has been away from the team for the entire preseason due to the death of his father. Having lost his mother at the age of one, this is undoubtedly an excruciating time for Anunoby and his family and basketball, deservedly, should be of little concern.
Banner #5
Recapping Hoosier Hysteria and looking forward to the start of the season
Eddie Cotton joined this week's edition of Podcast on the Brink with Alex Bozich and Jerod Morris to ruminate on the best of Hoosier Hysteria, IU's rotation questions, notable recruiting developments, and the feeling on the Indiana campus surrounding the basketball season.
And on this week's edition of Assembly Call Radio, the guys played a fun game of buy-or-sell with some of the most common post-Media Day and post-Hysteria narratives. They also discussed the importance of announcing captains and "secret" scrimmages.
Banner #6
IU posters and schedule cards still available
If you missed out on any souvenirs from Hoosier Hysteria, posters and schedule cards for the upcoming season are still available at Assembly Hall and Cook Hall, among other locations. They'll also be distributed at home basketball games at the marketing table as well as via mail.
For more information on posters and schedules, visit the IU Athletics website.
And with that, the joy of hanging Banner #6 is now one week closer.
Thanks for your continued support for The Assembly Call and Inside the Hall. We'll be back next weekend with a new roundup.
Now go enjoy yourself a 6-banner Sunday. If you'd like to receive this newsletter in your inbox each Sunday, please enter your email address below:
Filed to: