Recruiting roundup: NBPA Top 100 camp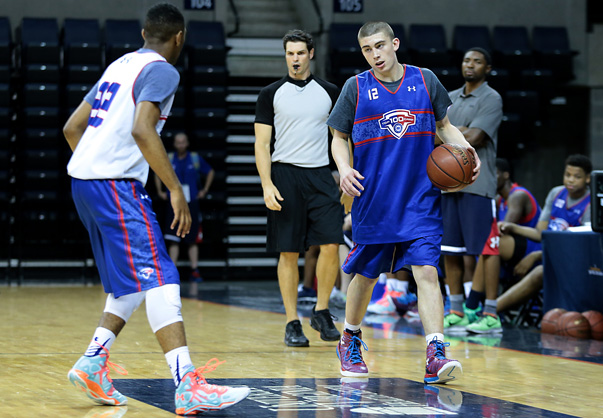 One of the summer's top events, the National Basketball Players Association (NBPA) Top 100 camp took place from Tuesday through Saturday last week and here's a rundown of how many of the prospects Indiana is recruiting performed in Charlottesville, Virginia:
· Alex Illikainen (Brewster Academy, N.H.): News that Illikainen would move east for his senior season broke recently after several weeks of speculation that he would leave Grand Rapids (Minn.), where he's dominated his entire career. Illikainen and his Suns team reached the finals of the Top 100 camp and he averaged 5.1 and 3.2 rebounds in 22.1 minutes per game. He did struggle a bit from beyond the 3-point line (30.4 percent), but drew the praise of John Lucas.
· Chris Clarke (Cape Henry Collegiate Schoo, Va.): A teammate of Illikainen on the Suns, Clarke listed Indiana as a school he'd like to visit and had, by most accounts, an outstanding camp. The 6-foot-6 wing plays AAU for Boo Williams and in Charlottsville, he averaged 9.1 points and 3.6 rebounds while shooting 50.8 percent from the field. ESPN's Paul Biancardi called him the best athlete in camp ($) in his day two recap:
Clarke owns eye-popping athletic ability. He has speed, vertical and a quick second jump. He fills the lane with speed to beat a defense down the floor and will finish with alley-oop dunks. A great example of his high-level athletic ability is when he caught a pass behind his head on a fast break, gathered himself and scored.
· Jalen Coleman (La Lumiere School, Ind.): A name that Indiana fans have been familiar with dating back to his time as a teammate of Collin Hartman at Cathedral, Coleman listed Indiana, Michigan, North Carolina State, UNLV and Notre Dame as five schools he'd like to visit. As far as his production goes, Coleman averaged 9.1 and hit 40.7 percent of his 3s, proving once again that he's one of the better scorers in the country in the class of 2015.
· Kenny Williams (L.C. Bird, Va.): Indiana offered Williams a scholarship recently and the Virginia native scored 8.6 points per game in eight contests for the Spurs, which finished 5-3. Here's a look at Williams, who also plays for Boo Williams, from the camp:
· Braxton Blackwell (Christ Presbyterian Academy, Tenn.): One of Indiana's top targets in the class of 2016, Blackwell received an invite to camp as a rising junior, a distinction that is only given to a select group of prospects. In eight games for the Rockets, the Nashville native averaged 6.3 points and 2.9 rebounds. Of note recruiting wise for Blackwell is that his father, Thomas, told Inside the Hall that Indiana was the first school to contact him on June 15, the first day schools were allowed unlimited contact with class of 2016 prospects.
Here's what CBSSports.com had to say about Blackwell:
Blackwell has a smooth offensive game, pulling up in the mid-range or taking it to the rim. He also showed some toughness on the defensive end.
· Daniel Giddens (Wheeler, Ga.): The 6-foot-10 center from the Atlanta area has Indiana in his final six schools, but all signs have him heading to Columbus to play for Ohio State. In Charlottesville, Giddens averaged 7.8 points, 6.0 rebounds and close to two blocks per game.
· Jimmy Whitt (Hickman, Mo.): Whitt, a class of 2015 guard, is on the rise nationally after a strong spring and Indiana hosted him last fall for an unofficial visit, but hasn't offered a scholarship to this point. He struggled from the perimeter at NBPA camp (33.3 percent on 3s), but played primarily at the point, according to Rivals.com:
At NBPA Camp he has been playing almost exclusively as a point guard. Running his team has cut down on his shots so he hasn't been a huge scorer, but he has been very effective utilizing the high ball screen and he has proven himself as one of the premier pull-up jump shooters in the country.
· Payton Pritchard (West Linn, Ore.): Indiana jumped into the mix with Pritchard in April and hosted him for an unofficial visit following the adidas Gauntlet event in Fishers. The Hoosiers offered a scholarship on that visit and have remained in close contact with the 2016 point guard since that time. Pritchard played well at NBPA Camp with averages of 9.5 points and close to four assists per game. Rivals.com was also impressed by Pritchard:
Payton Pritchard does not lack for confidence. The four-star point guard from the class of 2016 is a guy that can easily run your team and he is a very good passer. At his core, though, Pritchard is also a scoring floor general who will take some risky shots to see if he is hot. When Pritchard heats up from deep, he really puts defenders on their heels because of his ability to bury 22-footers or attack off the dribble.
· Omari Spellman (North Royalton, Oh.): Another class of 2016 prospect who was invited to Charlottesville, Spellman is a new name on the IU radar after the Hoosiers jumped in with a scholarship offer last week. At 6-foot-9 and close to 270 pounds, Spellman had a strong showing with 5.8 points and 5.9 rebounds in about 27.9 minutes per game.
· Matur Maker (Carlisle School, Va.): Indiana was the first school to offer Matur, the younger brother of five-star center Thon Maker. The class of 2017 prospect was one of the youngest players in camp and averaged 2.4 points and 2.0 rebounds in 18.4 minutes per game for the Mavericks, which finished 3-5.
· Derrick Jones (Archbishop John Carroll, Pa.): A four-star wing from the Philadelphia area, Jones holds an IU offer and listed the Hoosiers as a school he'd like to visit in the camp's media guide. Jones shot a ridiculous 64.3 percent from the field against the nation's top talent and averaged 9.4 points as his team, the Knicks, won the camp's championship.
· Thon Maker (Carlisle School, Va.): The 7-foot-2 Maker is arguably the best big man prospect in the country and there's been a lot of speculation that he'll move into the class of 2015, although nothing has been confirmed to this point. Maker averaged 9.1 points and 4.1 rebounds per game in Charlottesville. Here's a look at Maker's battle with Skal Labissiere:
· De'Ron Davis (Aurora, Colo.): Another class of 2016 prospect that Indiana is heavily involved with, Davis was very good in Charlottesville with averages of 9.4 points (56.6 percent shooting) and 3.9 rebounds per game. Davis, who visited Indiana recently and has the Hoosiers as one of his top schools, also drew praise from Rivals.com in their Friday recap:
Davis is a big and strong post player who uses a game that is based on skill with a little power. He gets good position, has a good command of ball fakes and can stick a 15-foot jumper.
· Eron Gordon (Cathedral): The younger brother of former Indiana guards Evan and Eric Gordon, Eron didn't shoot it well from the perimeter in camp (12.5 percent), but the biggest news was that following camp, he took an unofficial visit to Duke, where he met with coach Mike Krzyzewski. Gordon is also scheduled to visit Michigan this week.
· Bryant Crawford (Gonzaga Prep, D.C.): Crawford is a class of 2015 point guard who has fallen a bit nationally in recent months, but is still considered as one of the better options for a pass-first point in the country. Crawford averaged close to eight points in Charlottesville, but shot poorly (39.2 percent). Still, he turned in one of the more impressive finishes in the camp:
· P.J. Dozier (Spring Valley, S.C.): Dozier also listed Indiana as a school he'd like to visit and he was one of the better shooters in camp. Dozier averaged 9.9 points per game on 51.5 percent shooting.
(Photo credit: Kelly Kline/Under Armour)
Filed to: Braxton Blackwell, Deron Davis, Payton Pritchard