Five-star Blackwell staying patient, focusing on improvement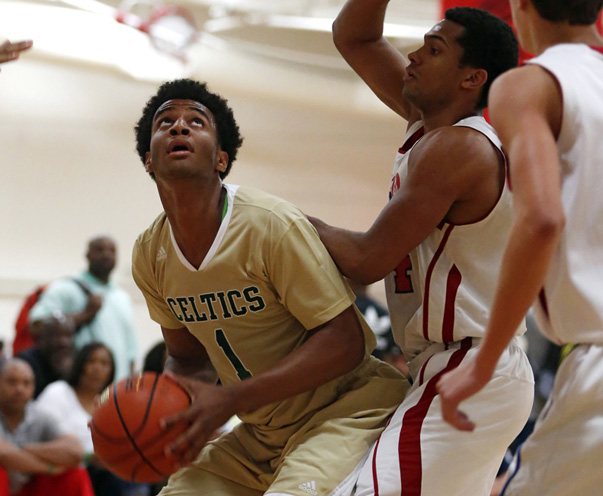 FISHERS, Ind. — Class of 2016 Christ Presbyterian Academy (Tenn.) wing Braxton Blackwell has already amassed 15 scholarship offers, but his recruitment is less than a month from taking on a significant change.
That's because college coaches will be able to communicate directly with Blackwell for the first time beginning at 12:00 a.m. on June 15. At the adidas Gauntlet at Best Choice Fieldhouse over the weekend, the 6-foot-8 rising junior said his classmates at school have already started to discuss which school will reach out first.
"I'm still wondering who is going to be the first to call," he said. "Some kids at my school made a little bet to see who is going to be the first to call."
So who is the getting the most buzz?
"Right now, everyone is going with Tennessee or Memphis," he said. "A few said Vanderbilt, but Tennessee or Memphis, really."
Given the location of Blackwell's school (Nashville), it's not surprising that the local schools are chief among the discussion with his classmates. But his recruitment has expanded beyond the borders of Tennessee with schools like Florida, Indiana, Providence and Virginia among his top suitors.
However, Blackwell himself said he's a bit isolated from the process right now as he lets his father, Thomas, handle the contact with coaches for now. The contact piece will obviously change soon, but his approach to the process appears to be set.
"I'm not rushing into it. Jalen Lindsey (Providence signee), he taught me a lot," Blackwell said. "He was at CPA until his senior year. He helped me out with that. He told me to take it one day at a time and when June 15 comes, that's when it will get crazy.
"I'm looking forward to it (June 15). I'm really enjoying the recruiting process right now. I'm not really sure when I'll make a decision or anything like that."
As a sophomore, Blackwell won Tennessee's Class AA Mr. Basketball award while averaging 19.4 points, 12.1 rebounds, 3.7 assists, 2.2 blocks and 2.7 steals per game.
His high school coach, Drew Maddux, recently told Inside the Hall that he plans to use Blackwell as a more of a primary ball handler next season.
With his size and versatility, he can play and guard multiple positions, but Blackwell believes he has plenty to work on this summer while playing with the Atlanta Celtics, a powerhouse AAU program that helped produce Dwight Howard and Josh Smith.
"I've been working on my jump shot a little bit. Just working on that and also playing a lot harder," he said. "Right now, if I see an open lane, I take it and go all of the way rather than just taking a shot pull-up. I should start taking more jump shots. And just learning how to get people involved more often."
Filed to: Braxton Blackwell