Braxton Blackwell a priority for Indiana in 2016 class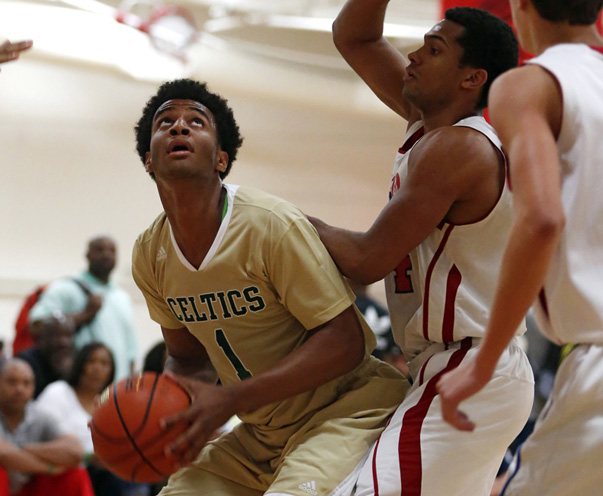 Recruiting will intensify for class of 2016 prospects across the country on June 15, the first date that college coaches can begin unlimited phone and messaging contact with rising juniors.
The groundwork, however, with many of IU's top targets in that class is already being laid and Nashville Christ Presbyterian Academy (Tenn.) forward Braxton Blackwell is a top priority.
The Hoosiers offered Blackwell a scholarship during an unofficial visit for Hoosier Hysteria last fall, watched him recently during an open gym and last weekend in the adidas Gauntlet in Dallas.
Blackwell's high school coach, Drew Maddux, a standout at Vanderbilt in the mid 1990's, says the Hoosiers are one of the schools working hardest to build a relationship.
"I think it is very strong," Maddux told Inside the Hall this week. "Right now, his dad, Thomas and Robin, his mother, myself, I think those relationships with Indiana, coach (Tom) Crean, coach (Tim) Buckley, coach (Steve) McClain and their staff are extremely healthy.
"They've done a great job of establishing a great foundation so when June 15 hits, Braxton knows those coaches, he has a name with a face and that foundation has been established with those of us that love him the most."
As a sophomore at C.P.A., Blackwell won Tennessee's Class AA Mr. Basketball award while averaging 19.4 points, 12.1 rebounds, 3.7 assists, 2.2 blocks, and 2.7 steals per game.
At 6-foot-8, he can play and guard multiple positions. Next season, Maddux says he plans to play him frequently at point guard. His recruiting will likely intensify further as the summer moves on as schools make 2016 prospects an even bigger priority.
To this point, Maddux said schools like Florida, Vanderbilt, Tennessee, North Carolina, Virginia and Providence are also putting in the groundwork to make a strong push for Blackwell. It's clear, however, that his October trip to Bloomington made a strong early impression on the the No. 26 player nationally according to the 247Composite.
"Hoosier Hysteria was great because you get to see the fanbase, the tradition, the pageantry and all of those things," Maddux said. "But I think it was being in community with coach Crean, his staff, the support staff and all of those people that make Indiana basketball special were the things that they really walked away with, that really made an impression with them."
Blackwell is already off to a strong start this spring with the Atlanta Celtics, which finished the first adidas Gauntlet stop with a 5-0 record. He averaged 12.0 points and 5.8 rebounds in 22.2 minutes per game.
Numbers, however, don't tell the entire story on his ability to impact a game.
"I don't think he gets the credit he deserves because maybe he doesn't dominate the ball and have to go score for himself on the circuit," Maddux said. "But his game, in my opinion, and I've seen most of the elite prospects in his class, his game translates better to the college ranks better than any player that I've seen.
"His skill set is so scalable. He can guard a variety of positions. He can guard a small forward. He can play a variety of positions on the offensive end as well. I think his game sets up so well to translate to the next level."
(Photo credit: Vernon Bryant/adidas)
Filed to: Braxton Blackwell