Five-star forward De'Ron Davis recaps Indiana visit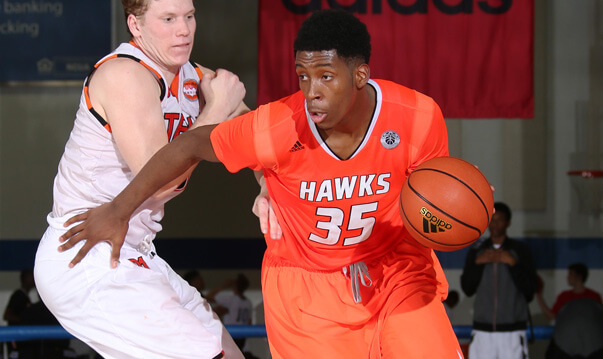 Indiana's recruitment of class of 2016 Overland (Colo.) forward De'Ron Davis has been ongoing for more than two years now. However, it wasn't until Monday that the five-star prospect had the opportunity to make his way to Bloomington.
It's safe to say his first experience made quite the impression.
Davis was in Fishers over the weekend with the Colorado Hawks playing in the adidas Gauntlet and made the trip south on Monday to see the program up close for the first time with his AAU coach and 2015 point guard and teammate Austin Conway.
"I think it's a wonderful campus. I got the full tour," he told Inside the Hall on Monday evening. "The gym is wonderful. It holds a lot of people. I actually got a chance to talk to the strength and conditioning coach (Je'Ney Jackson). Just the way he develops players body wise is crazy. Just how the players come in their freshman year and how they look their sophomore year is crazy."
At the adidas Gauntlet, Davis mentioned the growth of both Noah Vonleh and Cody Zeller during their stints at Indiana as a major reason he's strongly considering the Hoosiers.
"They really develop kids. They focus on skill development," Davis said. "They build NBA players, lottery, first round picks. I just like how they develop kids overall. That was one of the highlights for me."
Davis, who said on Friday in Fishers that he's now 6-foot-10 and 230 pounds, is rated the No. 22 prospect nationally in his class according to the 247Composite.
Colorado, Arkansas, UCLA, California, Purdue and Louisville are also involved in his recruitment.
Indiana is the third school he's visited with his previous trips to nearby Colorado and also Arkansas.
"I'm coming up on my junior year and need to get serious about what I'm looking at," he said of his recruitment. "I'm looking at Indiana and this (visit) puts them in a good spot. I'd like to go out and see more schools. From what I'm seeing so far of the three schools I've been to, Indiana does rate above all of those.
"The facilities are different. At CU, Arkansas, yeah, they have nice facilities, but Indiana pays so much attention to its basketball team. It's crazy how the facilities are just built for basketball."
(Photo credit: adidas)
Filed to: Deron Davis