Indiana offers class of 2015 guard Kenny Williams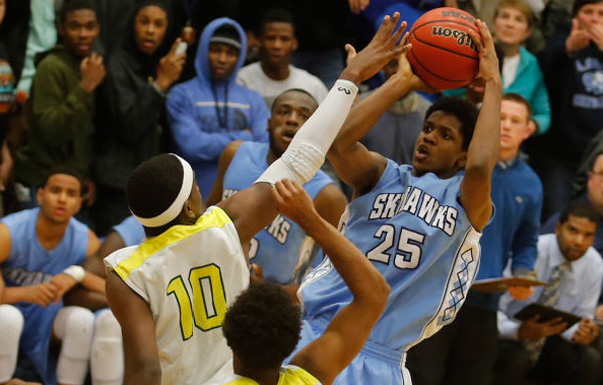 After getting involved with his recruitment following the first Nike Elite Youth Basketball League (EYBL) session last month in Sacramento, Indiana took the next step in its pursuit of class of 2015 guard Kenny Williams today.
The Hoosiers offered a scholarship to the 6-foot-4 L.C. Bird (Va.) standout, who plays for Boo Williams and is a friend of incoming IU guard Robert Johnson.
Williams is the leading scorer for Boo Williams, which qualified for July's Peach Jam, at 14.7 points per game. He's shooting close to 47 percent on 3s in EYBL play.
The offer was first reported by Matthew Hatfield of VirginiaPreps.com.
Earlier this month, Williams told Inside the Hall he's trying to make his game more well-rounded so he's known as more than just a scorer.
"A lot of people label me as a shooter, but I don't like to put one label on it," said Williams, who averaged 21.3 points and 5.7 rebounds per game in his junior year at L.C. Bird. "I'm willing to do whatever to win, whether it's taking charges or diving for loose balls."
Williams also has offers from Cincinnati, George Mason, Hofstra, James Madison, Memphis, Minnesota, Old Dominion, Robert Morris, VCU, Virginia Tech and William & Mary. North Carolina is also recruiting him.
(Photo credit: Joe Mahoney, Times-Dispatch)
Filed to: Kenny Williams