2015 guard Kenny Williams sees explosion in his recruitment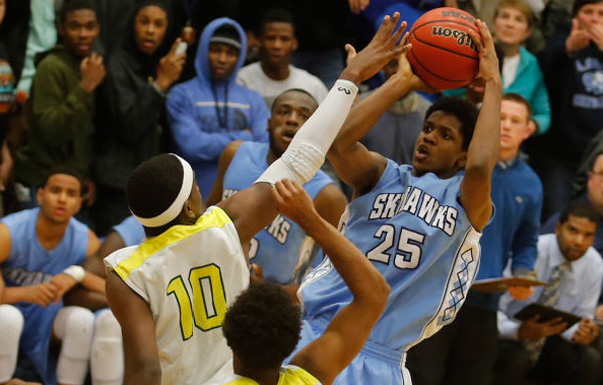 Playing in front of dozens of college coaches thousands of miles from home just two weekends ago at the Nike EYBL Session 1 in Sacramento, California, Kenny Williams — a Chesterfield, Virginia, native — knew he had to do just one thing.
"Play confidently," he told Inside the Hall on Monday evening.
A 6-foot-4 guard in the 2015 class, Williams did just that in Sacramento by averaging 16.8 points in four games while going 16-for-26 from beyond the arc for Boo Williams. Plenty of colleges took notice of his performance, too — including Indiana, North Carolina, Wichita State, Memphis, Cincinnati and Virginia Tech, to name a few.
But Williams, a friend of class of 2014 IU signee Robert Johnson, is careful not to define himself as a shooter. Originally a shooting guard, Williams said he is in the process of becoming more of a combo guard in hopes of diversifying his game. He said he has been working on ball-handling drills and hopes to showcase more of his improved combo-guard capabilities during his senior season at L.C. Bird (Virginia) High School this upcoming fall.
"A lot of people label me as a shooter, but I don't like to put one label on it," said Williams, who averaged 21.3 points and 5.7 rebounds per game in his junior year at L.C. Bird. "I'm willing to do whatever to win, whether it's taking charges or diving for loose balls."
What Williams does not deny, though, is that shooting is one of his particular strengths. "Especially the one-dribble pull up," he said. Before the start of EYBL play in Sacramento, he had offers from George Mason, Old Dominion, VCU and Robert Morris, among others.
On the national stage, though, as Williams tried to not make it a distraction, plenty of college coaches watched.
Since leaving Sacramento, Williams said he has fielded new offers from Minnesota, Memphis, Richmond, Cincinnati and the new coaching staff at Virginia Tech. Marquette also has demonstrated interest.
"It means a lot," he said. "It definitely showed my hard work is paying off."
While Williams was on his way back to Virginia on the evening of the April 27, just hours after his final game, he got a phone call from Indiana coach Tom Crean expressing interest. Since then, Williams has exchanged text messages with Crean and associate head coach Tim Buckley.
And though he doesn't "really don't know much" about the Hoosiers, "just the fact that (Crean) texts me on a normal basis let's me know he's serious."
Williams said he has not yet scheduled any visits, but that he will sit down and talk with his father soon and go from there.
As for what he is looking for in a college, though, Williams said it comes down to two main variables.
"I just want to make sure the coaching staff has a great relationship with me and my parents," he said. "I want to make sure they're comfortable wherever they send me.
"And I want to get out and run because that makes the game more fun to play and it makes it better to watch for fans."
(Photo credit: Joe Mahoney, Times-Dispatch)
Filed to: Kenny Williams