Indiana offers five-star 2016 7-footer Thon Maker, brother Matur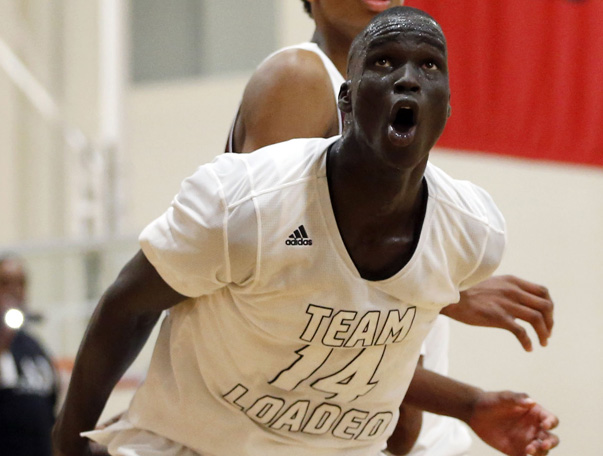 After what has been a busy week for fast-rising 2016 power forward Thon Maker, Indiana extended scholarship offers on Friday night to him and his younger brother, Matur.
Thon Maker, a 7-foot prospect from Martinsville, Va., is ranked No. 3 in the 2016 class according to the 247Composite and has experienced a spike in his recruitment following his performance in the Adidas Gauntlet this past weekend in Dallas. There, he averaged 12.2 points, 7.6 rebounds and 2.4 blocks over five games in front of multiple college coaches.
Just within the past week, Thon Maker has received scholarship offers from Louisville, Kansas, UNLV, Duke and Memphis, and that was before Indiana extended its scholarship offer on Friday night. And the Hoosiers weren't the only school to offer Friday evening, either, as Florida offered as well. Maker's new offers only add to his previous offers, too, from the likes of Arizona, Georgetown, Ohio State and Virginia, among others.
Maker is regarded for his versatility and athleticism at his size and has quickly risen to being recognized as one of the top prospects in the nation after averaging 21.3 points, 13.3 rebounds and 4.2 blocks per game as a sophomore at Carlisle (Va.) High School.
His younger brother, Matur, is part of the 2017 recruiting class and already is 6-foot-10, averaging 6.6 points, 7.8 rebounds and 2.8 blocks per game in his freshman year for Carlisle. Matur is rated as a four-star prospect, according to the Future 150, and Indiana is his first scholarship offer, as well.
The Maker brothers are originally from Sudan and moved to Sydney, Australia, when Thon was five years old. They moved to the USA in 2011 and have lived in the Martinsville area since then.
Video of both Thon and Matur Maker is available after the jump.
(Photo credit: adidas/Vernon Bryant)
Filed to: Matur Maker, Thon Maker