adidas Gauntlet Q & A: 2016 guard Payton Pritchard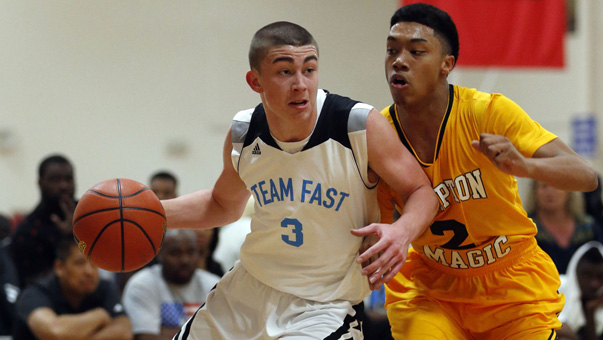 FISHERS, Ind. — Class of 2016 West Linn (Ore.) point guard Payton Pritchard will get his first look at Indiana's campus today when he makes an unofficial visit to Bloomington.
Pritchard, ranked the No. 69 prospect nationally in his class according to the 247Composite, has helped lead West Linn to two straight Class 6A titles in Oregon.
Inside the Hall caught up with Pritchard, who is playing for Team Fast on the adidas Gauntlet circuit this spring and summer, at the Best Choice Fieldhouse for a Q & A:
On the visits he has planned this spring:
"On Monday, I'm going to take visits to Indiana and Butler. That's mostly it besides just playing basketball."
On why he decided to visit those two schools:
"I know Indiana and Butler have both been talking to me. Indiana is more recent, but Butler has been talking to me for a while. They've been wanting to get me on campus and I'm out in Indiana, so I'll take a visit out there."
On whether he has any ties to this part of the country:
"I just know that Indiana is a big basketball state and the Big Ten is a big basketball conference. I'd love to play in it. Those teams are great."
On his interest in Wisconsin, a school he's visited:
"They've been on me really heavily. I'm getting recruited by coach (Gary) Close. We're pretty close. I like them a lot. They're definitely one of my favorites."
On the schools that have offered scholarships:
"Oregon, Oregon State, Washington, Wisconsin and Oklahoma."
On what his discussions with Indiana have been like and when they became involved in his recruitment:
"They saw me play in Dallas (at the adidas Gauntlet). And Tom Crean has been talking to my dad (Terry) and stuff. They want me on their campus. I think a scholarship offer will come on Monday."
On what he's trying to work on and the strengths of his game:
"The strengths of my game I think are spreading the floor out and shooting and getting into the lane and driving and kicking. On getting better, probably just my floater, shooting floaters a little bit instead of just driving all the way."
On Indiana's program and what he's looking forward to about the visit:
"I just know historically, Indiana is big time. Tom Crean, I know he's a great coach. I like him a lot. I just know he puts players in the pros."
On Butler:
"I liked their coach who went to the pros, Brad Stevens. He left, but they kept recruiting me. I like their assistant coach, he came out to West Linn, my hometown. So they've been recruiting me pretty heavily. They're in the Big East now, so it's a big conference."
On the school he grew up watching:
"I was a big time North Carolina fan. But then when I started to get recruited, everything evens out. But now it's mostly like Big Ten because it's probably the most powerful basketball conference right now other than maybe the ACC. Indiana, Wisconsin, Michigan, all of those big time teams."
On whether he'd like to play in the Big Ten:
"It's just about finding the best fit. I've always wanted to play in the Big Ten, but the PAC-12 is a big time conference, so I wouldn't mind playing in that. But I feel like a lot of Big Ten schools fit my style of play. I'm just visiting a lot of schools and just trying to see what I like best."
On the Big Ten schools he's heard from besides Indiana and Wisconsin:
"Nebraska and I think Michigan State a little bit. That's about it."
(Photo credit: Vernon Bryant/adidas)
Filed to: Payton Pritchard