Giddens staying patient, still focused on six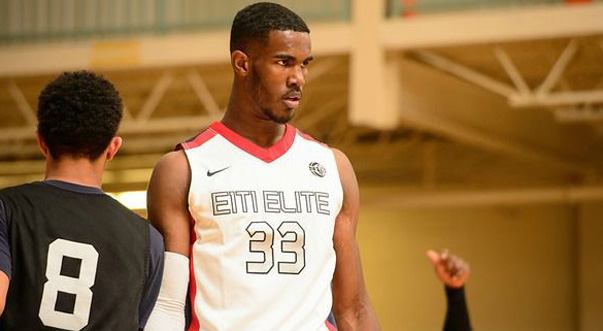 One of the nation's top frontcourt players in the class of 2015, Marietta (Ga.) Wheeler center Daniel Giddens, trimmed his list of schools to six in February, but his recruitment has remained relatively quiet since then.
The list of suitors still in the running to land Giddens is an impressive one that spans across the country. There's a PAC-12 power in Arizona, a Big 12 power in Kansas, two Big Ten schools in Indiana and Ohio State and two SEC programs in Georgia and Florida.
The Buckeyes have been pegged as a potential favorite by many, but Giddens wasn't tipping his hand over the weekend at the fourth Nike Elite Youth Basketball League (EYBL) session in Minneapolis.
"Right now I'm just trying to get better and get to Peach Jam," he told reporters.
Giddens, the No. 30 prospect nationally according to the 247Composite, will indeed play in the Peach Jam in July as his E1T1 program qualified for Nike's premier summer event by finishing with an 11-5 mark in EYBL play.
On a team with several capable scorers, Giddens has made his presence felt more on the glass and around the rim in EYBL play. He's just seventh on E1T1 in scoring at 6.6 points per game, but second in rebounding (5.9) and first in blocked shots (2.6). His 41 blocks lead the EYBL.
As a junior at Marietta, he averaged 13 points and 10 rebounds, but fell in the title game of the state's biggest class (AAAAAA).
In college, Giddens, who is 6-foot-10, said he's looking forward to playing alongside other talented frontcourt players. In EYBL play, he's had the opportunity to play the power forward position as one of his E1T1 teammates is 7-foot-5 center Tacko Fall.
"I'm trying to do anything that will get me to the next level," he said. "I'll do anything, play any position."
Of his six finalists, Giddens has already taken unofficial trips to Georgia, Florida and Ohio State.
That leaves Arizona, Indiana and Kansas as the three schools he's yet to see, but with five official visits still available, trips to each of those could still be on the horizon. In February, Giddens mentioned two specific things he likes about the Indiana option.
"Their business school is top 5 in America," he said. "And coach (Tom) Crean is an amazing coach that helps you become the best you can be."
For now, Giddens, who said he hasn't scheduled any official visits yet, is focused on continuing to grow his game on both ends of the floor. Offensively, Giddens believes he is a bit underrated.
"I feel myself improving every game," Giddens said. " I feel like I can get off at times (offensively) and definitely get to the basket in situations when my team needs me."
J.B. Bauer contributed to this story.
(Photo credit: HoopSeen.com)
Filed to: Daniel Giddens