2013-2014 ITH season preview: Michigan Wolverines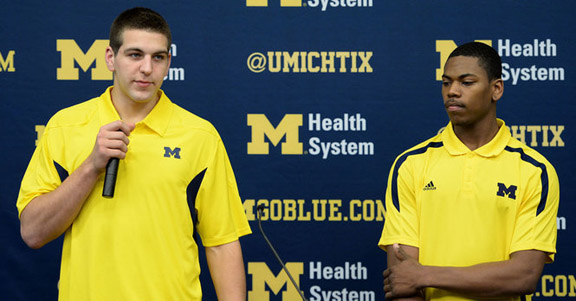 With the start of college basketball season on the horizon, we'll be taking a long look at the conference at large as well as Indiana's roster over the next month. Today, we continue our look at the Big Ten with the Michigan Wolverines.
After a improbable run to the national championship game that ended in defeat to Louisville, Michigan is once again back on the national scene despite losing national player of the year Trey Burke and Tim Hardaway Jr. to the NBA.
That's largely because of the two guys pictured above, Mitch McGary and Glenn Robinson III. Both turned down spots in the first round of June's NBA Draft in favor of returning to Ann Arbor. Whether returning to school was the right decision was the right call for either guy with a monster 2014 draft looming is a debate for another day. The story for now is that Michigan has one of the best young duos in college basketball.
McGary's monster NCAA tournament has landed him on plenty of preseason All-American lists despite an otherwise underwhelming freshman campaign. Over the season's final six games, McGary averaged 14.3 points and 10.7 rebounds per game, and his presence transformed Michigan from a trendy upset pick to a national runner-up. Robinson, meanwhile, was one of the nation's most efficient offensive players as a freshman. His offensive rating ranked 10th nationally and he shot 65.2 percent on 2-point field goals. Robinson has work to do in terms of making his game more consistent from the perimeter, but there's no questioning his elite athleticism.
Michigan's leading returning scorer actually is sophomore Nik Stauskas, who doesn't get the headlines like McGary or Robinson but posted ridiculous efficiency numbers as a freshman. Stauskas hit 44 percent of his 3-point field goals and finished in the top 40 nationally in offensive rating. He also was nearly automatic from the free-throw line (85.1 percent). Beyond the three players already mentioned, the sophomore class also offers Spike Albrecht, who famously erupted in the national championship game, and Caris LeVert, who figures to challenge for more minutes and was effective in a limited role last season.
Michigan's frontcourt depth behind McGary is adequate on paper with Jordan Morgan and Jon Horford. Morgan battled injuries last season but is a capable role player who is heady defensively and finishes his limited offensive opportunities. Horford also has battled injuries for much of his career but has the upside to overtake Morgan on the depth chart.
Beyond the returnees, Michigan also welcomes Indiana Mr. Basketball Zak Irvin to campus and Detroit native Derrick Walton, who could take over the point guard duties vacated by Burke. Irvin figures to get a hard look for starter's minutes on the wing this season, and his ability to shoot off the dribble fits well in Beilein's system. Walton, the No. 45 recruit in the 2013 class according to the 247 Composite, just needs to limit mistakes and run the team effectively given the talent surrounding him.
Bottom line: On paper, Michigan is still one of the youngest teams in the Big Ten, but with five sophomores who all logged NCAA tournament minutes, it has the experience to once again field one of the league's top teams. Whether the Wolverines can challenge Michigan State will be largely dependent on how McGary and Robinson adapt to leadership roles and how effectively Albrecht and Walton can fill in at point guard.
Quotable: "It's gonna be different. You lose a backcourt like that with two first-rounders … just think about that. Two first-rounders and it was the starting backcourt. So it's gonna be brand new. We like the experience Spike and Caris got as backups last year. We like Zak Irvin and Derrick Walton and what they bring to the team as perimeter players. We have to, just like we try and do every year. Hopefully you learn from what Trey and Tim did well." – John Beilein to The Detroit News.
Previously: Ohio State, Iowa, Purdue, Minnesota, Northwestern, Nebraska, Penn State
Filed to: 2013-2014 Big Ten preview, Michigan Wolverines