2013-2014 ITH Season Preview: Purdue Boilermakers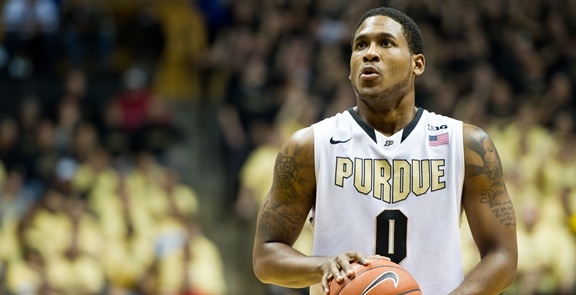 With the start of college basketball season on the horizon, we'll be taking a long look at the conference at large as well as Indiana's roster over the next month. Today, we continue our look at the Big Ten with the Purdue Boilermakers.
It can only get better for Purdue, right?
After ending last season with a 16-18 record and a second-round loss to Santa Clara in the College Basketball Invitational (CBI), the Boilermakers bring a mix of youth and experience to the table in 2013-2014. And with four of its five leading scorers from last season back in West Lafayette, Matt Painter is hoping that can translate into more wins.
Purdue's backcourt duo of Ronnie and Terone Johnson returns this season, and the Boilermakers hope that means the offense can click from day one. It also helps that Ronnie Johnson led the team in assists last season (26.8 percent assist rate) and Terone Johnson led the team in points per game (13.5), which indicates the talent is already there for potential success.
One of the major keys to Purdue's season, though, lies in 7-foot sophomore center, A.J. Hammons. Ranked as the No. 17 player in the Big Ten by Inside the Hall and UM Hoops, Hammons has the potential to be a Big Ten Player of the Year candidate. He established a post presence in his freshman year and showed glimpses of what he is capable of, scoring 30 points against Indiana and leading his team with six rebounds per game. He also has trimmed from his 280-pound frame to 251 pounds, which is a sign he is more fit and able to stay on the court for longer than 23 minutes per game.
Purdue also adds freshmen Kendall Stephens and Bryson Scott to the mix, among others. Both guards, who were ranked as four-star, top 100 recruits in the 2013 class according to the 247 Composite, give depth to an already very talented backcourt.
But Purdue has struggled recently in high-scoring games, and it might not get any easier this season. The Boilermakers' leading 3-point shooter from last season, D.J. Byrd, is gone, and Byrd provided more than half of Purdue's made 3-pointers, which were the fewest in the Big Ten. Excluding Byrd, Purdue shot 43 percent from the field last year and 28.1 percent from behind the 3-point line while allowing 65.1 points per game, second-most in the Big Ten.
Purdue's frontcourt depth leaves a lot to be desired as well, as Hammons is the only returning forward to have averaged more than 15 minutes per game last season. 6-foot-8 Donnie Hale and 6-foot-9 Travis Carroll both return, and 6-foot-10 redshirt freshman Jay Simpson could get playing time after missing much of the 2012-13 season with a foot injury.
Bottom line: Though Purdue is one of the youngest teams in the Big Ten with only five upperclassmen, the Boilermakers have one of the more experienced teams in the conference heading into this season. With four returning starters and an in-shape team with young talent and depth, Purdue should be able to build on last season's result, its first sub-.500 season since 2005-2006.
Quotable: "I'm going to start the guys that play the hardest. We're not getting the effort needed. I could care less if we go big, small, we play five centers or five point guards." — Painter to the Fort Wayne Journal-Gazette
Previously: Minnesota, Northwestern, Nebraska, Penn State
Filed to: 2013-2014 Big Ten preview, Purdue Boilermakers