2013-2014 ITH season preview: Penn State Nittany Lions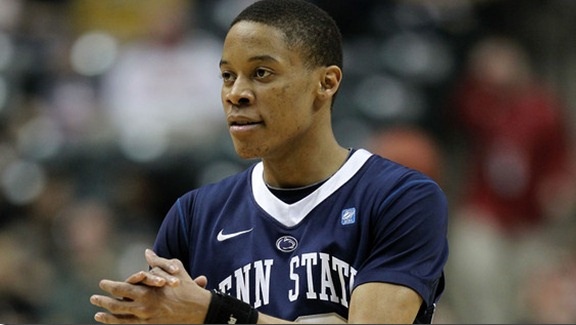 With the start of college basketball season on the horizon, we'll be taking a long look at the conference at large as well as Indiana's roster over the next month. Today, we tip off our look at the Big Ten with the Penn State Nittany Lions.
Penn State may have taken a step back last season from a wins and losses perspective, but the rebuilding effort being led by Pat Chambers continues to move along at a program with little historical success on the hardwood.
If there is such a thing as a competitive two-win Big Ten team, Penn State fit the bill a season ago. The Nittany Lions struggled to find their footing after losing Tim Frazier to a torn Achilles' tendon, but finished the conference slate with a home win over eventual national runner-up Michigan and a win at Northwestern. Penn State also played Wisconsin to a narrow 66-63 loss to close the regular season at the Bryce Jordan Center.
With Frazier back in the rotation to go along with D.J. Newbill, Penn State boasts one of the league's best backcourts. Frazier was a first team All-Big Ten selection back in 2011-2012 and while he's never been particularly efficient, he posted a ridiculous assist rate of 45.2 (second nationally) while also averaging 18.8 points, 4.7 rebounds and 2.7 steals per game in his last full season.
Newbill, a junior, had a breakout season in Frazier's absence as he became the go-to scorer and used 30.9 percent of Penn State's possessions, the highest usage among Big Ten players. He's the team's leading returning scorer at 16.3 points per game and also drew 5.8 fouls per 40 minutes last season.
Penn State's backcourt depth took a hit when Jermaine Marshall opted to leave the program, but transfer Allen Roberts should help soften some of the blow of losing Marshall. Roberts, who averaged 12.3 points last season at Miami (OH) and is eligible immediately, will battle John Johnson, a transfer from Pittsburgh who will be eligible the second semester, and freshmen Graham Woodward and Geno Thorpe for minutes.
While Penn State appears to be set in the backcourt with plenty of depth, the frontcourt situation could prevent the Nittany Lions from making a significant leap in the Big Ten standings. Junior Ross Travis, who is the second leading returning rebounder in the conference, returns, but is undersized at 6-foot-6.
Sophomore Brandon Taylor, who averaged 5.3 points and 3.3 rebounds last season, seems like a solid bet to be a starter and 6-foot-9 sophomore Donovan Jack, who returns from a stress fracture, started alongside Travis and Taylor during a recent three-game tour in Belgium, England and France.
Bottom Line: It may not show up in the standings, but Penn State is slowly building a competitive program and the return of Frazier should make a major difference. In Frazier's absence last season, Newbill took on the bulk of his responsibilities, so it will be interesting to watch how those two play together as both rely on having the ball to be effective. If Chambers can get another reliable frontcourt option to emerge alongside the hard-nosed Travis, Penn State has a chance to win its share of home conference games and become more dangerous as the season moves along.
Quotable: "We made strides over the last two years in how we're playing, never giving up, playing at a high level. We had a lot of injuries last year and played a lot of walk-ons, and those kids went after it. They gave it their all. I think people in the Big 10 realize when they play Penn State, they're going to be in a battle. The vision for the program is to be a consistent NCAA tournament team and to be in the top six of the Big 10 on a yearly basis." – Chambers to the CBS affiliate in Philadelphia.
Filed to: 2013-2014 Big Ten preview, Penn State Nittany Lions