2013-2014 ITH season preview: Minnesota Golden Gophers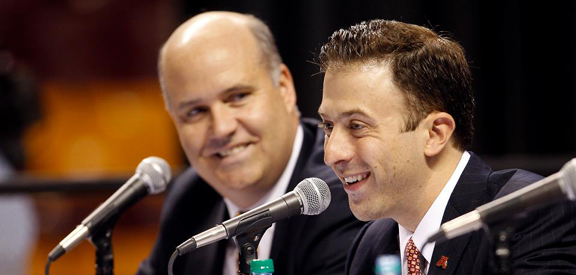 With the start of college basketball season on the horizon, we'll be taking a long look at the conference at large as well as Indiana's roster over the next month. Today, we continue our look at the Big Ten with the Minnesota Golden Gophers.
Despite reaching the 20-win plateau five times and the NCAA tournament three times over six seasons, Minnesota relieved Tubby Smith of his duties on March 25 and immediately began a search for a new head coach.
Nine days later, after whiffing on its top choices, Norwood Teague hired 30-year old Richard Pitino, who had just completed his first season as a head coach at Florida International. Whether or not Pitino works out in Minneapolis, his hiring was a bit of a reality check for a program that had the belief that it could nab an elite young coach like Shaka Smart.
As Pitino gets settled into his first major head coaching job, the reality of the task that lies ahead is beginning to sink in. Three elite talents from Minnesota in the class of 2014 — Tyus Jones, Rashad Vaughn and Reid Travis — are likely to leave the state. And the graduation of Trevor Mbakwe and Rodney Williams left the Golden Gophers relatively bare in the frontcourt for the upcoming season.
The good news for the upcoming season is that Minnesota returns one of the better, more experienced backcourt tandems in the conference. Andre Hollins had a fantastic sophomore season and will look to build upon it as an upperclassmen. Last season, he shot nearly 42 percent on 3-pointers, drew 4.5 fouls per 40 minutes, posted an assist rate of 25.3 percent and among Big Ten players that used at least 25 percent of their team's possessions, his offensive rating ranked below only two players: Trey Burke and Cody Zeller. Austin Hollins saw his 3-point shooting fall off a bit as a junior, but had the fourth-best steal rate among Big Ten players.
Minnesota should have depth in the backcourt as Malik Smith followed Pitino from Florida International and will be eligible immediately, as did freshman Daquein McNeil. Deandre Mathieu, one of the top junior college point guards in the country, also arrives and Maverick Ahanmisi, a holdover from the Smith era, returns for his final season. All five players could be in the mix for rotation minutes.
The frontcourt situation is less certain as Pitino will have to rely on Maurice Walker, who has reportedly slimmed down significantly, and Elliott Eliason and Oto Osenieks as the only experienced options. All three are significant downgrades from what Mbakwe and Williams provided and aren't particularly good fits in the uptempo game Pitino will attempt to deploy, but Eliason has the potential to protect the rim (9.4 block percentage in limited last season).
Bottom Line: Minnesota won't finish in the top half of the conference, but their backcourt depth is good enough to win games inside the friendly confines of Williams Arena and perhaps steal a few road games against the bottom half of the league. Pitino has infused energy into the program from the fanbase, but the next step in the building process is better recruiting and facilities upgrades.
Quotable: "You've got to be careful to really try to predict too much too soon. I've gotten a little better feel, but adversity hasn't really hit these guys yet. They're not going to class for a full day, then coming to us, lifting. They're not really dealing with a whole lot of adversity. Summertime's a lot different than the regular season. They're great kids. They're going to get better, but it's still really early to tell." – Pitino on expectations for the upcoming season.
Previously: Northwestern, Nebraska, Penn State
Filed to: 2013-2014 Big Ten preview, Minnesota Golden Gophers