2013-2014 ITH season preview: Iowa Hawkeyes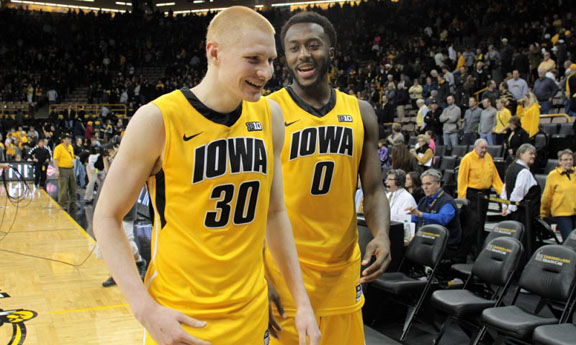 With the start of college basketball season on the horizon, we'll be taking a long look at the conference at large as well as Indiana's roster over the next month. Today, we continue our look at the Big Ten with the Iowa Hawkeyes.
For the first time in the Fran McCaffery era in Iowa City, there are expectations for the Iowa Hawkeyes.
After landing on the wrong side of the NCAA tournament bubble a season ago and then making a run to the finals of the NIT, the Hawkeyes have the pieces in place to field a very good team in 2013-2014.
Nine of Iowa's top 10 scorers are back including junior Aaron White and senior Roy Marble, one of the better tandems in the Big Ten. White is a bit unheralded nationally but is one of the best frontcourt players in the Big Ten. Last season, he attempted 258 free throws and had a free throw rate (FTA/FGA) of 86.3, the highest mark of any Big Ten player. He was also one of just four Big Ten players to average at least 12.8 points and 6.2 rebounds, joining Cody Zeller, Victor Oladipo and Deshaun Thomas.
Marble led Iowa in the NIT last season as he averaged 20.6 points, 2.4 steals and four rebounds over a five-game span. The 3-point shot became a much bigger piece of his offensive repertoire as a junior as he took 150 shots from beyond the perimeter, where he hit just 32.7 percent. As a senior, Marble may be best served to become a little more selective offensively, especially on the perimeter, and look to distribute more (22.4 assist rate as a junior).
Beyond White and Marble, McCaffery has one of the deeper rosters in the conference. Adam Woodbury, who started every game as a freshman, should be more comfortable and assertive with a year under his belt. He was one of the better rebounders in the conference last season with an offensive rebounding percentage of 12.9. Sophomore Mike Gesell should once again start at the point guard position and his assist rate (22.5) and steal rate (2.8) were both encouraging numbers from his rookie campaign.
Other returnees from the regular rotation include Melsahn Basabe, Josh Oglesby, Anthony Clemmons and Zach McCabe, each of which started a game last season at some point. The Hawkeyes also return an interior contributor in Gabriel Olaseni, add Jarrod Uthoff, a transfer from Wisconsin and Peter Jok, a freshman guard who can shoot from the perimeter.
Bottom line: The pieces are in place for Iowa to finish in the top half of the Big Ten and also return to the NCAA tournament for the first time since 2006. White and Marble are potential All-Big Ten players, but what could make or break the season is the development of Gesell and Woodbury, both of whom showed flashes of becoming very good players in their debut seasons. Few teams in the Big Ten will have the quality of depth Iowa will possess, but the Hawkeyes need to win games against the best Big Ten teams to overcome another weak non-conference schedule.
Quotable: "The competition was good; we had to fight and compete and came together as a group. Peter Jok and Jarrod Uthoff were tremendous. I'm thrilled with the development of Peter; he has a chance to be special. Adam Woodbury, Melsahn Basabe, Roy Devyn Marble, and Aaron White all had great trips. Gabriel Olaseni, being able to play in front of his family and play the way he played, was so much fun to watch. I'm also really happy for Josh Oglesby. He's playing at a new level, which we knew he would." – McCaffery on Iowa's trip in August to Europe.
Previously: Purdue, Minnesota, Northwestern, Nebraska, Penn State
Filed to: 2013-2014 Big Ten preview, Iowa Hawkeyes