That's A Wrap: Will Sheehey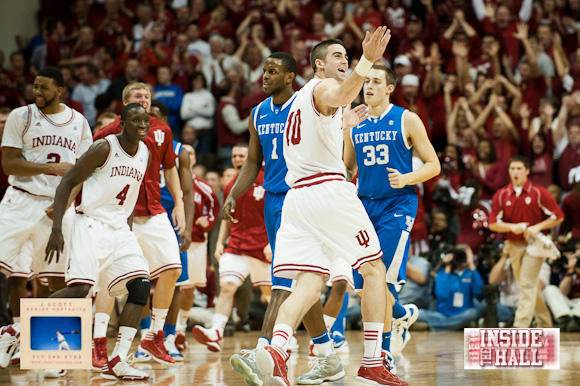 Welcome to "That's A Wrap," our player-by-player recap of the 2011-2012 Indiana Hoosiers. Today: Will Sheehey.
Final stats (31 games): 8.6 ppg, 3.1 rpg, 50.5% FG, 70.4% FT in 22.4 minutes per game.
Will Sheehey took the leap in his sophomore season.
The Florida native improved across the board in just about every facet of his game, and it was evident from the get-go. Sheehey ripped off 80 points in the Hoosiers' first six games of the season (13.3 points per game average), as he become a key member of the team's uptempo attack. His ability to hit the pull-up mid-range jumper on the break — one with distinct form, his springy, surprising athleticism allowing him stop quick and rise high with strong mechanics– was the perfect complement to Cody Zeller and Victor Oladipo scoring at the rim, and the likes of Jordan Hulls, Christian Watford and Matt Roth being deadly 3-point options. (Though, Sheehey's game extended beyond that; he was strong around the basket and hit 38.3% of his 3-pointers this season as well.)
Sheehey started 11 of the 31 games he played in, not something expected at the onset of the 2011-12 campaign.
At Big Ten Media Day before the season, Tom Crean noted Sheehey as one of the first players starting to get it on defense beyond Oladipo, and he certainly was a key cog in the Hoosiers' big strides on that side of the ball. When he went out with an ankle injury — one that caused him to miss the first four Big Ten games of the year — his absence on defense was felt. The injury came at a tough time during the season and it was clear he was unable to get the same lift on his shot for several games, finally looking like his previous offensive self in a Feb. 22 win against North Carolina Central — a full two months after he sustained the injury.
Sheehey also played the role of enforcer for the Hoosiers, as he was about the only one in the regular rotation that had a bit of chipiness in his game. In the waning minutes of Indiana's blowout win against Penn State on March 8, Sheehey showed some bite as things starting getting physical between the Hoosiers and Nittany Lions. After some Penn State players took offense to a late three attempt from Watford, Sheehey mixed things up and drew his second technical of the game — which prompted an ejection.
Bottom line: After a freshman campaign in which he showed some promise, Sheehey arrived this season in Bloomington. He aided in the Hoosiers' strong offensive rebounding numbers (fourth on the team amongst regulars in OR%) and was a solid contributor on both sides of the ball. Like a few of his teammates, another leap next season could see him sniffing All Big Ten honors. Sheehey's length and athleticism also make him a candidate for a lockdown wing defender in 2012-13, a role he could relish with the edge he has to his game.
Previously: Derek Elston, Jordan Hulls, Matt Roth, Tom Pritchard, Verdell Jones, Victor Oladipo
Filed to: Will Sheehey