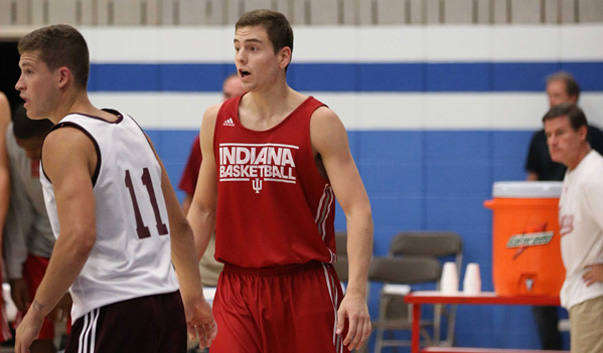 Just before the Indiana men's basketball team was set to leave for their Canada tour on Thursday morning, Hoosiers coach Tom Crean found transfer addition Nick Zeisloft in the gym, working on his game with rising sophomore Stan Robinson.
It was 6:45 a.m. The team was scheduled to meet at 8 a.m.
"That's what you want," Crean said on Sunday afternoon. "No one told them to do that. And that's the level of commitment you want."
Zeisloft, a senior with two years of eligibility remaining, had arrived in Bloomington just days before then after completing his undergraduate education at Illinois State. He had only practiced with the Hoosiers for "a couple of days," according to Crean, before flying with the team to Montreal.
And while he is new to Bloomington, Crean said he still has "extremely high expectations" for Zeisloft. After all, last season he shot nearly 42 percent from beyond the arc during Missouri Valley Conference play and 90 percent from the free throw line throughout the season.
"It doesn't matter if you're 21, 22, 42 or 52, you walk into a new environment, it's going to be different," Crean said. "But we have high expectations for Nick. Extremely high expectations for him. Because like I said, when we started studying his film when this became a possibility, we felt there was a lot on the table left for him. and there is, and we're going to keep pushing him.
"And I think he wants it. He's an extremely hard worker."