Indiana focused on improvement, not rankings, in preparation for home opener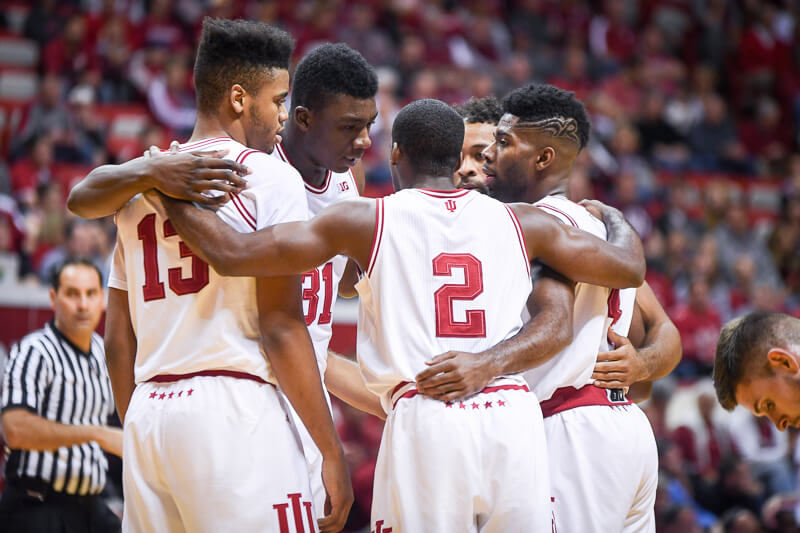 After moving up to No. 5 in this week's Associated Press top 25 poll and No. 6 in the USA Today coaches poll, Indiana's national profile is on the rise.
The Hoosiers passed their first test on the national stage in an overtime win against Kansas on Friday night, but were right back in the gym battling jet lag by Sunday morning.
"Practices have been around jet lag and stuff like that, but I feel like are bodies are coming into it," freshman De'Ron Davis said on Tuesday. "We're a little tired, but we'll be ready for our next game."
If the traveling has been hard, the team is downplaying it as a factor heading into their home opener. Crean emphasized getting back into a routine and sense of normalcy has been a focus heading into this week. After the late tipoff on Friday, the team arrived in Bloomington on Saturday night.
Crean, however, didn't return to Bloomington until Sunday morning. After leaving Hawaii, Crean and assistant coach Chuck Martin stopped in Phoenix to do some recruiting and to watch Yogi Ferrell and the Brooklyn Nets defeat the Suns.
In terms of the polls and rankings, Indiana isn't talking about the major jump it made this week. It is focused on its own standards of improvement.
"I'm sure they know and they're aware of it, but the whole key you want inside your program is the standards they set are the most important," Crean said on Tuesday. "It's not the expectations on the outside, what someone thinks, or what someone writes or votes. But the standards they set and how they can keep getting better. We want to stay centered and focused on that as much as we possibly can."
Crean didn't go over every detail on his list of what needs to get better, but did mention that defensive improvements include communicating on screens and hand activity. The deflection numbers for the team can be misleading, Crean said. He doesn't want to get complacent when they can still be more aggressive on defense. Offensively, the team can do better with feeding the post and weak-side ball movement.
Moving forward, any fatigue will have quickly faded with IU's regular season home opener on Wednesday.
"It should be exciting for us to get out there and play in front of the fans for the first home game," Robert Johnson said. "We're excited to go out there and continue to build on some of the things we've been doing."
The Hoosiers are facing UMass Lowell (1-1) on Wednesday night in the first regular season game at the renovated Simon Skjodt Assembly Hall. Last year, Indiana finished 17-0 at home. They will look to continue their streak of 31-straight wins during home openers against the America East Conference opponent. IU is 3-0 is all-time against America East programs.
UMass Lowell made the jump to Division I in 2013 under head coach Pat Duquette, who is 33-54 at the school. Tonight's game is the first of four in the Indiana Classic, an exempt tournament that also includes games with Liberty, Fort Wayne and Mississippi Valley State.
Junior guard Matt Harris, who is averaging 17 points and 4 assists per game, leads the way for UMass Lowell. Redshirt junior Jahad Thomas, averaging 16 points and 7 rebounds, was a preseason All-America East selection. Sophomore guard Isaac White rounds out the top three scorers averaging 14.5 points.
Nine of IU's next 11 games before Big Ten play are at home. The exceptions are at Fort Wayne and against Butler in the Crossroads Classic at Bankers Life Fieldhouse.
Filed to: Tom Crean, UMass Lowell River Hawks