News and notes from Tom Crean's radio show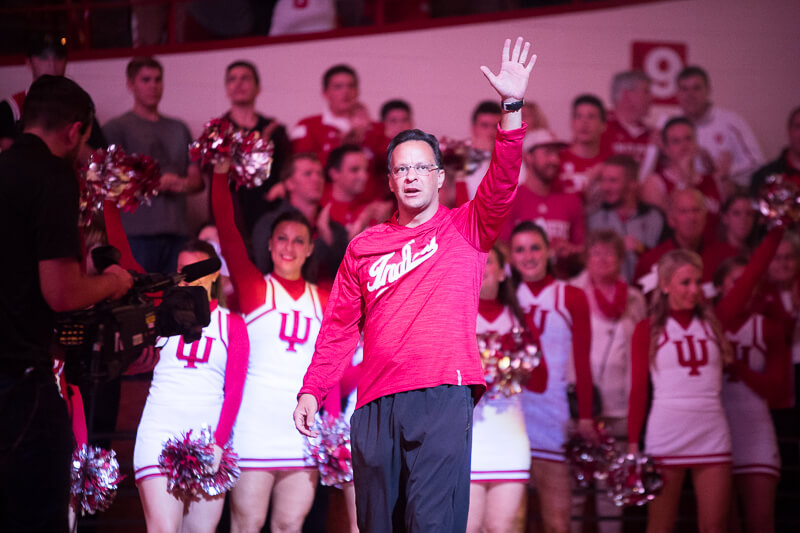 Inside IU basketball with Tom Crean was live on Monday evening from the Holiday Inn in Bloomington as the Hoosiers prepare for games this week in Bloomington with UMass Lowell and Liberty. Freshman Curtis Jones was this week's player guest.
Below are news and notes from Crean's comments on Monday evening:
· Crean said that Indiana is still "feeling the effects" from the trip, which is "to be expected" due to the amount of travel involved. "It was a great four days," he said.
· On the trip back, Crean said he and Chuck Martin stopped in Phoenix (the team connected through Phoenix as well) to go recruit and also had a chance to go to the Nets-Suns game to watch Yogi Ferrell's first road win in the NBA.
· Crean said that even if Indiana wouldn't have won the game, "it was an incredibly well spent, moving four days."
· Crean noted that the game with Kansas was the highest viewed in Armed Forces Classic history.
· Indiana participated in a variety of activities in Honolulu including a submarine tour, a tour of Pearl Harbor and a clinic with kids (150-200 children of servicemen).
· Crean said that the game had a little bit of everything: turnovers, missed calls, calls that you scratch your head at, momentum swings, poor choices and miscommunications. "It was a battle of wills. And we just happened to score four more points. That's really what it was. We beat a great team. They're a great program. And I'd like to think we have one too. But the bottom line is they're going to get a lot better."
· Crean said that he's no closer to understanding the new rules of verticality and who initiates contact than he was before the game. "Probably less so after the game. I'm going to have to learn. We're all going to have to learn."
· Indiana is building its team chemistry, according to Crean. "It's building. We've gotten a lot better the last couple weeks when it comes to communication," he said.
· In regards to James Blackmon Jr., Crean was particularly impressed with how confident he was in his first regular season game since major surgery. "From his first five practices on, he's not had any of the timidness that can come with coming back from injury."
· On Thomas Bryant: "He's doing what we're trying to build him to do. And if there's anything that's got to get better, it's his back to the basket game. And it will."
· Crean had this observation from a friend on his team and the number of combinations it has at its disposal: "You don't have to sub to get the match-up that you want."
· Crean was asked about the floor in Hawaii. He said it was a new floor, but adds that nobody was at fault. He added he's not an expert on the floor, but said that maybe next time the floor needs to be broken in before use.
· Crean said that Monday was the best practice yet for junior Freddie McSwain.
· Crean was asked about Derek Elston: "He's going to be an excellent coach. He's learning like everyone else."
· More on the Armed Forces Classic as an event and how it compared to previous events the Hoosiers have participated in: "In nine years, it's — if not the best thing we've ever done non-league — it's one of them."
Filed to: Tom Crean