News and notes from Tom Crean's radio show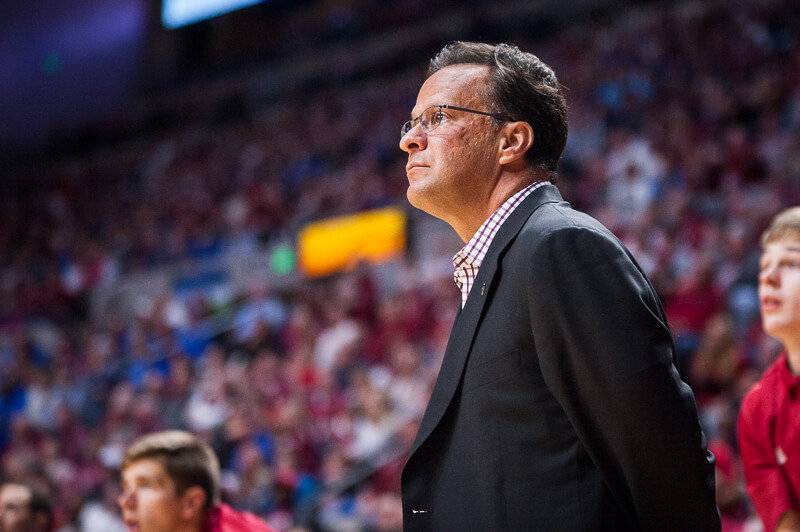 Inside IU basketball with Tom Crean was live on Monday evening from the Holiday Inn in Bloomington as the Hoosiers prepare for a rematch of last season's Sweet Sixteen loss against North Carolina on Wednesday. The Hoosiers also face SIU Edwardsville and Southeast Missouri State this week on Friday and Sunday.
Below are news and notes from Crean's comments on Monday evening:
· Crean said the 71-68 OT loss at Fort Wayne was comparable to losing a first-round NCAA tournament game. Crean mentioned coach Bob Knight's philosophy that basketball is four parts mental to one part physical, and IU was on the wrong side of that on Tuesday night.
· The loss was a due to mental preparation, but Crean said other things contributed to the outcome: "We didn't have the right mindset to go into the game attacking the right way. We never threw that knockout punch. We shot too many jump shots early, didn't defend well enough with the ball screen, and communication wasn't nearly as good at the beginning."
· A positive from that game was Zach McRoberts. Crean said McRoberts stood out because he was the most aggressive and finished +15. Crean said: "Somebody's going to dare him and not guard him and then he's going to bury three in a row." McRoberts started against Hope College (IU's first exhibition) to help him realize he belongs here and he's an important part of the team.
· Sunday night, IU defeated Mississippi Valley State 85-52 with another slow start for the Hoosiers. Crean said they weren't used to having to make those kinds of plays under a zone pressure yet. Adjustments during halftime included a better job of attacking the pressure and working the ball in the middle.
· Crean said Thomas Bryant had back-to-back double-doubles last week and it shouldn't be a surprise. The focus in film sessions has been working on doing more things through Bryant.
· Update on James Blackmon Jr. sitting out Sunday: "We worked with him and are just trying to get an idea of where he's at. We're going very slowly with that and he's doing a lot of rehab. He's very, very serious about not only getting better, but getting healthy. We'll see how he feels tonight and tomorrow."
· In regards to Johnny Jager, Crean said they're spending time building his range and his dribble game. Part of his improvement will come when he realizes his capability, but "he fits right in," Crean said. He added, it's not fair to compare Jager to Jordan Hulls because Hulls had a sneaky quickness, while Jager brings more strength.
· Crean didn't give any new updates concerning Hartman's status but says: "He has more responsibilities inside the game. He's truly evolving into what we wanted him to be, even before he got hurt. His voice, his presence, his experience, his understanding, is really strong and I trust him with a lot and I think his teammates do too."
· On Troy Williams and Yogi Ferrell in the NBA: In a game where Williams started, he had a career-high 18 points and contested the game-tying three. In the post-game interview, the announcer said somewhere Tom Crean is smiling, "and he was absolutely right," Crean said. As for Yogi, he's currently the fifth leading scorer for a rookie. "They're both there to stay, there's no doubt about it."
· The 1981 National Championship team will be reuniting in Bloomington on Wednesday night to be honored during halftime of the game. The '81 team helped coach Knight capture his second NCAA title with a 63-50 victory against UNC.
· Crean says, "We've taken a lot from the championship teams and made it into poster boards for all the players when they walk through Cook Hall with different quotes of why they were successful or why other teams have been afraid to play them. Whether it was the '76 team or the '81 team, they found a way to win. They had star players that played unselfishly, and those teams really could defend."
· Crean's notes on how IU will match up: "We've got to be hitting on all cylinders. It all starts with transition defense, but it doesn't end there. You've got to guard the shooting and I'd put their ability to rebound the ball with the best that we've seen coming here in my 9 years at Indiana."
Filed to: Tom Crean