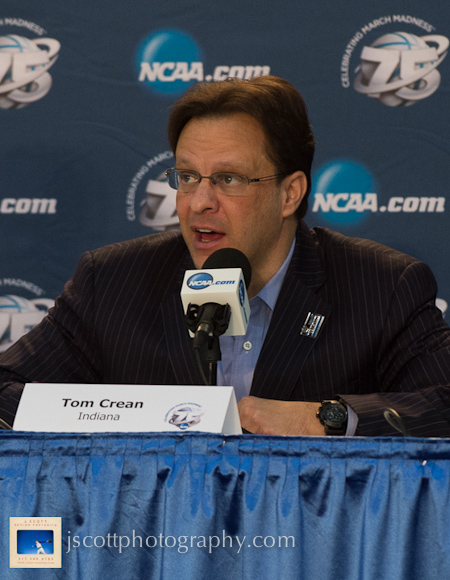 WASHINGTON — Tom Crean, Christian Watford, Cody Zeller and Victor Oladipo met with the media following Indiana's 61-50 loss to Syracuse in the East regional semifinal. Read comments from their postgame reaction below.
THE MODERATOR: We are joined by Indiana, student athletes Christian Watford, Victor Oladipo and Cody Zeller and Coach Tom Crean. We will start with an opening statement from Coach Tom Crean.
COACH CREAN: Well, we have had a heck of a ride with this group, and it doesn't feel like that tonight, won't feel like that for a couple of days, maybe longer.
But the bottom line is that this program has come from so far and I hope at some point in time, the seniors, the guys on this team will remember that they did things that hadn't been done first off in 20 years at Indiana but more importantly there are not any programs, whether this be Syracuse, Kentucky, Carolina, Duke, you name it that are the blue blood programs of the country that have had to endure what these guys have had to endure. They have done it with perseverance, toughness, and improvement and they have done it with great class and they will all be better for it.
That's how I view it. Our minds are around closure right now, they're not. So we have to look at it that way. The story of the game for us is we didn't take care of the ball enough. We gave them too many opportunities. We did not do a good enough job on a couple of their guys, especially Michael Carter-Williams and we couldn't get over the hump. We couldn't get that gap, that margin where we needed it to be. They played well and they deserve it, we didn't play as well, we played extremely hard. They move on and we call it a great year.
Q. Christan, it must be hard to do right now but is there any way you can put into perspective your career at Indiana right now?
CHRISTIAN WATFORD: As you know, it's been full of up's and down's but I wouldn't trade it for the world. I love my teammates and I'm happy to be an Indiana Hoosier at the end of the day.
Q. Victor, what made their two-three zone so difficult? What kind of challenges did they present in their zone?
VICTOR OLADIPO: They were just long and active. We just didn't take care of the ball like we should have. In the first half we got a little too anxious, catching the ball, moving out the ball, not having the ball secure in our hands, and our shots weren't falling at the same time.
So that's pretty much it.