Around the Hall: IU's disconnect, blue blood status and more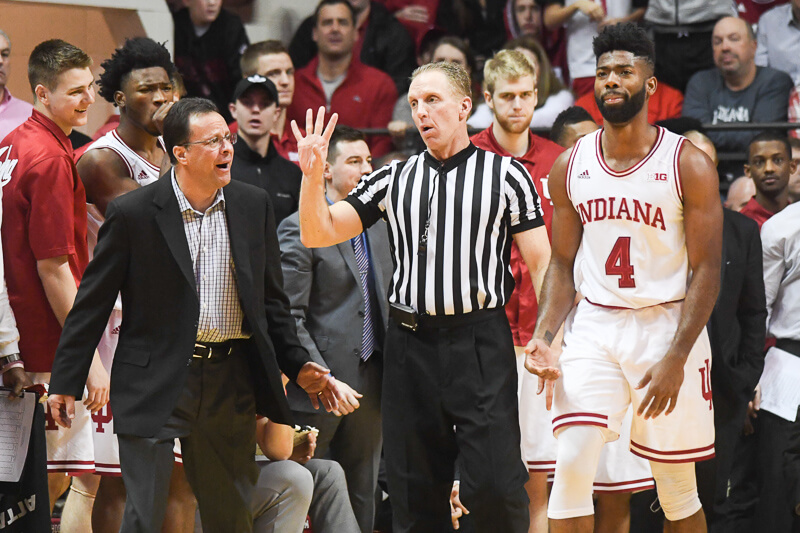 Around the Hall is recommended reading from the Inside the Hall staff.
Indiana's disconnect is difficult to explain, Mike Miller of The Herald-Times writes:
In a season where the Big Ten is, for the most part, a muddled mess of mediocrity, Indiana's only course for salvaging something meaningful would be a run through the conference tournament, which begins in two weeks. Even for an IU program that hasn't won two games in the Big Ten Tournament since 2003, it's not out of the question given the landscape of the league.

Getting to that point, however, will require a fix that Indiana has so far appeared incapable of administering.

With three regular-season games remaining — and losses in seven of the past eight games — there is a palpable disconnection within IU's program.
Terry Hutchens of CHNI writes that the noise around Tom Crean is getting louder:
A season that once looked as if it would certainly end in the NCAA Tournament now has IU fans wondering if the Hoosiers can qualify for the NIT.

As I drove across I-74 from Iowa City Wednesday afternoon, I got a sampling of the noise as I tuned into four different sports talk shows in the Indianapolis area over a six-hour stretch. Dan Dakich, like he did on the ESPN telecast Tuesday night, said he believed it was more of a problem of players not buying in than it was the fault of Crean. The tone on the other shows was more of wondering aloud if Crean can survive the current debacle in Bloomington.

If you just went with the sentiment on social media, he probably would not.
Zach Osterman of The Indianapolis Star dives into this question: Long a blue-blood, what is IU basketball now?
As long as Indiana alumni spend to support a blue-blood program, and the school enjoys the facilities advantages of a blue-blood program, allocates the recruiting budget of a blue-blood program and draws the fan support of a blue-blood program, Glass will continue to expect it to perform like a blue-blood program.

Which brings us back to fans' current frustrations.

The decay in results under Bob Knight's final six years, followed by the briefly bright but largely underwhelming tenure of Mike Davis, followed by the Kelvin Sampson debacle, pushed Indiana out of the Big Ten's top spot. Given the root-and-branch rebuild Crean had to undertake in his first three years, his achievements in the past five-plus years cannot be dismissed.

They just don't tell the entire story.
Pete Thamel of Sports Illustrated previews this spring's coaching carousel and Indiana is among the jobs Thamel believes could open:
Indiana: There's an industry-wide expectation this job will open this this year. Will Indiana fire Crean? Or will he find a safe landing elsewhere? That's the drama. (It costs him nothing to leave, contractually.) But the bottom line is it would be an upset if there's not a new coach on the sideline in Bloomington next year.
Justin Albers takes a look at Tom Crean's tumultuous time in Bloomington:
In essence, it's been a tumultuous run of either exceeding expectations when they're relatively low and falling short of expectations when they're impossibly high with no real middle ground to be had. It shouldn't really come as a surprise, then, that fans and the media alike have formed opinions that fall on opposite sides with nothing in the middle.

Who's right? Honestly, there's truth in both sides.
Filed to: Tom Crean