News and notes from Tom Crean's radio show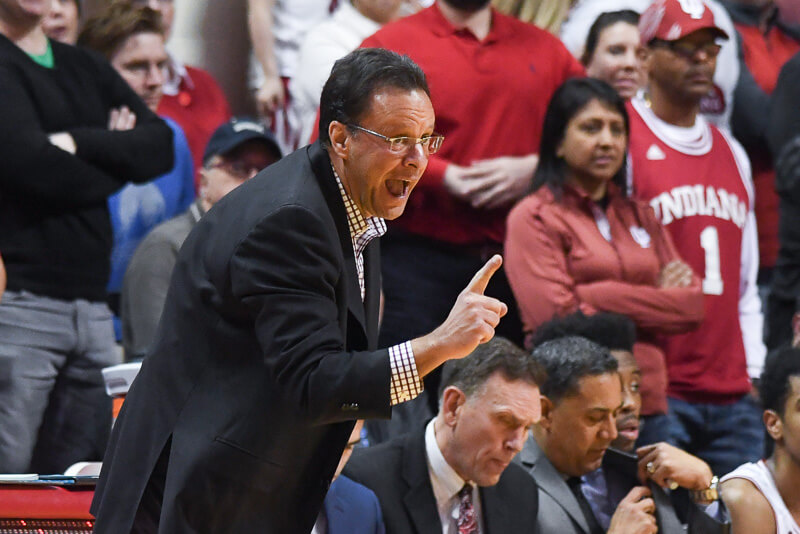 Inside IU basketball with Tom Crean was live on Monday evening from the Holiday Inn in Bloomington with player guest Quentin Taylor.
Below are news and notes from Crean and Taylor (all quotes are from Crean unless noted otherwise):
· On having to play without three starting-caliber players, "It's an energetic exercise, an invigorating exercise, to try and figure out how we're going to play in the games. You've gotta be sound. We're not business as usual right now. It's not ok, we're just going to go matchup with you and let's give it our best shot. It's not let's just line up and make them stop what we do. That's not where we're at right now. We're just not. We're without guys that allow that to happen. That's not to take anything away from the guys that aren't playing, but we have to be creative with that."
· Crean spent much of the show noting the lack of foul calls Indiana has received of late. When Fischer noted that Bryant was double-teamed 'a ton' against Wisconsin, Crean interjected before Fischer was able to finish his question. "And he didn't shoot a free throw. Imagine that? Go figure on that."
· On what the team can do to win the free throw battle, "We're so far down on the free throw shooting. We can point to turnovers being a part of some things, to missed shots being a part of some things, but at the end of the day, we're trying to do our best to make sure we're creating opportunities to score close to the rim or get downhill at the basket. We've just gotta keep figuring out different ways that it's a no-brainer that we were fouled and that we gotta get to the line. Because that's what it seems that other teams are doing a pretty good job of."
· Later in the show, Crean was asked by a fan what the team can do to draw more fouls, "I spend the majority of my waking hours trying to figure that out inside of the film. And I've made up my mind, I'm not talking about any of that stuff in the sense of what is and what isn't (a foul). We've got to keep trying to figure out, as far as when it comes to how the game is being officiated, what we've got to do is make it more obvious. I'm still at a point, 20 something odd games in, where I truly – and maybe this puts me in the minority, I don't know – but I truly don't understand from game to game sometimes what a foul is and isn't, when it comes to impeding the progress of the dribbler, when it comes to putting the forearm on somebody when they drive the ball. When it comes to putting two hands on the back on a post up. I don't understand all that, I guess. Because it seems to change from time to time. So we've just gotta do a better job, the bottom line is when you get your head and shoulders by the defender on the drive, that's pretty much supposed to be a foul. We've just gotta continue to look for it and figure out ways – getting downhill with great speed, James was getting so much better at that – it's not the strength that it was of last years team, but it's better than what we're getting rewarded for right now."
· On Thomas Bryant being held to 11 points against Wisconsin, "There's no question Thomas could have played quicker with the post up…he's too unselfish. I'm not saying anything that I haven't said to him. He's far too unselfish with the ball when he catches it in the post. And we don't need that."
· On Newkirk's improved shooting, "When he is struggling is when he's thinking about it. Even a little bit yesterday, he kind of went a little bit too quick. When he's playing in the flow, when he's moving the ball, when he's attacking the rim, when the ball is moving, he's a product of being ready to shoot."
· Crean said Devonte Green wasn't able to practice on Friday due to an injury, and still wasn't 100 percent by Saturday. That lead to Crean inserting Curtis Jones into the starting lineup on Sunday.
"I thought he did fine," Crean said of Jones. "He missed some open shots that he can make. I thought he got involved. We've got to get him a bit more disciplined, same thing with Devonte, on defense when it comes to closeouts. Curtis needs to realize he's not a shot-blocker. We're not back playing in high school. We've gotta have technique, we're not trying to block shots and leave our feet. We're not attacking the ball aimlessly. We're going down with a purpose. Our closeouts have got to be on time. We can't jump stop. Same thing with Devonte. They learn those things over a period of time. Everybody goes through those moments…I thought he did fine. I'm glad we've gone through a week where both Devonte and Curtis have a start under their belt."
· On Caleb Swanigan, "(He's) playing with such a relentless attitude, relentless spirit right now. Playing his position, he can shoot the ball, he can drive it. He commands a lot of attention, he really does. He plays so hard. He's a wrecking crew on the glass and he is getting to the glass to rebound the ball."
· On facing Purdue Thursday, "It's not going to be for the faint hearted. This is not a game where if you don't like contact, if you don't want to put your body on the line, it's going to be hard to put somebody into the game. We know what (Purdue's) attitude is coming into this game. We have to be, no matter who we have, whether James is back or not, we have to be at a high level of intensity, but an equally high level of focus. This cannot be a game where we have a lot of empty possessions and we try to do things that aren't there. The shooting makes them that much harder to guard, because they can space the floor in the corners, they can space the floor at the slots, they can cut."
· On Freddie McSwain, "The hard thing for Freddie is, athletically, we're not seeing the guy that we signed. He's not all the way back from that surgery he had in the preseason. He's a workhorse, he really really works at the game and on the court. You can see it sometimes with his quickness, things of that nature. He jumps, but he doesn't really jump to the level of where he did when we signed him. Hopefully, that will continue to get better."
· Crean said he was able to catch most of the second half of Yogi Ferrell's 32-point performance against Portland on Friday, "I keep the TV off for the most part in my film room because I'll just watch it. I'll just get distracted and watch it. I want to stay locked into the film. But when I put my phone back on and saw some of the texts. (Athletic Director) Fred Glass actually had texted me about how well Yogi was playing that night, and he was watching the game. So as I was pulling in, I go in and watch it and it was very enjoyable to see that, it really was. I've got the first half on film, I just haven't had a chance to see it yet."
· Taylor started playing basketball in second grade and played alongside Purdue's PJ Thompson at Brebeuf Jesuit Prep in Indianapolis. Taylor said he spent his summers training with Thompson's father, LaSalle, who played at both Indiana State and Ball State. "That's who I really worked with, just trying to model my game after him. He's a guard, and I try to be a guard as well…I've had a pretty interesting come-up in terms of how I got into basketball."
· Taylor, on being a part of Indiana basketball, "just the tradition and the history, you want to be a part of it. I didn't know I was going to be blessed with the position I was given when I came here. It's a good academic school, I chose it for that reason. Also, as a freshman here, before I was on the team, I attended a lot of games just because I liked seeing them play. I liked the program a lot. I felt like I should give it a shot and chase after a dream I've always wanted to be a part of. It worked out in my favor."
· Taylor is majoring in safety and applied health sciences and wants to be an "emergency manager in counterterrorism." Taylor added that, "a lot of terrorist attacks catch my attention because they can be prevented, or you can definitely be ready for them. With a good plan, you can save a lot of lives."
· Taylor's father is a police officer and his mother is an investigative reporter for WTHR, "I've always been around news and crime, so I'm definitely taking a criminal justice minor."
· On the role of walk-ons: "We see the bigger picture. We see the plan that coach Crean is implementing. Our role is very valuable when it comes to preparing for the teams that we play day in and day out. To be a part of something bigger is where it becomes special. When we win games, Indiana basketball is exalted. Even though certain players get the accolades and the accomplishments, when the program is winning as a whole, it just makes everybody happier, it makes everybody feel better. It makes us feel better to be able to help the guys prepare for that. So when game days come around and we're cheering on the sidelines, we see how their execution has been prepared for just through us trying to challenge them and make them better."
·When asked who the funniest player on the team is, Taylor, without hesitation, said it was Thomas Bryant, "That's a no-brainer for a lot of people that watch him play. His emotion is just so outward, so projected on anybody. You could be sitting in the locker room being quiet and he'll come up and get in your face and make you laugh or scream and shout. It's always just so funny to us because he's so big doing that too."
Filed to: Quentin Taylor, Tom Crean