Notebook: Turnovers, slow start doom IU in 65-60 loss at Wisconsin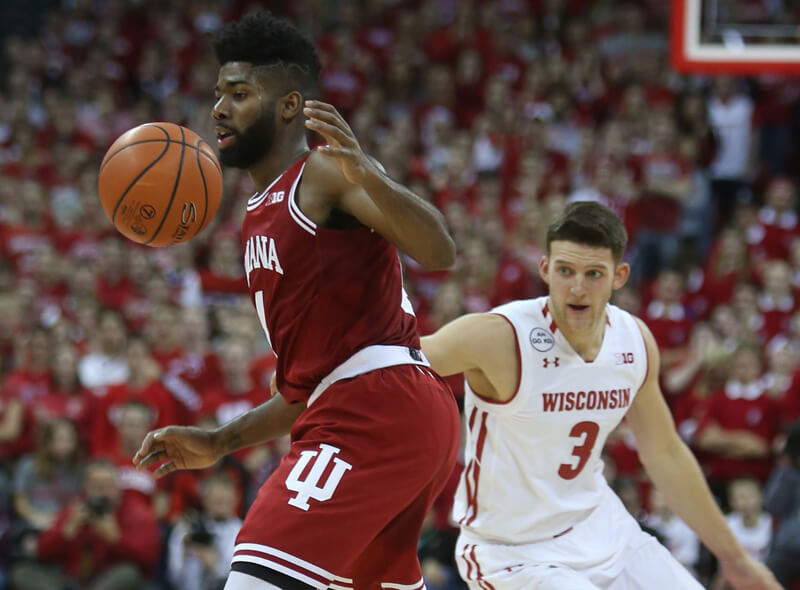 MADISON, Wis. – Four days after needing three overtimes to scrape past Penn State, Indiana failed to capitalize on a poor offensive afternoon from Wisconsin. The result? A 65-60 loss, the 16th straight for the program in Madison.
The Badgers (20-3, 9-1 Big Ten) uncharacteristically shot 4-of-17 from three, turned the ball over 11 times and only dished out nine assists.
"They were pressuring the passers a little more since our last meeting. But other than that, they were still bringing the double, sometimes in different areas whenever Nigel or I got the ball." Wisconsin sophomore Ethan Happ said. "But they were basically doing the same stuff. We just didn't hit as many 3s this game."
The Hoosiers (15-9, 5-6) failed to take advantage of the opportunity, largely because they have failed to fix the issues that have plagued them all season – poor starts, turnovers and communication.
Much like the last time IU faced Wisconsin, the Hoosiers found themselves playing from behind. Less than 12 minutes into the game, the Badgers had a 12-point lead.
During that opening stretch, Indiana looked lost offensively, committing six turnovers and scoring just 10 points. A lack of off-ball movement and poor decision-making stuck Indiana in a rut it couldn't get out of.
The Hoosiers tied the game shortly before the half, but the 11-2 Badger run that followed all but put the game away.
"Offensively, we just have to continue to try to make the simple play," Robert Johnson said.
To their credit, the Hoosiers, down three starters, battled back. A renewed defensive intensity, along with spurts of hot shooting, helped cut the Wisconsin lead to a single possession in the final 30 seconds.
But the veteran Badgers did what they needed to, knocking down free throws in clutch moments to stave off the Hoosiers.
"Thank goodness there's two sides of basketball," Wisconsin senior Nigel Hayes said. "We were able to make up some things on defense. To hold them to 60 points was a really good deal for us. It's the only reason why we won."
Newkirk's improved shot
Josh Newkirk struggled for most of the first half of the Big Ten schedule, but the Pittsburgh transfer has stepped up his game of late, especially on the offensive end.
Prior to his 27-point outburst against Penn State on Wednesday, Newkirk had yet to score more than 13 points in a single contest as a Hoosier.
Newkirk continued his hot shooting Sunday, nailing four of six 3s and scoring 22 points.
"It's footwork and follow through, that's really what it is," Crean said. "And it's mindset. When he's on the attack offensively or defensively, you're in the flow of the game, you're really not thinking about shooting. Things become a lot clearer."
Blackmon progressing
Indiana's offense continued to sputter without James Blackmon Jr., who hasn't played since suffering a lower leg injury in the Jan. 26 loss to Michigan in Ann Arbor.
In two of the three games since losing their leading scorer, the Hoosiers have failed to eclipse 1.0 PPP.
Blackmon hasn't participated in a practice since the injury, but dressed on Sunday and participated in pre-game and halftime warm-ups.
Asked to provide an update on Blackmon after the game, Crean said there wasn't one.
(Photo credit: Mary Langenfeld-USA TODAY Sports)
Filed to: Josh Newkirk, Tom Crean, Wisconsin Badgers