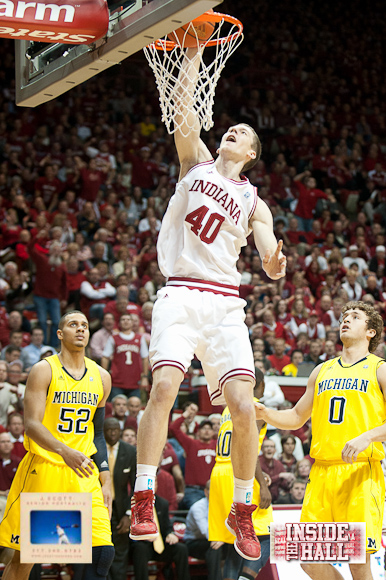 With the official start of practice less than nine weeks away, Inside the Hall and UM Hoops have partnered to bring you a preseason breakdown of the top 25 players in the Big Ten for the 2012-2013 season.
Our selection process was hardly scientific, but it did involve much deliberation and compromise to arrive at a list that we hope will provide plenty of reaction and debate.
The series is broken down into five parts (25-21, 20-16, 15-11, 10-6) and our final installment of players 5-1 is available below:
5. Aaron Craft, Ohio State (6-foot-2, guard, junior)
32.2 mpg, 8.8 ppg, 4.6 apg, 3.2 rpg, 2.5 spg, 55.0 eFG%
Craft's scoring numbers may be modest, but his steady presence in the backcourt helped Thad Matta and the Buckeyes return to the Final Four where they fell to eventual runner-up Kansas. While it helps that he's been surrounded by elite talent during his time in Columbus, Craft deserves his due for the impact he makes in so many areas of the game. His steal percentage (4.65) was by far the best in the Big Ten and his ability to pressure the ball is something Big Ten opponents have grown to loathe. The departures of Jared Sullinger and William Buford will probably afford him more opportunities to score and that isn't a bad thing for Ohio State as Craft shot over 55% on twos as a sophomore and got to the foul line at better rate than every Big Ten player not named Cody Zeller. One area Craft could look to tighten up is his turnover percentage (23.8) which is somewhat a result of the frantic pace at which he operates.
4. Trevor Mbakwe, Minnesota (6-foot-8, forward, senior)
28.7 mpg, 14.1 ppg, 9.1 rpg, 1.7 bpg, 60.4 eFG%
Mbakwe was well on his way to another outstanding season and a likely spot in the NBA Draft before an unfortunate right ACL tear ended his year prematurely last November. Tubby Smith's club stumbled frequently following his injury, but eventually rebounded with a trip to the NIT Championship game. After being granted a sixth year of eligibility by the NCAA, Mbakwe returns to a Minnesota team that should benefit greatly from his presence. As one of the most powerful post players in the country, Mbakwe is an outstanding finisher around the basket and is one of the Big Ten's best at getting to the foul line. Combine his prowess on the glass (2nd in DR% in the Big Ten as a junior) with his ability to alter and block shots and it's no surprise he lands this high on the list. What remains to be seen is whether Mbakwe will need time to regain the explosiveness that makes him one of the nation's elite big men.