Big Ten's Top 25 Players: 5-1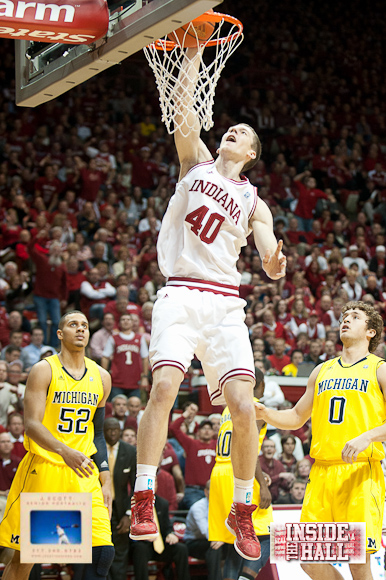 With the official start of practice less than nine weeks away, Inside the Hall and UM Hoops have partnered to bring you a preseason breakdown of the top 25 players in the Big Ten for the 2012-2013 season.
Our selection process was hardly scientific, but it did involve much deliberation and compromise to arrive at a list that we hope will provide plenty of reaction and debate.
The series is broken down into five parts (25-21, 20-16, 15-11, 10-6) and our final installment of players 5-1 is available below:
5. Aaron Craft, Ohio State (6-foot-2, guard, junior)
32.2 mpg, 8.8 ppg, 4.6 apg, 3.2 rpg, 2.5 spg, 55.0 eFG%
Craft's scoring numbers may be modest, but his steady presence in the backcourt helped Thad Matta and the Buckeyes return to the Final Four where they fell to eventual runner-up Kansas. While it helps that he's been surrounded by elite talent during his time in Columbus, Craft deserves his due for the impact he makes in so many areas of the game. His steal percentage (4.65) was by far the best in the Big Ten and his ability to pressure the ball is something Big Ten opponents have grown to loathe. The departures of Jared Sullinger and William Buford will probably afford him more opportunities to score and that isn't a bad thing for Ohio State as Craft shot over 55% on twos as a sophomore and got to the foul line at better rate than every Big Ten player not named Cody Zeller. One area Craft could look to tighten up is his turnover percentage (23.8) which is somewhat a result of the frantic pace at which he operates.
4. Trevor Mbakwe, Minnesota (6-foot-8, forward, senior)
28.7 mpg, 14.1 ppg, 9.1 rpg, 1.7 bpg, 60.4 eFG%
Mbakwe was well on his way to another outstanding season and a likely spot in the NBA Draft before an unfortunate right ACL tear ended his year prematurely last November. Tubby Smith's club stumbled frequently following his injury, but eventually rebounded with a trip to the NIT Championship game. After being granted a sixth year of eligibility by the NCAA, Mbakwe returns to a Minnesota team that should benefit greatly from his presence. As one of the most powerful post players in the country, Mbakwe is an outstanding finisher around the basket and is one of the Big Ten's best at getting to the foul line. Combine his prowess on the glass (2nd in DR% in the Big Ten as a junior) with his ability to alter and block shots and it's no surprise he lands this high on the list. What remains to be seen is whether Mbakwe will need time to regain the explosiveness that makes him one of the nation's elite big men.
3. DeShaun Thomas, Ohio State (6-foot-7, forward, junior)
31.4 mpg, 15.9 ppg, 5.4 rpg, 57.4 eFG%
Some players are simply wired to score the ball. As a freshman, pundits marveled at how many shots Thomas was able to attempt in limited minutes while maintaining remarkable efficiency. As a sophomore, he was able to utilize his offensive repertoire over the course of an entire game. Somehow the 6-foot-7 forward became even more efficient in a larger role. Thomas was a top ten offensive rebounder in the conference, made 60% of his twos and 35% of his threes. That made him the third most efficient player in the Big Ten among players that used at least 20% of their teams' possessions. Thomas is far from flawless, and it's fair to say that defense or passing have never been high on his to-do list, but it's tough to find a more productive offensive player in the Big Ten. The Buckeyes lose a lot – Sullinger and Buford accounted for over half of Ohio State's shots a season ago – and have plenty of questions to answer with inexperienced players being thrust into prominent roles. Regardless of who joins Thomas and Craft on the court next year, it's safe to pencil in Thomas as one of the league's most productive scorers and worry about the details later.
2. Trey Burke, Michigan (6-foot, point guard, sophomore)
36.1 mpg, 14.8 ppg, 4.6 apg, 3.5 rpg, 50.2 eFG%
Trey Burke was half way to the NBA before deciding to return to school in April. His decision is likely to save Michigan's season. When considering the drop off from Burke, one of the nation's best point guards, to freshman guard Spike Albrecht, who committed to Michigan over Appalachian State, it's hard to argue that Burke isn't the Big Ten player most important to his team's success in 2013. There wasn't a whole lot that Michigan's point guard didn't do well during his freshman season. He was the No. 9 scorer and No. 3 assist man in Big Ten play and demonstrated composure beyond his years in late game situations. Improving his two point shooting (49% on twos as a freshman) would go a long way toward manicuring his game for the next level while helping Michigan build on last year's shared conference title. Burke will also be relied on to handle the leadership void left by graduating seniors Zack Novak and Stu Douglass but should have more versatile weapons at his disposal with the additions of Glenn Robinson III and Mitch McGary in the front court.
1. Cody Zeller, Indiana (7-foot, forward, sophomore)
28.5 mpg, 15.6 ppg, 6.6 rpg, 1.4 spg, 62.3 eFG%
Billed by some as the savior of Indiana basketball before ever logging a minute in Bloomington, it's hard to argue that Zeller was anything less than that as a freshman. With Zeller anchoring the front court, the Hoosiers jumped from a 12-win team in 2010-11 to a 27-win team in 2011-12. He ranked third in the conference in effective field goal percentage, fifth in offensive rebounding percentage and first in free throw rate. But beyond the stats, the incredible poise Zeller operated with made him truly unique for a freshman. He rarely seemed to exhibit a change in his demeanor or approach and it was that even keel he displayed which helped Indiana effectively navigate the ups and downs of the season. Zeller returns as a legit national player of the year candidate, the best big man in the country and the primary reason many of the preseason polls could have Indiana at the top.
This edition of  the Big Ten's top 25 players was written by Alex Bozich of Inside the Hall and Dylan Burkhardt of UM Hoops.
Filed to: Big Ten Preview, Cody Zeller