Big Ten's Top 25 Players: 10-6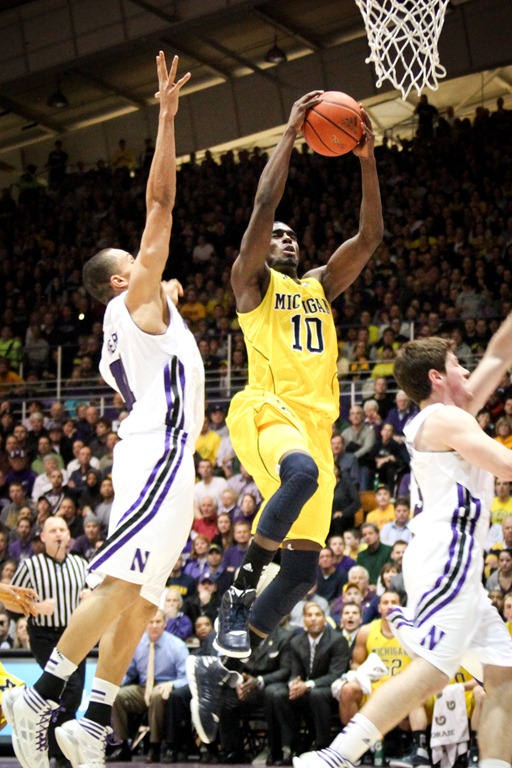 With the official start of practice less than nine weeks away, Inside the Hall and UM Hoops have partnered to bring you a preseason breakdown of the top 25 players in the Big Ten for the 2012-2013 season.
Our selection process was hardly scientific, but it did involve much deliberation and compromise to arrive at a list that we hope will provide plenty of reaction and debate.
The series is broken down into five parts (25-21, 20-16, 15-11) and our fourth installment of players 10-6 is available below:
10. Branden Dawson, Michigan State (6-foot-6, forward, sophomore)
20.6 mpg, 8.4 ppg, 4.2 rpg, 57.7 eFG%
Dawson's inclusion in the top ten of this list will likely be scrutinized as there's no guarantee he'll be 100% when the season tips in November. As a freshman, Dawson was playing some of his best basketball before tearing his left ACL in Michigan State's loss to Ohio State to close out the regular season. Early reports on his recovery have been very favorable and the graduation of Draymond Green should thrust Dawson into a more prominent role for Tom Izzo this winter. Dawson's offensive stats were modest in his rookie campaign, but he was the Big Ten's best offensive rebounder (13.3 OR%) and had emerged as Michigan State's go-to defender at the time of his injury. If Dawson can become more consistent from the free throw line (59.4% last season) and knock down some perimeter jump shots, it'll make his knack for getting to the basket even more valuable.
9. Tim Hardaway, Jr., Michigan (6-foot-6 ,guard, junior)
34.2 mpg, 14.6 ppg, 3.8 rpg, 48.4 eFG%
Hardaway Jr. was a trendy pick for All-Big Ten honors prior to last season, but his inconsistency from the perimeter derailed an otherwise productive season. Fortunately for John Beilein and the co-Big Ten champion Wolverines, Trey Burke's fantastic freshman campaign helped negate Hardaway's spotty shooting. The main crux of the problem a season ago was Hardaway's shooting from behind the 3-point arc, where he fell from 36.7 as a freshman to 28.3 percent as a sophomore. His Big Ten drop off was even more dramatic: 26.5 down from 44.2% in league games. At his best, the Michigan junior is a future pro with a polished offensive game that allows him to score from anywhere on the court. With an offseason of working with Burke both on campus and at various camps like the LeBron James Skills Academy, Hardaway will benefit from better spacing and in turn, should get the ball in better positions to make shots.
8. Tim Frazier, Penn State (6-foot-1, guard, senior)
37.1 mpg, 18.8 ppg, 6.2 apg, 4.7 rpg
After a surprising run to the NCAA tournament two seasons ago, Penn State fell back to the bottom of the Big Ten last season. The lone consistent bright spot in State College was Tim Frazier, who transformed from role player into the definition of go-to guy. Frazier led Penn State in scoring, rebounding, assists and steals, but forcing one player to do so much, particularly a minute guard, is a poor recipe for winning in a major conference. Still, it's tough not to respect how valuable Frazier was in getting Penn State to four league wins. His assist rate of 45.3 led the Big Ten and was second nationally and he was also second in the conference to Aaron Craft in steal percentage. The other side of the story, of course, is the lack of efficiency in many of Frazier's numbers, particularly his 44.6 effective field goal percentage. As Pat Chambers continues to rebuild, expect Frazier to continue putting up big numbers in his senior season.
7. Drew Crawford, Northwestern (6-foot-5, guard/forward, senior)
34.6 mpg, 16.1 ppg, 4.7 rpg, 56.0 eFG%
While teammate John Shurna grabbed headlines and conference accolades in his final collegiate season, Drew Crawford quietly emerged as one of the league's best players with far less recognition. Crawford improved his 3-point shooting by close to nine percentage points (32.7 to 41.2) and his effective field goal percentage ranked 12th in the Big Ten. When Northwestern pushed Ohio State to the brink at Welsh-Ryan Arena in late February, it was Crawford's 23 points on 9-of-11 shooting that nearly pushed them over the top. Shurna's departure means that Crawford will likely see his usage continue to increase and his scoring numbers continue to rise on a team with few other legit scoring options. As one of the Big Ten's most complete wings, he should flourish in a more prominent role.
6. Keith Appling, Michigan State (6-foot-1, guard, junior)
30.8 mpg, 11.4 ppg, 3.9 apg, 2.9 rpg
Given his progression from his freshman to his sophomore season, Keith Appling looks like a prime candidate to continue his ascent into the discussion of the Big Ten's elite players. The former McDonald's All-American saw a steep regression in his 3-point shooting percentage, but those woes were negated by Appling's ability to get to basket and either score (50.7 percent shooting on 2's) or get to the foul line. Only Indiana's Cody Zeller and Ohio State's Aaron Craft posted a better free throw rate and Appling converted on close to 79 percent of his 178 free throw attempts. Appling also emerged as one of the Big Ten's best distributors as his 4.1 assists per game were good for 5th in league play. Provided he continues his hard-nosed defense and regains some of his shooting touch, all-conference honors aren't out of the question for Appling.
This edition of  the Big Ten's top 25 players was written by Alex Bozich of Inside the Hall.
Filed to: Big Ten Preview