Big Ten's Top 25 Players: 20-16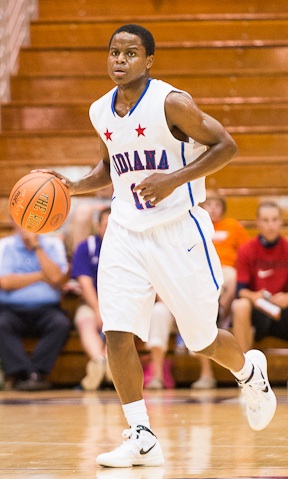 With the official start of practice less than nine weeks away, Inside the Hall and UM Hoops have partnered to bring you a preseason breakdown of the top 25 players in the Big Ten for the 2012-2013 season.
Our selection process was hardly scientific, but it did involve much deliberation and compromise to arrive at a list that we hope will provide plenty of reaction and debate.
The series is broken down into five parts (part one) and our second installment of players 20-16 is available below:
20. Rodney Williams, Minnesota (6-foot-7, forward, senior)
31.9 mpg, 12.2 ppg, 5.6 rpg, 1.4 bpg, 59.0 eFG%
Expectations in Minneapolis this winter will be for the Gophers to return to the NCAA Tournament and Williams is a large part of the equation for Tubby Smith. After struggling with consistency his first two seasons, the ultra athletic forward finally put things together down the stretch in March and led Minnesota all the way to the finals of the NIT. Williams scored in double figures over the season's final nine games and cracked the 20-point barrier four times. And that was with defenses keying on him as the primary option. The return of Trevor Mbakwe should take some of the pressure off Williams to be "the guy" and allow him to continuing thriving as one of the Big Ten's best finishers around the basket. But it also raises this question: where will Williams play with Mbakwe back in the fold?
19. Sam Dekker, Wisconsin (6-foot-8, forward, freshman)
ESPN: 5-star, 17; Scout: 5-star, 15; Rivals: 5-star, 13
Arguably the most notable snub for the McDonald's All-American game last spring, Dekker arrives in Madison as the highest rated recruit of the Bo Ryan era. In fact, the addition of Dekker is substantial enough that some feel the Badgers will once again compete for a Big Ten championship despite the loss of Jordan Taylor. In high school, Dekker led Sheboygan Lutheran to a Wisconsin Division 5 championship by scoring 40 points, including a game-winning 3-pointer with four seconds remaining. At 6-foot-8 with elite athleticism and the ability to score inside or from the perimeter, Dekker will instantly give the Badgers a presence on the wing that should mix nicely with veterans Ryan Evans and Jared Berggren in the front court.
18. Yogi Ferrell, Indiana (6-foot, guard, freshman)
ESPN: 4-star, 24; Scout: 4-star, 30; Rivals: 5-star, 19
The prized piece of Indiana's 2012 recruiting class, Ferrell brings speed and athleticism to the back court in Bloomington that's been lacking for several years. A two-time state champion at Park Tudor in Indianapolis and AAU teammate of Cody Zeller, the Indiana freshman guard has the ability to thrive as either a score-first guard or as a facilitator for teammates. Given the talent returning for Crean, Ferrell will likely take on the role of facilitator which should free up Jordan Hulls, the Big Ten's best shooter, to find even more openings on the perimeter. Perhaps the biggest question mark for Ferrell is how he'll adjust to playing man-to-man defense after playing almost exclusively zone in high school and how he'll handle defending taller Big Ten guard. Overall, his addition coupled with the returning cast will make Indiana the consensus favorite to win the Big Ten.
17. Aaron White, Iowa (6-foot-8, forward, sophomore)
23.8 mpg, 11.1 ppg, 5.7 rpg, 53.5 eFG%
While Indiana's Cody Zeller and Michigan's Trey Burke grabbed the majority of the headlines as the league's best freshmen a season ago, White quietly put together a campaign that proved him worthy of inclusion on this list. He finished his first year in Iowa City with the fourth most rebounds and the fifth most points ever by a freshman in the program. White also ranked in the top ten in the Big Ten in offensive and defensive rebounding percentage and fouls drawn per 40 minutes. In Iowa's final two games, he scored a combined 47 points and grabbed 19 rebounds. With a more established role in the starting lineup (he started just 14 games) and more minutes, White should once again be one of the league's most efficient and effective front court players.
16. Adreian Payne, Michigan State (6-foot-10, center, junior)
17.9 mpg, 7.0 ppg, 4.2 rpg, 56.9 eFG%
After a disappointing freshman season where he was held back by a shoulder injury, Payne began to right the ship and show flashes of what made him a consensus top 20 player coming out of high school. Thanks to his length and ability to get off the floor quickly, his block percentage (6.9) was the best in the Big Ten, but he was overaggressive at times which led him to frequent foul trouble (5.1 fouls called per 40 minutes) and being platooned with Derrick Nix. Given his progression from a freshman to a sophomore, it's not unreasonable to assume that a more experienced Payne will continue to emerge as a dominant post defender. The next step for Payne is to diversify his offensive repertoire and Michigan State Tom Izzo recently said in an interview he's doing just that.
This edition of  the Big Ten's top 25 players was written by Alex Bozich of Inside the Hall.
Filed to: Big Ten Preview, Yogi Ferrell