Big Ten's Top 25 Players: 15-11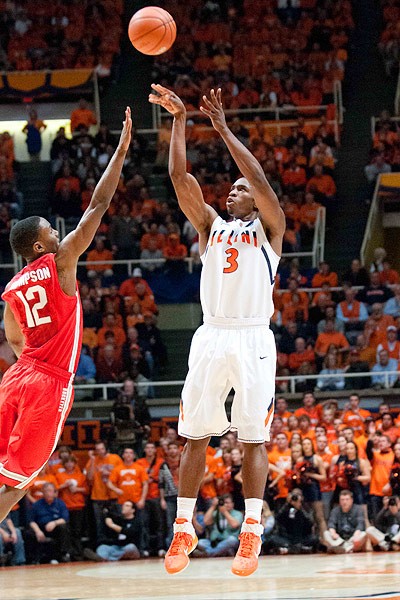 With the official start of practice less than nine weeks away, Inside the Hall and UM Hoops have partnered to bring you a preseason breakdown of the top 25 players in the Big Ten for the 2012-2013 season.
Our selection process was hardly scientific, but it did involve much deliberation and compromise to arrive at a list that we hope will provide plenty of reaction and debate.
The series is broken down into five parts (25-21, 20-16) and our third installment of players 15-11 is available below:
15. Jared Berggren, Wisconsin (6-foot-10, center, senior)
27.8 mpg, 10.5 ppg, 4.9. rpg, 1.7 bpg, 52.4 eFG%
Berggren ranks 15th on our list but there are only two prototypical big men that occupy one of the 14 spots ahead of him. The redshirt senior's development has been slow and steady but he has emerged as a more than capable inside-out big man with the ability to thrive in Bo Ryan's swing offense, which has become increasingly more perimeter oriented in recent seasons. Berggren attempted over a third of his field goals from 3-point range last year but knocked triples down at an impressive 37% clip. He was also proficient in the paint, making 50% of his twos. The 6-foot-10 senior is not going to be a star in the Wisconsin system but his importance as one of the league's top big men can't be underrated on a team looking to reestablish itself after Jordan Taylor's graduation.
14. Victor Oladipo, Indiana (6-foot-5, wing, junior)
26.7 mpg, 10.8 ppg, 5.3 rpg, 1.4 spg, 48.7 eFG%
Indiana has a future lottery pick (Cody Zeller), experienced scorer (Christian Watford), lights out shooter (Jordan Hulls) and star studded freshman class but Victor Oladipo is the glue that can hold everything together. Oladipo thrives attacking the basket and getting into the lane where he converts 52% of his twos and gets to the line often. He's an above average defensive rebounder with the ability to get in the passing lanes and create easy scoring opportunities in transition. His skillset and energy makes him a fan favorite at Assembly Hall and rightfully so. Oladipo has the strength and athleticism to play at the next level, but he'll have to find a three point shot (10-48 on threes in 2012) to elevate his game from effective glue player to top flight wing scorer.
13. Brandon Paul,  Illinois (6-foot-4, guard, senior)
33.4 mpg, 14.7 ppg, 4.7 rpg, 2.9 apg, 46.4 eFG%
Brandon Paul's position on lists of this sort is certain to cause debate. Only Northwestern's John Shurna and Penn State's Tim Frazier scored more points per game in conference play last season and Paul's 43-point outburst against Ohio State won't soon be forgotten. However, Paul has the sort of efficiency numbers to make those with even a semblance of understanding of tempo free stats squeamish. Paul was the least efficient of the 14 Big Ten players that used at least 24% of their respective teams' possessions. That slotted him behind Wisconsin's Ryan Evans, Nebraska's Bo Spencer and Minnesota's Andre Hollins. Despite his inefficiencies as a volume shooter, Paul can still get to the line and it would be painful to imagine Illinois without his scoring presence in the backcourt. Using DJ Cooper as an example, new Illini head coach John Groce has shown the ability to nurture a volume shooter, riding Cooper's ups and downs throughout the season all the way to the Sweet 16 with Ohio last season.
12. Gary Harris, Michigan State (6-foot-5, wing, freshman)
ESPN: 5-star, 11; Scout: 5-star, 16; Rivals 5-star, 25
Ranking freshmen in a predictive list is often times based more on situation and opportunity than sheer ability. For example, Trey Burke would have never shared freshman of the year honors had Darius Morris returned for his junior season. Gary Harris has both situation and ability on his side. Ranked eleventh in RSCI Hoops' consensus rankings, Harris is the most highly regarded prospect enrolling at a Big Ten school. He's also headed to a program that will have to deal with the loss of the most complete player in college basketball. There were few, if any, players as important to their team as Draymond Green was a year ago and Harris will be called on to replace much of his production, despite the differences in size, shape, position and style of play. Tom Izzo is notoriously tough on freshmen but he needs a go to scorer and Harris fits the bill.
11. Christian Watford, Indiana (6-foot-9, forward, senior)
28.4 mpg, 12.6 ppg, 5.8 rpg, 1.3 apg, 49.2 eFG%
Watford's playing time was reduced as a junior and he scored fewer points but he was a better basketball player. His effective field goal percentage and offensive efficiency were significantly improved from his first two seasons but it was the little things that stood out with Watford's year over year improvement. Once known as little more than a scorer, Watford increased his rebounding production despite being less involved on offense. He showed the ability to defend the league's best point guard or drop down to the low block and battle it out with the conference's best big men. And while that sacrifice is admirable, Watford's offensive skillset is still hard to match. He's a 43 percent 3-point shooter at 6-foot-9 and can score points in bunches. If he's finally able to improve his two point shooting (41% in 2012, 39% in 2011) he could elevate his game to the conference's elite.
This edition of the Big Ten's top 25 players was written by Dylan Burkhardt of UMHoops.com.
(Photo credit: ESPNChicago.com)
Filed to: Big Ten Preview, Christian Watford, Victor Oladipo