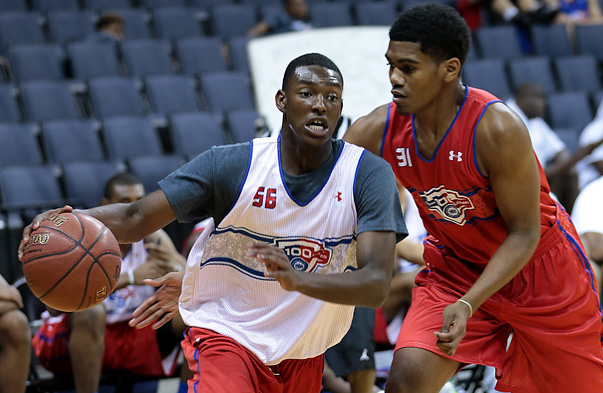 LAS VEGAS — When class of 2015 La Lumiere guard Jalen Coleman heard late in the Nike EYBL season that he was invited to the LeBron James Skills Academy, the Indianapolis native couldn't hold back his excitement.
Though he was rated as the No. 27 overall prospect in his class, according to the 247Sports Composite, he hadn't yet experienced this summer playing with and against only the top talent in his class.
"You can test out everything you've been working on," Coleman told Inside the Hall on Saturday. "As far as putting everything into it, this is where all of your working out, practicing and doing all that stuff shows."
For the 6-foot-3 Coleman, he specifically wanted to use the Cashman Center stage as a proving ground.
With college coaches watching on, he wanted to prove to them — and himself — that he could hold his own as a true combo guard, especially while playing against elite competition.
"I've got a lot to show as far as being a point guard and a two," Coleman said. "I've just been trying to show people I can play the one and be efficient, as well."
And while he was satisfied with the way he played over the course of the camp, which ran from July 9-12, he admitted there were significant challenges that came with it.