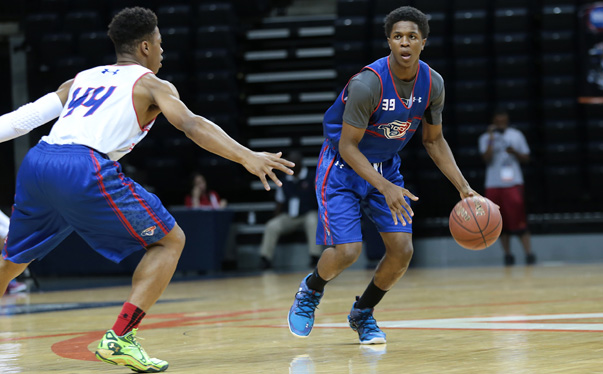 LOUISVILLE, Ky. — His Nike Elite Youth Basketball League (EYBL) career may have ended with a loss in the Peach Jam semifinals, but class of 2015 guard Kenny Williams still has a chance to go out on a winning note in his final AAU event.
Williams, who plays for Boo Williams, averaged 10.0 points and 2.6 rebounds at the Peach Jam, but struggled with his shooting over five games. He connected on just 15 of his 45 field goal attempts.
"I was really cold at Peach Jam, especially from inside the 3-point line," Williams said. "I couldn't really get my midrange going a lot, so it was tough for me to get my offensive game going with those jump shots not falling."
The loss in the Peach Jam, however, wasn't the end for Williams as he's in the midwest this week for the AAU Super Showcase, where he's being scouted by numerous high major schools.
Indiana associate head coach Tim Buckley was in Louisville on Thursday to watch Williams and his Boo Williams teammates win a pair of pool play games over ABC/Bank Hoops and the Oklahoma Wizards.
The Hoosiers offered Williams a scholarship in late May and with two former Boo Williams players already on campus in Bloomington, he's quite familiar with the program.