6-Banner Sunday: The regular season is underway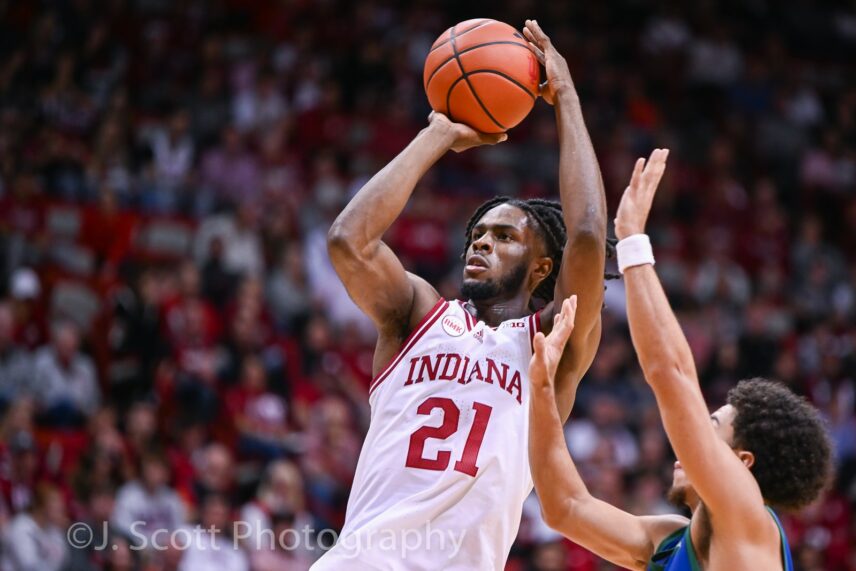 6-Banner Sunday is Inside the Hall's weekly newsletter in partnership with The Assembly Call. Almost 10,000 Indiana fans receive the newsletter each week. In addition to appearing each week on the site, you can receive 6-Banner Sunday by email. A form to subscribe via email is available at the bottom of this week's 6-Banner Sunday.
Welcome to another edition of 6-Banner Sunday, a joint production between The Assembly Call and Inside the Hall, and presented by our friends at Trueblood Real Estate, where we highlight the five most essential IU basketball stories of the past week, plus take a look at how the other IU sports programs are doing.
The 2023-2024 season is finally underway for men's and women's basketball. While both emerged victorious in their openers, the women did it in a much more dominant fashion. Also, IU signed one top recruiting target but will likely have to wait much longer for a decision from another.
Besides these stories, Inside the Hall and Assembly Call had shows, as did Hoosier coach Mike Woodson. We will as usual conclude with a look at other Hoosier sports led by Men's Soccer's thrilling win in the Big Ten Tournament.
• IU edges Florida Gulf Coast in the season opener, hosts Army today
• Women's basketball dominates Eastern Illinois in season opener for Teri Moren's 400th win
• Liam McNeely signs National Letter of Intent with IU
• Podcast on the Brink and AC shows
• Mike Woodson radio show
• Hoosier Roundup
IU men's basketball will play five games this season on the Peacock and the women will play seven, making the streaming service essential for IU basketball fans. Sign up for Peacock using Inside the Hall's link to help support the site and also enjoy Big Ten hoops all season long! (The link is an Inside the Hall affiliate link, so a commission will be paid to ITH if you click and subscribe to Peacock. We appreciate your support!)
Banner #1 – IU edges Florida Gulf Coast in the season opener, hosts Army today
The season opener was a massive struggle for a new-look IU team. Facing a stronger opponent than usual in their first game, Indiana trailed 48-42 before going on a huge run to pull ahead and hold on for a 69-63 win. Oregon transfer Kel'el Ware came out with a bang as he scored 13 points and added 12 rebounds while dominating the paint on defense and swatting three shots into the crowd. Trey Galloway led all scorers with 16 points and hit a floater to give the team the lead for good at 49-48 with an offensive rebound.
Afterward, Woodson spoke, Inside the Hall had a photo gallery, Ryan Corazza wrote a Minute After and Film Session, Alex Bozich penned Five Takeaways, while Amanda Foster and William McDermott put together columns about the victories.
The Hoosiers return to action today when they take on a struggling Army squad tonight at 7 pm on BTN. Ironically, the Black Knights' sideline is where the former late IU coach Bob Knight began his coaching career before coming to Bloomington.
Banner #2- Women's basketball dominates Eastern Illinois in season opener for Teri Moren's 400th win
The women's side started against a relatively strong Eastern Illinois team that was picked to compete in their conference. However, the top-10 championship-contending Hoosiers quickly overwhelmed the Panthers 96-43 before the 11th largest crowd in program history of 8,380. All-American Mackenzie Holmes led all scorers with a dominant effort inside by scoring 19 points in 18 minutes of play. Sophomore Yarden Garzon added 15 points with a more diverse skill set, including a strong post game. She also brought attention to a young hostage taken in her native Israel during the postgame press conference.
Things get much tougher today when they face top-20 Stanford on the road in Palo Alto. Holmes and Cardinal center Cameron Brink are arguably the two best bigs in women's college basketball and will go head-to-head tonight at 5 pm on ESPN.
Away from the court, the team announced the signing of two recruits for 2024. This includes ESPNW top-60 player Faith Wiseman.
Banner #3 – Liam McNeely signs National Letter of Intent with IU
While Liam McNeely committed to Indiana several weeks ago, the five-star recruit made it official that he will be a Hoosier next fall by signing his letter of intent. McNeely is a consensus top-15 recruit and has one of the highest rankings of any player ever coming to IU.
By contrast, the Hoosiers' other top target Derik Queen has a different plan. He will not sign during the early period as initially expected and will hold off until later. Indiana remains in contention along with Houston, Kansas, and Maryland although it is unclear if others will get involved now with the delay.
Banner #4 – Podcast on the Brink and AC shows
Both Inside the Hall and Assembly Call had new shows this week. ITH's Podcast on the Brink had Corazza on to discuss IU's season-opening win while AC's postgame show also took place.
Also, Doing The Work was on-air to preview both the Eastern Illinois and Stanford contests on the women's side, and an over-under was done on the weekly Thursday radio program.
Banner #5 – Mike Woodson radio show
Mike Woodson also had his radio show on Monday of last week. On it, he discussed IU's exhibition wins among other things.
Banner #6 – Hoosier Roundup
• Men's Soccer won a high-scoring thriller over Michigan 4-3 to advance to the Big Ten Tournament Championship today against Penn State at noon ET on BTN in Bloomington.
• Football was eliminated from bowl contention in a 48-45 loss to Illinois where the offense arguably had their best game of 2023 and the defense their worst. Also, linebacker Aaron Casey was named Defensive Big Ten Player of the Week for his strong play against Wisconsin.
• Volleyball beat struggling Rutgers to get back over .500 in conference play.
• Women's Soccer made their first NCAA Tournament in a decade. However, they fell to St. Louis in the first round to close out a turnaround season.
• Wrestling took both team titles at the Citadel early last week and beat Rider head-to-head on Friday.
• Cross country struggled at the Great Lakes Regional, with the men placing seventh and the women 10th.
• Men's tennis competed at the Big Ten individual championships.
• Rowing took part in the Princeton Chase.
• Softball officially announced its upcoming recruiting class.
• Men's golf also signed the recruits for their upcoming class.
Thanks for your continued support for The Assembly Call and Inside the Hall. We'll be back next weekend with a new roundup.
Now go enjoy yourself a 6-banner Sunday.
Aaron (Ari) Shifron
Assembly Call Contributor
Filed to: