At the Buzzer: Indiana 69, Florida Gulf Coast 63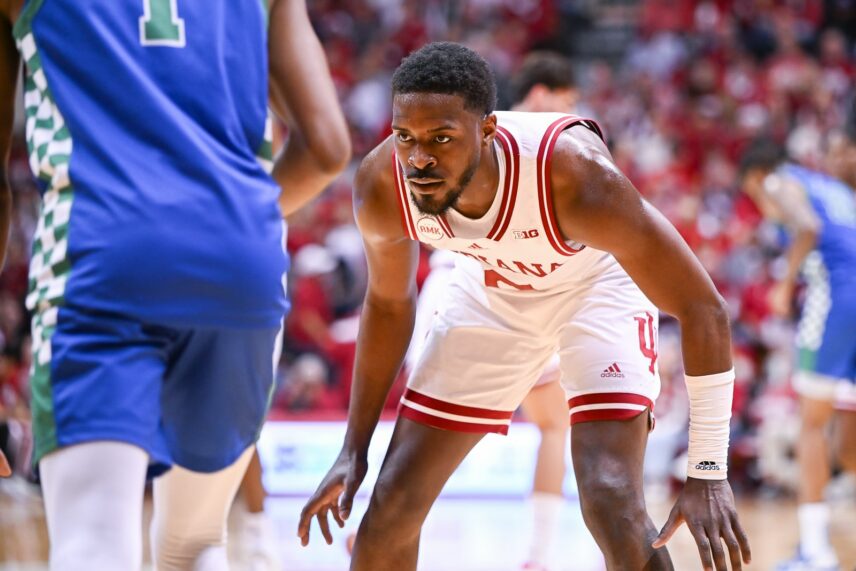 Quick thoughts on a 69-63 win against Florida Gulf Coast:
How it happened
After a sharp performance against NAIA Marian on Friday night, Indiana was disjoined offensively to start against Florida Gulf Coast. The Hoosiers had no flow on offense and nearly took as many free throws (18) as field goals (20) in the opening 20 minutes. Unfortunately for Indiana, the shots weren't falling from the line. The Hoosiers shot a dismal 10-for-18 from the stripe in the first half. Indiana had several lengthy scoring droughts in the first half, including one that lasted more than seven minutes. Kel'el Ware was a bright spot, totaling eight points, eight rebounds and three blocked shots in 17 minutes. Defensively, Indiana allowed five made 3-pointers, but limited the Eagles to only .82 points per possession.
Indiana was better offensively to start the second half, scoring 10 points in the first 4:14 to build a four-point lead at 38-34. Malik Reneau had six of those 10 points. But Florida Gulf Coast had an answer, splashing back-to-back 3-pointers to tie the game at 40 with 13:52 to play. The Eagles stretched the lead to six at 48-42 with 10:54 to play on a Dallion Johnson 3-pointer. But Indiana answered with a 10-0 run to grab a 52-48 advantage with 8:41 to go, forcing Pat Chambers to use a timeout. The run stretched to 14-0 before Florida Gulf Coast scored on a jumper by Johnson with 5:52 remaining. The Hoosiers increased the lead to 11 on a Gabe Cupps 3-pointer with 3:58 remaining. Florida Gulf Coast didn't give up, though. The Eagles used an 8-0 run over 42 seconds to get within two at 65-63. Xavier Johnson made one free throw with 28.2 seconds left to give Indiana a 66-63 lead. After a missed Florida Gulf Coast 3-pointer by Chase Johnston, Johnson went back to the line and made a pair to make it 68-63 Hoosiers.
Standout performers
Ware tallied a double-double in his IU debut, finishing with 13 points, 12 rebounds, four assists, three blocked shots and two steals in 36 minutes. Trey Galloway finished with a team-high 16 points, Malik Reneau added 15 and Xavier Johnson had 14 points in 34 minutes. And the defense and spark Cupps provided down the stretch changed the game for the Hoosiers.
Statistics that stand out
Despite being outscored by 27 points from beyond the 3-point line, Indiana dominated the points in the paint (30-18) and also outscored Florida Gulf Coast by 17 points from the free throw line.
Final IU individual statistics

Final tempo-free statistics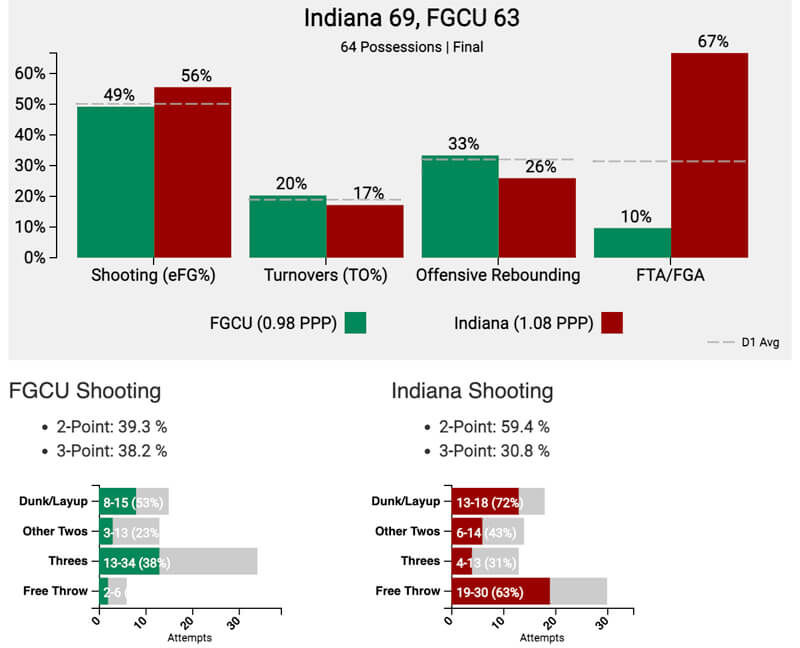 Assembly Call postgame show
Filed to: Florida Gulf Coast Eagles