The Minute After: FGCU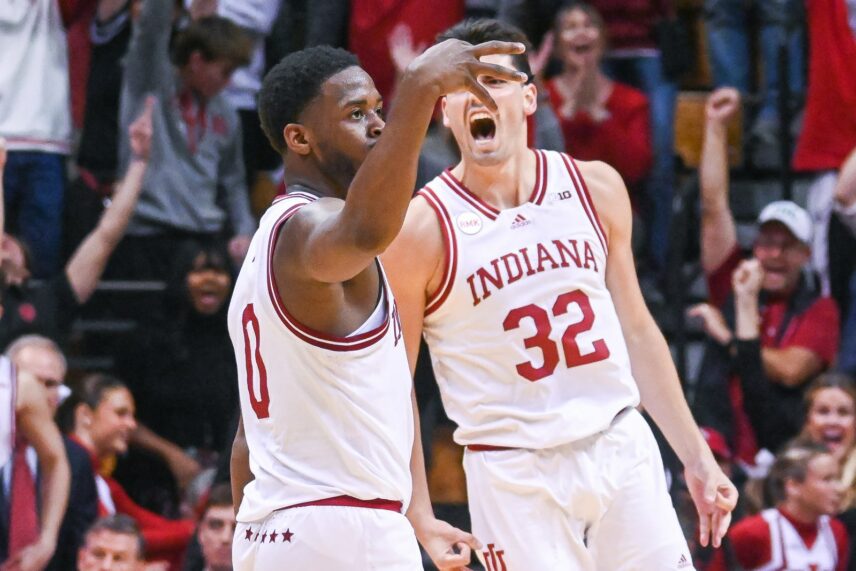 Thoughts on a 69-63 win against the Eagles:
Mike Woodson wasn't afraid to schedule stronger opponents for guarantee games this season. And with his Hoosiers still very much finding their way early on, you get a result like tonight … one that was too close for comfort, Pat Chambers and crew nearly leaving Bloomington with the upset.
Indiana was in a bad spot with 10:54 to go. The Hoosiers trailed by six, 48-42, after a made 3-pointer by Dallion Johnson. Woodson called timeout. Out came CJ Gunn, who Woody immediately ripped in the huddle, after some poor defense by the sophomore led to the 3-pointer. In came Xavier Johnson.
Johnson, along with a lineup featuring Gabe Cupps, Trey Galloway, Kel'el Ware and Malik Reneau, saved the day. Reneau went to work down low, immediately scoring on an and-1 to cut the lead to three. Ware and Galloway then trapped the ball near FGCU's bench, Ware ripping it free. He passed it ahead to Johnson, who took it down the court and scored, cutting the lead to one. It kept going from there. Galloway scored a second-chance bucket. Johnson hit a 3-pointer. Ware scored down low. Reneau got fouled and hit two free throws.
On the other end, Indiana's defense ratcheted up several notches after looking leaky, allowing too many drives to the paint and too many open shooters. The Hoosiers fed off the crowd and applied pressure. Cupps did Cupps things, swatting at the ball for a steal off Rahmir Barno. It was all part of a 14-0 run, Indiana turning a six-point deficit into an eight-point lead in about four minutes of game time.
Cupps later drilled a 3-pointer with 3:58 to play to put the Hoosiers up 11, which would be their largest lead of the night.
"He's a winner," Woodson said of Cupps after the game. " … I felt comfortable enough with Gabe in the game. I've seen him play enough. He's capable of hanging in there and making basketball plays. I thought he was tremendous on both ends."
The Eagles did not go quietly, though. A Zach Anderson 3-pointer with 1:10 to go cut Indiana's lead to seven. Anderson then hit another 3-pointer after the Eagles stole Indiana's inbounds pass from Reneau. Four-point game. After Reneau missed the front end of a 1-and-1, Keeshawn Kellman scored down low for FGCU to cut the lead to just two with 35 seconds to play. But the Hoosiers were able to hit 4-of-6 from the charity stripe between Johnson and Ware to keep this one out of reach and land on a six-point victory.
Indiana's half-court offense still lacks identity and alignment. And with the Hoosiers only managing nine points on the break, they couldn't get as many easy buckets in transition tonight as they did in the exhibition contests. But Indiana's size and length helped make up for it some and the Eagles couldn't help but keep fouling. Indiana had a 67 percent free throw rate, attempting 30 from the line against 45 field goals. A better night than just 19-of-30 (63.3 percent) might have had Indiana breathing easier in this one.
On defense, Indiana did hold the Eagles to under a point per possession (.98) and just 63 points, which you'll take most nights. Still, its defensive rotations stung them on several occasions and Woodson knew it post game.
"We hold 'em to 63 points and that's in the ballpark of where we want to be from a defensive standpoint," he said. "But it was all the miscues on the backside of our defense we weren't executing. I gotta get that fixed and clean it up."
Ware was a menace in this one. Thirteen points, 12 rebounds, four assists, three blocks and two steals. His three blocks came in emphatic fashion in the first half. The rebounds, blocks, steals and assists all led the team. Galloway led all Indiana scorers with 16 points on an efficient 7-of-9 mark. Ten of those points came in the second half. Johnson (5-of-9) had 14 of his own and scored 10 in the second half.
Credit Chambers and the Eagles for coming into Assembly Hall without their injured starting point guard Isaiah Thompson and playing Indiana well regardless. Credit Indiana for finding some gumption down the stretch, playing defense and snatching this game back when things looked lost.
Filed to: Florida Gulf Coast Eagles