What to Expect: Indiana vs. Army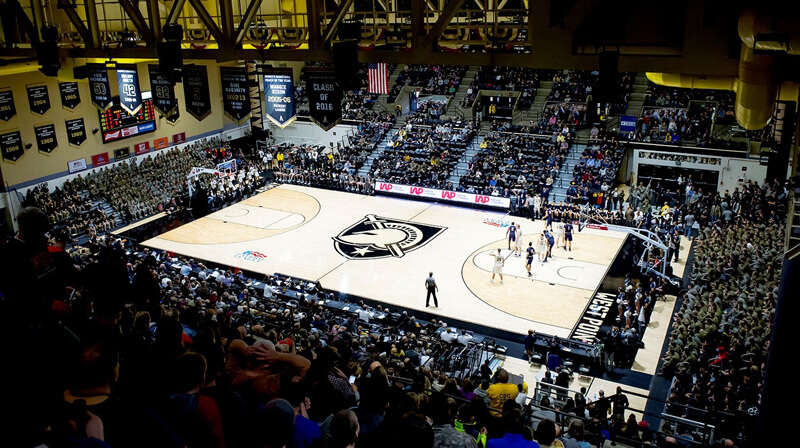 Indiana returns to action Sunday evening when it hosts Army at Assembly Hall. The Black Knights are 0-2 and were picked to finish last in the Patriot League.
Sunday's game tips off at 7 p.m. ET on BTN:
After Tuesday's battle with Florida Gulf Coast, Indiana should get a breather Sunday evening.
Army, led by first-year coach Kevin Kuwik, is the lowest-ranked KenPom opponent on the schedule this season. The Black Knights lost their season opener 71-55 at home to Marist and fell Thursday 57-44 at Stonehill.
MEET THE BLACK KNIGHTS
The 49-year-old Kuwik, a New York native, has ties to Indiana and the midwest. He was director of operations at Butler during the 2008-09 season under Brad Stevens and returned to Indianapolis last season as an assistant coach under Thad Matta. Kuwik was also a longtime assistant at Dayton under Archie Miller. He served 10 years in the United States Army and Iraq.
Army is his first head coaching opportunity as he took over last spring after the program moved on from Jimmy Allen, who spent seven seasons at the school. The Black Knights have never participated in the NCAA tournament. The program was invited in 1968 when Bob Knight was the coach, but turned down the opportunity and opted to play in the NIT.
Kuwik played a deep rotation in the first two games, as nine players logged double-figure minutes in both contests.
Jared Cross, a 6-foot-3 senior guard, is the team's leading scorer through two games. He's come off the bench but has logged a team-high 50 minutes and is averaging 9.5 points. Cross is 5-for-11 on 3s, while the rest of the team is a combined 8-for-41.
Point guard duties have been split between freshman guards Ryan Curry and Dylan Blair. The 6-foot Curry, a native of Montgomery, New Jersey, has totaled 13 points and is 3-for-7 on 3s through two games. His 13 points against Marist were a team-high. Blair has dished out three assists in two games but committed six turnovers.
Junior guard Blake Barker is a native of Columbus, Indiana and attended Columbus North. He played sparingly last season but is now a starter under Kuwik. In two games, Barker has averaged three points and 2.5 rebounds.
Senior Kwabena Davis is a 6-foot-3 guard and has started the first two games, averaging 6.5 points in 21 minutes per contest.
In the frontcourt, freshman Josh Scovens and senior Charlie Peterson have started the first two games, with junior AJ Allenspach and senior Abe Johnson coming off the bench.
Peterson, who is 6-foot-9 and 244 pounds and Army's most experienced player, is the team's best rebounder as he's grabbed a team-high 14 rebounds through two games. The 6-foot-6 Scovens scored 11 points in the season opener against Marist.
THOUGHTS ON THE MATCHUP
There's no sugarcoating how poorly Army has played offensively through its first two games. The Black Knights are averaging 49.5 points against a pair of sub-250 KenPom teams in Marist and Stonehill.
Kuwik's club is shooting 25 percent on 3s, 36.1 percent on 2s and a dismal 51.6 percent from the free throw line. The Black Knights have also committed 32 turnovers in two games.
Army will take a lot of 3s – they're averaging 26 attempts a contest through two games – and whether they can make a better percentage will determine how competitive this game ends up.
Indiana, which has a long way to go on both ends of the floor, needs to demonstrate improvement with its defensive rotations and offensive cohesion.
WHAT IT COMES DOWN TO
The KenPom projection is Indiana by 23 with a 98 percent chance of an Indiana victory.
Army is the only sub-300 KenPom opponent on Indiana's schedule and was picked to finish last in the Patriot League.
Sunday should allow Mike Woodson to play a deeper bench and get reps for the roster's newcomers. Woodson played four starters 30 or more minutes against Florida Gulf Coast on Tuesday, but this matchup should be an excellent chance to get Anthony Walker, Kaleb Banks and CJ Gunn more run as the Hoosiers try to develop a reliable bench.
Filed to: Army Black Knights