Five takeaways from Indiana's win against Florida Gulf Coast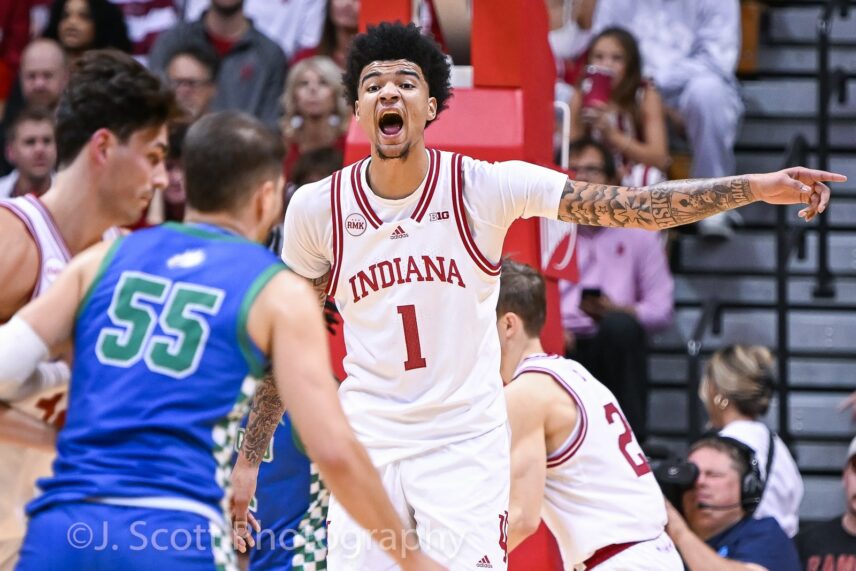 Indiana opened the 2023-24 season with a 69-63 win against Florida Gulf Coast Tuesday night at Assembly Hall.
Here are five takeaways from the victory against the Eagles:
Indiana overcomes adversity, six-point deficit to prevail
Florida Gulf Coast was without leading scorer Isaiah Thompson, but the Eagles were no pushover. Picked to finish near the top of the ASUN, Florida Gulf Coast brought confidence and experience to Bloomington.
Some of that confidence was established last season when Pat Chambers made his coaching debut for the Eagles with a 13-point win at USC.
Midway through the second half, it looked like Florida Gulf Coast may pull away from Indiana. The Eagles opened a 48-42 lead and the Hoosiers were struggling with defensive rotations all over the perimeter.
Mike Woodson inserted Gabe Cupps into the lineup and went with a three-guard set that included Cupps, Xavier Johnson and Trey Galloway. That seemed to spark Indiana defensively and a 14-0 run flipped a six-point deficit into an eight-point lead.
"Make no mistake, it was our defense coming down the stretch that got us back," Woodson said postgame. "The fans got into it and that was very helpful getting us on a roll. That was enough just to bring it home for us."
While Indiana had to grind out Tuesday's win, it was valuable to experience adversity and have to fight for a win in the season opener. With a revamped roster with plenty of room to grow, learning to flip the momentum of a game with defense is a valuable lesson.
Kel'el Ware is already showing growth
Woodson hasn't been shy about sharing his demands with Ware, who transferred from Oregon after a tumultuous freshman season.
The third-year IU often says he isn't the easiest coach to play for and has frequently mentioned that he will push Ware to play with a high motor.
On Tuesday, Ware did that.
The second-year big man had the best all-around game of any player on the IU roster. In 36 minutes, Ware compiled 13 points, 12 rebounds, four assists, three blocked shots and two steals. He didn't commit a turnover.
Woodson was pleased with the performance.
"He played a lot of minutes tonight, but he plugged the hole up for us and got a few blocks, rebounded the ball for us," he said. "I don't need him to do much more. Just continue to do that. When he's around the bucket I expect him to finish and make his damn free throws. That's what it's all about."
Besides Cupps, Indiana's bench play was lacking
Indiana played a deep bench in the two exhibition games, but Tuesday's season opener saw four starters log 30 or more minutes.
Cupps was stellar in his 19 minutes off the bench, finishing with five points, two rebounds, an assist and two steals.
The rest of the bench, however, had an evening to forget
Anthony Walker logged 14 minutes, but missed both field goal attempts and had several forgettable defensive possessions.
CJ Gunn played just nine minutes and went 0-for-2 from the field.
It's just one game and no reason to panic, but the Hoosiers need Walker, Gunn and Kaleb Banks to be productive consistently.
Indiana's defensive rotations were broken for most of the game
Woodson has warned in recent weeks that Indiana has plenty of room to grow with grasping the basic principles of its defensive rotations.
The Hoosiers left shooters open on the perimeter for a good chunk of Tuesday's game, which resulted in Florida Gulf Coast making 13 of its 34 attempts from distance.
Ware said postgame that he believes the issues are tied to miscommunication. Trey Galloway agreed.
"I think just missed communication and knowing our spots, knowing where we need to be," Galloway said. "They made a lot of shots, but a lot of the those we could have affected more."
While Woodson said the 63 points allowed were "in the ballpark" of where he wants his team to be, he was also blunt about the defensive issues.
"It was all the miscues on the backside of our defense that we just weren't executing," Woodson explained. "I got to get that fixed and clean it up."
Hoosiers show a balanced scoring attack
It's no secret that Indiana has plenty of production to replace this season with the significant roster attrition.
On Tuesday, it was a group effort to fill the void left by the departures of Trayce Jackson-Davis, Jalen Hood-Schifino, Miller Kopp, Race Thompson and Tamar Bates.
Four players scored in double figures.
Trey Galloway was an efficient 7-for-9 from the field and finished with a team-high 16 points.
Malik Reneau scored 11 of his 15 points in the second half.
Xavier Johnson finished with 14 points on 5-for-9 shooting.
And the aforementioned Ware was the fourth Hoosiers in double figures with 13 points.
Those balanced contributions were helpful on a night when Indiana's star freshman, Mackenzie Mgbako, went just 2-for-6 from the field and scored four points in 19 minutes.
Filed to: Florida Gulf Coast Eagles, Kel'el Ware