Xavier Johnson begins final season with steady, hard-nosed performance against FGCU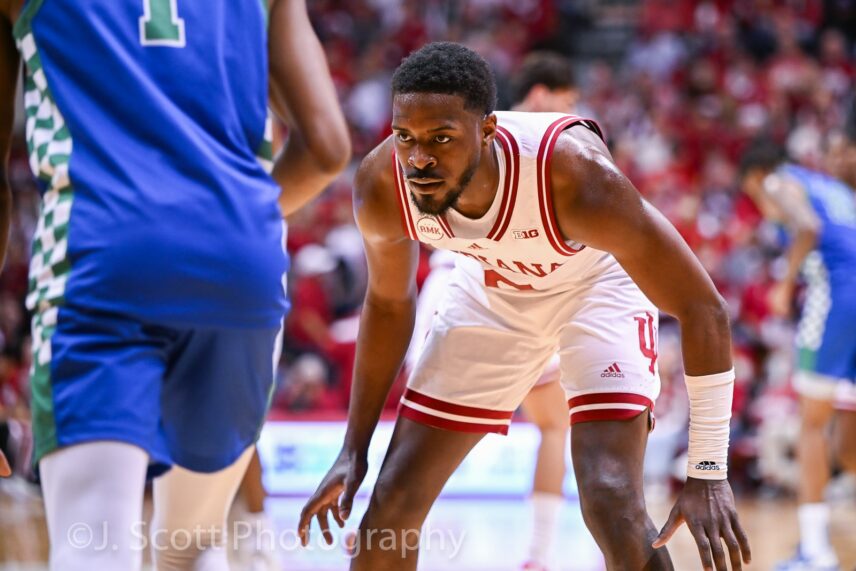 With Indiana up 66-63 against Florida Gulf Coast on Tuesday with 16.8 seconds remaining, Xavier Johnson put his red and white Adidas sneakers on the red foul stripe with a chance to seal Indiana's first game of the season.
First, he looked up at the game clock above the backboard, then reached down to his ankles and rubbed the sweat off his hands onto his socks and shoelaces. The sixth-year college basketball veteran took three dribbles and made both free throw attempts — effectively ending the game.
The buzz on Tuesday night and Wednesday morning after the Hoosiers' 69-63 win over the Eagles was the three-guard lineup that sparked a second-half run, freshman point guard Gabe Cupps and the poor perimeter defense. While those three points were all factors in the season opener, Johnson also played a vital role in the Hoosiers' second-half stretch, propelling them to their first win.
When the Woodbridge, Virginia, native went down with a broken foot last December and missed the rest of the season, Indiana's defense took a step back. Johnson's ball pressure and defensive energy made him a difference-maker on the floor. It did the same against the Eagles.
"He knows the defense… he knows where people need to be, spots, and he's going to pressure the ball 94 feet every time he gets on the court and have that relentless pressure," sophomore forward Malik Reneau said on Friday. "It gives us a lot more time to set up our defense and have five bodies in front of their offense."
And sure, against FGCU, Johnson was expected to be a leader on the defensive end and score 14 points, tally four rebounds and a 3-pointer — all of which he did. But, after subbing back into the game with 10:43 to go and down six, Johnson sized up the moment. He put a mean mug on his face and nodded his head.
It was time to go to work. After watching from the bench a year ago, he wouldn't let this one slip away.
In the next four minutes, Indiana took complete control. The Hoosiers went on a 14-0 run — Johnson forced a turnover and made a transition layup, then drew a charge and drilled a 3-pointer. The Hoosiers did not give up the lead after that.
It was spurts of energy like this two seasons ago that got Indiana into the NCAA tournament. Many forget his play down the stretch that year. It was the best of his career.
When Mike Woodson went to the three-guard lineup with Johnson, Cupps and Trey Galloway, it immediately made Indiana a defensive threat. Johnson and Cupps, who was playing in his first game in the cream and crimson, gave the Eagles' backcourt problems.
"I was basically looking at it from a defensive standpoint," Woodson said postgame. " I feel good with all three of those guys handling the basketball. If we run a pick and roll offense, they all three are capable of making plays out of the pick and roll."
If you think back to early last season, the addition of Jalen Hood-Schifino gave Indiana more offensive versatility — making the pick and roll less prevalent in Woodson's offense, especially after Johnson got hurt. Two seasons ago, the pick and roll and Johnson's two-man game with Trayce Jackson-Davis was his bread and butter. Without a guard on the roster who has established themselves as a three-level scorer, Indiana's offense must rely on Johnson to start the fire as he did against Florida Gulf Coast. Sometimes, he'll have to do it with his defense, and at other times, he'll have to do it with his speed and the pick and roll.
Indiana showed a lot of grit on Tuesday. Woodson has been a strong proponent of scheduling stiffer competition early in Indiana's non-conference schedule and the Eagles were a solid opponent. FGCU was picked to finish in the top three of the ASUN and Indiana, a team with 10 new players, impressively clawed its way back.
Tuesday's catalyst Johnson played his last first game of the season. And it was the same ole 'X' that Indiana needs: defensively potent, fast and gritty. But also, Johnson was uncharacteristically steady. Throughout his collegiate career, he's been criticized for playing out of control and too fast. That didn't happen on Tuesday.
"It's great to see 'X' coming off the injury he had and to see him back on the court and playing as hard as he is and going as hard as he can," Reneau said. "I'm so happy to see him back on the court… he's going to be a huge factor for us."
Filed to: Xavier Johnson