"He doesn't play like a freshman": Gabe Cupps shines in Indiana debut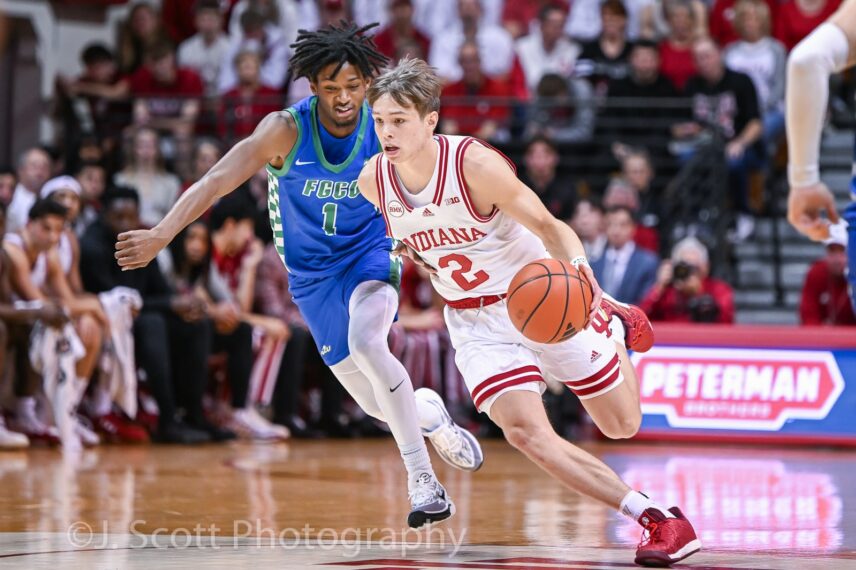 He's diving on his stomach across the floor, getting up in opponents' faces, calling out plays, and making three-pointers. He's a freshman playing in his first game for Indiana basketball. He's Gabe Cupps.
"He's a winner," Mike Woodson said.
The expectations and excitement surrounding Cupps have been evident since he first stepped onto the court at Assembly Hall at Hoosier Hysteria. Drawing some of the largest cheers of the night, the guard was thought to be someone who could be a major player for the Hoosiers from the get-go.
Tuesday night proved that to be true.
Cupps was the catalyst for Indiana men's basketball's opening night victory over Florida Gulf Coast. He was part of a three-guard lineup that heightened the level of play on both ends of the floor for the final 10 minutes of the game, ultimately propelling the Hoosiers to their 69-63 win.
The Eagles and Hoosiers traded buckets to begin the second half, and Indiana's hopes of a victory were in jeopardy when its defense couldn't communicate or play out rotations properly. Indiana trailed by one point when Cupps came in off the bench at the 12-minute mark.
FGCU scored five unanswered points in the next two minutes despite the guard's best efforts to revitalize the defense. At the next timeout, Xavier Johnson re-entered the game. Indiana's top guards — Johnson, Cupps and Trey Galloway — were on the floor together, and it stayed that way for the rest of the game.
Cupps was the only non-starter on the floor, but with the way the unit worked together, no one would have known.
"I felt comfortable enough with Gabe in the game," Woodson said. "He's capable of hanging in there and making basketball plays. I thought he was tremendous on both ends."
Cupps did indeed make "basketball plays", and good ones. Whether it was staying persistent on perimeter defense or diving across the floor for a loose ball, Cupps seemed to materialize wherever he needed to be. His movement renewed the rest of the team, prompting a 12-0 scoring run and the night's loudest cheers.
"I thought he did a great job coming in, stepping up in a big-time moment," Galloway said. "(It's) good to see that, and to know we can rely on him and trust him in crunch time. I think him just staying ready and being ready off the bench was good."
Cupps accounted for five of Indiana's seven bench points, with his most notable offensive contribution being a nothing-but-net 3-pointer to bring Indiana's lead to 61-50 with under four minutes to play. And in a game where Indiana only sank four 3-pointers in total, Cupps' shot was even more meaningful.
He also took on the role of primary ball-handler, bringing the ball up the court and facilitating plays, freeing Johnson and Galloway to get in position to score. It worked. When all three guards were on the floor, Galloway scored six points and Johnson scored eight. Each scored a total of 10 points in the second half.
The point guard position was one Cupps was expected to fill, as he's been training hard with both Galloway and Johnson to develop in the role. It wasn't something many expected to see in Cupps' first game as a Hoosier, but his communication and composure were unmatched and Indiana looked like a veteran team.
"He's a freshman, but he doesn't play like a freshman," Woodson said. "He's capable of making plays. I've followed this kid for some time now, that's why he's wearing the Indiana uniform.
Filed to: Gabe Cupps