6-Banner Sunday: The Big Ten's top 25 players for the 2023-24 season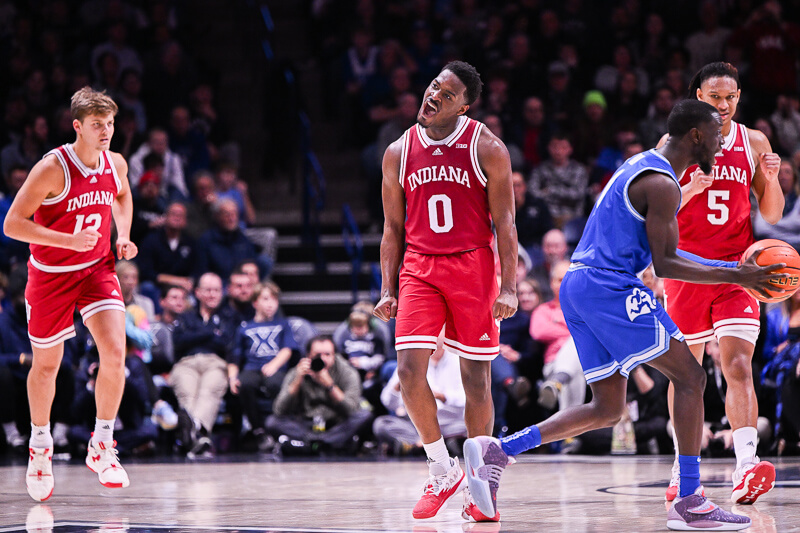 6-Banner Sunday is Inside the Hall's weekly newsletter in partnership with The Assembly Call. Almost 10,000 Indiana fans receive the newsletter each week. In addition to appearing each week on the site, you can receive 6-Banner Sunday by email. A form to subscribe via email is available at the bottom of this week's 6-Banner Sunday.
Welcome to another edition of 6-Banner Sunday, a joint production between The Assembly Call and Inside the Hall, and presented by our friends at Trueblood Real Estate, where we highlight the five most essential IU basketball stories of the past week, plus take a look at how the other IU sports programs are doing.
After a couple of weeks of big-time stories, the headlines slowed down in Hoosier Nation during the last few days. Nonetheless, several lower-profile topics were interesting.
While there were no recruiting visits this weekend, several nuggets related to future targets did come out. Also, Inside the Hall did a series in conjunction with UMHoops looking at the best players in the Big Ten. Finally, Bracketology, an NIL Summit, and this week's shows round out the basketball-related news. 6-Banner will conclude by looking at other IU sports, led by volleyball picking up a massive win on the road.
• Recruiting updates
• Inside the Hall and UMHoops rank the top Big Ten players
• ESPN bracketology update
• NIL Summit at Assembly Hall for local businesses
• Podcast on the Brink and Assembly Call
• Hoosier Roundup
Looking for tickets to upcoming Indiana games? Vivid Seats has you covered. Most of the non-conference schedule is already on sale at Vivid Seats and games are being added regularly. Vivid Seats is a full-service provider – with an industry-leading customer service team, reachable by phone or online during extended business hours. (These links are Inside the Hall affiliate links, so a commission will be paid to ITH if you click and make a ticket purchase. We appreciate your support!)
Banner #1 -Recruiting updates
While no visitors were on campus this weekend, IU coach Mike Woodson went to the house of a big-time prospect. As the Hoosiers try to reel in Boogie Fland, Woodson went to New York to visit him at his home as the Hoosiers put on the full-court press.
While Indiana has yet to receive a commitment for 2024, they are thought to continue to be in the lead for Liam McNeely. McNeely is no. 15 in the updated 247Sports rankings for his class and no. 10 in the site's composite rankings. He and Fland, along with top Indiana targets Tyler Betsey, Annor Boateng, Curtis Givens III, Asa Newell, and Derik Queen, continue to all rank in the top 65 for their year.
Finally, the team has gotten a start on 2025 as well. This week, they made an offer to in-state guard Braylon Mullins.
Banner #2 – Inside the Hall and UMHoops rank the top Big Ten players
With the 2023-2024 season closing in, Inside the Hall worked with UMHoops to come up with the 25 best players in the Big Ten for the year. Starting with numbers 25-21, Malik Reneau and Mackenzie Mgbako came in at 25 and 22 respectively for IU. The highest-ranked Hoosier came in the next batch with Xavier Johnson coming in at 16 on the 16-20 list.
The 15-11, 10-6, and 5-1 did not include anyone wearing Cream and Crimson. To no one's surprise, the top player in the rankings is Purdue's Zach Edey, who returns to the Boilers after winning national player of the Year in 2022-2023.
Banner #3 – ESPN bracketology update
Joe Lunardi released yet another updated bracketology this week. IU remains a 10 seed in his projections and would face seven seed TCU in Memphis. According to Lunardi, the Big Ten would get seven teams into March Madness, led by one seeds: Michigan State and Purdue.
Banner #4 – NIL Summit at Assembly Hall for local businesses
IU continues to be a top program for name, image, and likeness with Hoosiers For Good, among other NIL opportunities. This week Indiana is hosting an NIL Summit at Assembly Hall. This is so local businesses learn how they can partner with Hoosier student-athletes to provide NIL opportunities. The event begins at 6 p.m. Monday in the south lobby of the venue.
Banner #5 – Podcast on the Brink and Assembly Call
Both Podcast on the Brink and Assembly Call were on air this week. POTB did a crossover with Assembly Call by bringing on Ryan Phillips. Meanwhile, AC Radio had its regular Thursday program to discuss the top 25 players in the conference (see above).
Banner #6 – Hoosier Roundup
• Volleyball got a nail-biting win at a good Miami team for their first big-time victory of the season. They also defeated Stetson, Jacksonville, and Florida International to finish the non-conference at 10-3 heading into Big Ten play.
• Football had a tale of two halves falling behind big to Louisville before coming up short in a late rally during a 21-14 defeat.
• Men's soccer continued its offensive woes in a 0-0 tie vs. Wisconsin in their league opener. They now stand at 2-2-2.  
• Women's soccer easily knocked off DIII Earlham to remain undefeated at 6-0-2 heading into the Big Ten season.
• Field hockey fell to Ohio and Northwestern before knocking off Penn.
• Several men's golfers competed as individuals in a tournament at Ball State.
• Cross country had a competition in Terre Haute.
• Swimming and diving released its schedule for this season and had five Hoosiers make the 2023-2024 USA Swimming National Team.
• Women's Tennis announced its fall exhibition schedule.
Thanks for your continued support for The Assembly Call and Inside the Hall. We'll be back next weekend with a new roundup.
Now go enjoy yourself a 6-banner Sunday.
Aaron (Ari) Shifron
Assembly Call Contributor
Filed to: