Big Ten's top 25 players for 2023-24 season: 15-11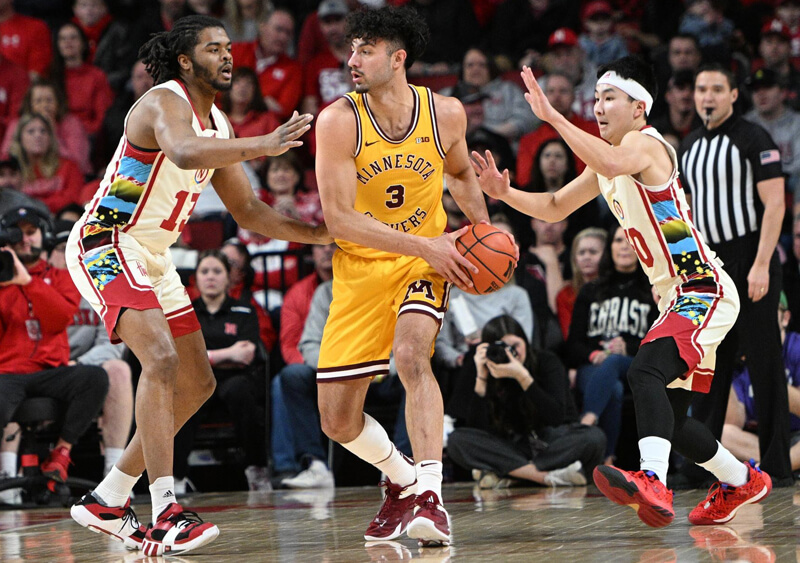 With the official start of practice just a few weeks away, UMHoops and Inside the Hall have once again partnered to bring you our annual preseason breakdown of the top 25 players in the Big Ten.
The series is broken into five parts with one post each day this week. Our third installment of players 15-11 for the 2023-24 season is available below:
15. AJ Storr, Wisconsin (6-foot-7, guard, sophomore)
On paper, AJ Storr provides exactly what Wisconsin's roster needs. He's a true wing at 6-foot-7 who shot 40.4 percent from 3-point range as a freshman at St. John's. Storr only played 21.1 minutes per game in his first season, but he flashed the scoring ability that the 3rd-worst offense in the Big Ten last season desperately needs.
Of all of the transfers in college basketball this season, Storr might be making the biggest shift in program style. His St. John's team finished 1st nationally in adjusted tempo at 73.3 possessions per game, per KenPom, while Wisconsin finished 337th last year at 63.3 possessions per game.
Storr didn't play a single game during his freshman season as slow as Wisconsin's average pace while Wisconsin never topped 70 possessions all season.
14. Dawson Garcia, Minnesota (6-foot-11, center, junior)
The start of Garcia's college basketball career featured stops at Marquette and North Carolina, but he's finally found his home in Minneapolis.
He was one of Minnesota's few bright spots last season, averaging 15.3 points, 6.7 rebounds and 2.2 assists in 26 starts for Ben Johnson.
Garcia's unique skill set makes him one of the Big Ten's toughest covers. He's 6-foot-11, but a good part of his offensive production comes with his jump shot. He's a career 35.4 percent 3-point shooter. He ranked in the top 25 last season in conference games in 3-point percentage.
He had the 8th highest usage rate in the Big Ten last season, which will likely go up this season following the losses of Jamison Battle and Ta'Lon Cooper. Wins will probably be scarce for Minnesota, but Garcia will again be among the Big Ten's leading scorers and rebounders.
13. Payton Sandfort, Iowa (6-foot-7, guard, junior)
After back-to-back scoreless games last season against Nebraska and Penn State on Dec. 29 and Jan. 1, it was fair to wonder if Sandfort would have much of a role for the Hawkeyes in Big Ten play.
But an 11-point outing against Indiana on Jan. 5 was the start of a turnaround for the Waukee, Iowa native.
Over Iowa's final 19 games, Sandfort scored in double figures ten times, including five games with 20 or more. He shot 39.3 percent on 3s in conference games.
The Big Ten sixth man of the year finished his sophomore season with averages of 10.3 points, 4.1 rebounds and 1.5 assists per game.
With Kris Murray's departure for the NBA, Sandfort will slide into an even more prominent role in the Iowa offense, which is never short of firepower. In Iowa's offseason foreign tour, Sandfort averaged 19 points per game.
12. Keisei Tominaga, Nebraska (6-foot-2, guard, senior)
Keisei Tominaga averaged 17.3 points per game over Nebraska's final 15 games last season. He shot 42 percent from 3-point range on 6.6 attempts per game and, perhaps even more impressively, shot 67 percent on twos despite his small stature.
Everyone knows that Tominaga is a lethally efficient jump shooter – 40 percent from three on 165 attempts last year – but his ability to move without the ball sets his offensive game apart.
Tominaga scores off of dribble handoffs, coming off of screens and is a devastatingly effective cutter and finisher around the rim, knowing how to leverage his shooting gravity to backcut his defender. Tominaga finished 14th in the conference in points per game scored cutting to the basket and all 13 players ahead of him were at least 6-foot-7.
Late-season play can be a flimsy indicator of future success, but Tominaga scored 20 or more points in eight games down the stretch and has shown scoring upside that many other guards in the conference simply haven't.
11. Ace Baldwin, Penn State (6-foot-1, guard, senior)
Baldwin might not be a familiar name to Big Ten fans right now, but it shouldn't take long for him to establish himself as one of the league's best guards.
The 6-foot-1 guard from Baltimore followed coach Mike Rhoades from VCU to State College, which was a major recruiting coup for the Nittany Lions.
Last season's Atlantic 10 player of the year and defensive player of the year, Baldwin was only the fourth player in league history to win both honors in the same season. While Tyson Walker, Boo Buie and Jahmir Young are considered the league's top lead guards entering the season, it won't be a surprise to see Baldwin in the conversation by the season's end.
As a junior for the Rams, he averaged 12.7 points, 5.8 assists (15th nationally) and 2.2 steals (19th nationally) per game.
Many transfers entering the Big Ten in recent seasons have been overwhelmed by moving up a level, but Baldwin has already competed at the highest levels of the sport. He led the Rams to two NCAA tournament appearances in three seasons at VCU.
Filed to: 2023-24 Big Ten preview