Big Ten's top 25 players for 2023-24 season: 20-16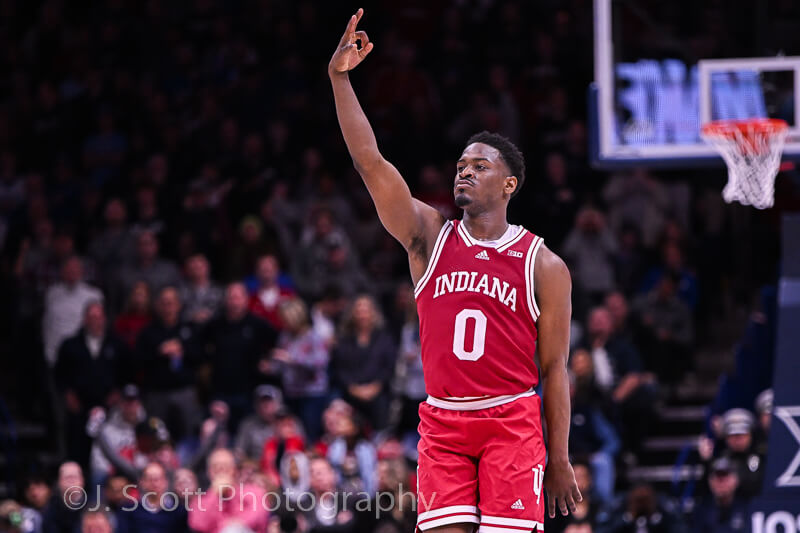 With the official start of practice just a few weeks away, UMHoops and Inside the Hall have once again partnered to bring you our annual preseason breakdown of the top 25 players in the Big Ten.
The series is broken into five parts with one post each day this week. Our second installment of players 20-16 for the 2023-24 season is available below:
Previously: 25-21
20. Jamison Battle, Ohio State (6-foot-7, forward, fifth-year senior)
Battle spent two seasons in Minneapolis before entering the transfer portal last spring.
The 6-foot-7 wing has averaged 14.4 points over 103 games in his career and should bring a veteran presence to a Buckeye roster that desperately needs one. Ohio State has one of the Big Ten's most talented young cores but needed a veteran wing scorer. That's precisely what they got with Battle.
Injuries were an issue last season, but Battle should flourish in a system where he can play more of a complementary role.
His rebounding numbers must improve – he only averaged 3.7 rebounds per game last season – but he's a good bet to average 12 to 14 points a game and shoot 35 percent on 3s.
19. Bruce Thornton, Ohio State (6-foot-2, guard, sophomore)
We're confident that at least one sophomore lead guard will end up as a top-15 Big Ten player by year's end and Thornton feels like the best bet.
Thornton hit the freshman wall at Ohio State but also played his way through it. After shooting 28 percent on twos and 27 percent on threes and averaging just 5.4 points per game in January, he bounced back to average 13.8 points on a 56.3 eFG% to close the season.
He, like McDaniel, needs to grow as a playmaker and facilitator, but he graded out in the 85th percentile as a pick-and-roll scorer and is highly effective at getting to his short pull-up game in the paint.
As Ohio State retools and regroups, Thornton should step into a featured offensive role in a bounce-back year.
18. Jaden Akins, Michigan State (6-foot-4, guard, junior)
It's hard to spend any time watching Jaden Akins without realizing that there's more there. Akins nearly doubled his playing time as a sophomore and averaged 9.8 points, four rebounds and 1.2 assists per game, all while playing somewhat out of position as an undersized wing.
Akins shot 42 percent from 3-point range on 116 attempts and filled that three-and-D role admirably, but the question entering his junior season is whether there's another leap in his game. Is there room for him to blossom into a playmaker and creator beyond his wing role? Or are those reps earmarked for returning guards Tyson Walker and AJ Hoggard?
Despite his athleticism, Akins shot just 41 percent on twos last season and had an assist rate of 8.7 percent. He used just over two ball screen plays per game (41st in the league), well behind AJ Hoggard (11.9) and Tyson Walker (8.1).
If Akins does eat into some of that shot-creation workload, it will be because he earned it, and that's a very good sign for Michigan State. If he doesn't, he might be one of the most luxurious role players in the country.
17. Connor Essegian, Wisconsin (6-foot-4, guard, sophomore)
Ranked just the 225th-best prospect out of high school, Essegian was one of the Big Ten's best freshmen last winter.
After coming off the bench for the first 16 games last season for Greg Gard, Essegian forced his way into the starting lineup as Wisconsin's most efficient backcourt scorer.
In 35 games as a freshman, he averaged 11.7 points and shot close to 36 percent on 3s. That was good enough to earn him All-Freshman honors in the Big Ten. A Wisconsin program looking to return to the NCAA tournament this season would be well served to feature Essegian more heavily in its offense.
The next step for Essegian as a sophomore is to diversify his offensive game.
He shot 88.4 percent from the free throw line, but only took 2.5 free throws per game. While the primary strength of his game is perimeter shooting, getting into the lane and the midrange more frequently will make him a much more complete offensive player.
16. Xavier Johnson, Indiana (6-foot-3, guard, sixth-year senior)
Talent has never been an issue for Johnson, who is now entering his sixth season of college basketball. He began his career at Pittsburgh, where he starred for three seasons, before playing the last two years in Bloomington.
Last season was supposed to be the finale for Johnson, but he suffered a foot injury in a loss at Kansas that ended his season. The NCAA granted him a medical hardship waiver in the offseason and he is now back with the Hoosiers as the starting point guard.
With so much turnover, Mike Woodson will lean heavily on Johnson to orchestrate a new-look IU roster this winter. Before going down with his injury last season, Johnson was in the midst of an efficient season. In 11 games, he averaged 9.9 points, 4.9 assists and 3.3 rebounds while shooting 37 percent on 3s.
Without Trayce Jackson-Davis to anchor the offense, Johnson will have more freedom to look for his own offense this season while also playing the role of primary distributor. His defense is an underrated part of his game and without him in the lineup last season, Indiana took a hit on that end of the floor.
Assuming he's fully healthy from the foot injury – and all indications are that he is – Johnson will begin the season as one of the Big Ten's best point guards.
Filed to: 2023-24 Big Ten preview, Xavier Johnson