Big Ten's top 25 players for 2023-24 season: 25-21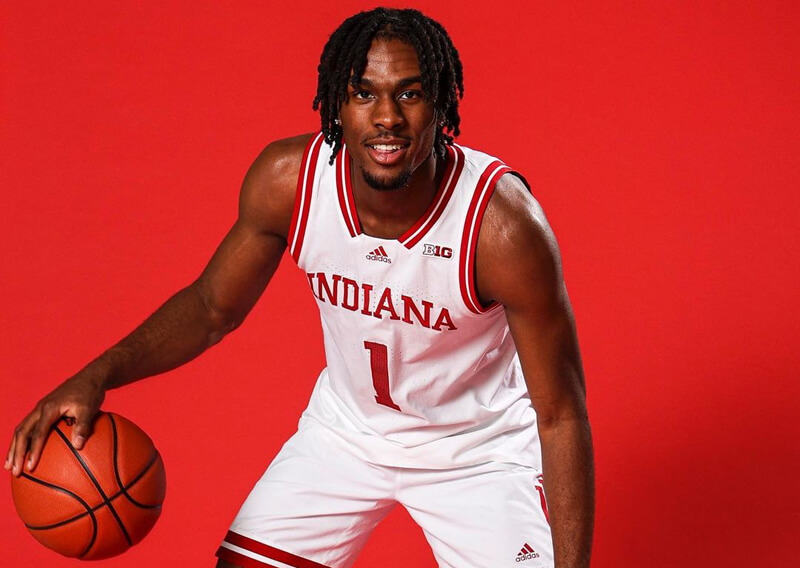 With the official start of practice just a few weeks away, UMHoops and Inside the Hall have once again partnered to bring you our annual preseason breakdown of the top 25 players in the Big Ten.
The series is broken into five parts with one post each day this week. Our first installment of players 25-21 for the 2023-24 season is available below:
Also considered: Julian Reese (Maryland), Patrick McCaffery (Iowa), Malik Hall (Michigan State), DeShawn Harris-Smith (Maryland), Donta Scott (Maryland), Kel'el Ware (Indiana), Chucky Hepburn (Wisconsin), Scotty Middleton (Ohio State), Braden Smith (Purdue)
25. Malik Reneau, Indiana (6-foot-9, forward, sophomore)
A former top-30 recruit from Montverde Academy, Reneau's freshman season with the Hoosiers wasn't filled with opportunity.
With Trayce Jackson-Davis and Race Thompson anchoring the frontcourt, Reneau came off the bench to mixed results. Early in his freshman season, he showed flashes of his talent and potential to make an impact. In an early season win at Xavier, Reneau scored 12 points and grabbed six points in 16 minutes.
But fouls were a major problem and kept his role from expanding as the season progressed. Reneau recorded 6.8 fouls per 40 minutes, according to KenPom, and he had 11 games where he either fouled out or finished with four fouls.
With Jackson-Davis off to the NBA and Thompson's graduation, Reneau should slide into a starting role in a new-look IU frontcourt. His efficiency numbers as a freshman – 56.9 percent on 2s and 71.4 percent from the foul line – were solid. With more minutes and plenty of opportunity to score given what IU lost from its roster, Reneau is a solid bet to break out as a sophomore.
24. Dug McDaniel, Michigan (5-foot-11, guard, sophomore)
Michigan sophomore Dug McDaniel began his freshman year as a change-of-pace reserve only to be thrust into the starting lineup in December when Jaelin Llewellyn tore his ACL.
From that point onward, Michigan couldn't afford to take him off the floor – living with the ups and downs of the freshman point guard. McDaniel played 36 minutes per game once he was inserted into the lineup but the Wolverines fell short of the NCAA Tournament.
McDaniel flashed big-game chops, timely shot making and jitterbug speed, but he'll need to take a significant leap for the Wolverines after the departures of Kobe Bufkin, Jett Howard and Hunter Dickinson.
Michigan runs one of the country's most ball-screen-centric offenses, providing McDaniel with every opportunity to pull the strings.
To make the sophomore leap, he must improve his finishing – 32 percent at the rim last season – and distribution while continuing his hot pull-up shooting. McDaniel finished his freshman year in the 96th percentile as an off-the-dribble jump shooter, per Synergy, shooting 40.4% on dribble attempts for a 49.1 eFG%.
23. Tony Perkins, Iowa (6-foot-4, guard, senior)
Iowa's offense tends to run through the frontcourt. Browse old KenPom pages and you'll find players like Kris Murray, Keegan Murray, Luka Garza, Tyler Cook, Aaron White and Jarrod Uthoff at the top of the usage pecking order. It's been a long time since the Hawkeyes featured a lead guard, but Tony Perkins is a candidate this season.
Perkins took his game to a new level late last year, averaging 15 points, five rebounds and three assists per game over the final 13 games of the 2022-23 season. He had five 20-plus point scoring outbursts in Big Ten play, including 32 points in a home win over Illinois.
The 6-foot-4 guard is relentless attacking in transition with Terrence Shannon Jr. the only returning player in the league to score more points per game on the break. He's a unique guard who scored more points on cuts and putbacks than out of ball screens and isolations last season, but he should be poised for a strong senior campaign in Iowa City.
This is the first time in a few years that Iowa goes into a season without an obvious All-Big Ten First Team talent to feature which means Perkins should have ample opportunity as a senior.
22. Mackenzie Mgbako, Indiana (6-foot-8, forward, freshman)
For the third straight spring, Mike Woodson was able to capitalize on a recruit who reopened the process. In Woodson's first offseason, Tamar Bates pledged to the Hoosiers after being committed to Texas. And in the spring of 2022, Indiana was able to land Reneau after Mike White left Florida for Georgia.
And following the 2022-23 season, Mgbako opted to reopen the recruiting process after signing with Duke. After visiting St. John's, Kansas and IU, Mgbako committed to the Hoosiers and gave Woodson the highest-ranked incoming recruit in the Big Ten.
The likely role for Mgbako as a freshman will be on the wing where he should have ample opportunity to score from all three levels. He's a solid perimeter shooter, excels in the midrange and should have the size and athletic ability to take smaller opponents inside.
If Mgbako performs to his talent level and expectations, his stop in Bloomington will likely last only one year.
21. Fletcher Loyer, Purdue (6-foot-4, guard, sophomore)
Loyer started every game as a freshman and made 59 3-pointers for Purdue, helping the Boilermakers to a No. 1 seed and a Big Ten Championship.
It's tempting to look at Purdue's loss to Farleigh Dickinson and Loyer's 33% 3-point shooting percentage and discredit his production. Still, the reality is that Loyer had a strong freshman year and should only improve as a sophomore.
Zach Edey is still there to draw double teams and free Loyer on the perimeter and even modest improvement in his 3-point accuracy will pay dividends when he could get up close to 200 attempts as a sophomore.
Filed to: 2023-24 Big Ten preview, Mackenzie Mgbako, Malik Reneau