Big Ten's top 25 players for 2023-24 season: 5-1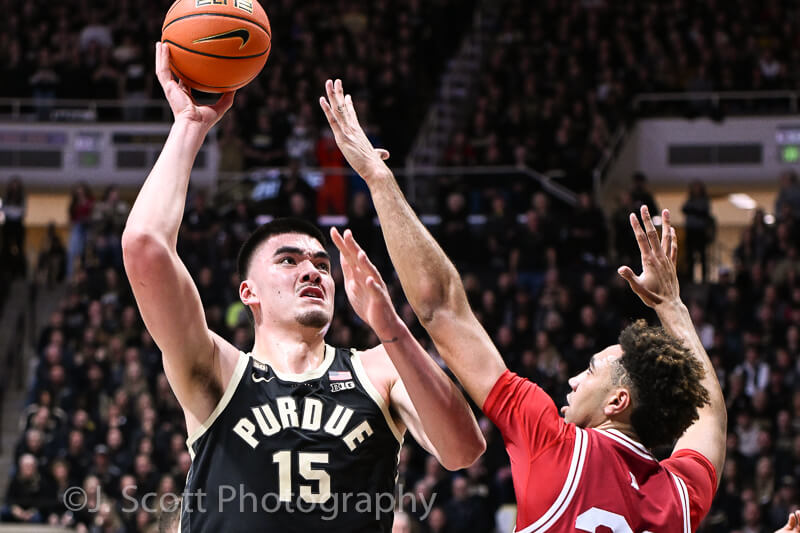 With the official start of practice just a few weeks away, UMHoops and Inside the Hall have once again partnered to bring you our annual preseason breakdown of the top 25 players in the Big Ten.
The series is broken into five parts with one post each day this week. Our fifth and final installment of players 5-1 for the 2023-24 season is available below:
Previously: 25-21, 20-16, 15-11, 10-6
5. Boo Buie, Northwestern (6-foot-2, guard, fifth-year senior)
Buie has seen it all during his four years at Northwestern. The 6-foot-2 guard helped Northwestern to the NCAA tournament and has seen every defensive coverage, taken every shot on the floor and been through all of the highs and lows this sport has to offer. Buie has over 1300 shot attempts in four years and has used at least 24 percent of Northwestern's possessions in each of his collegiate seasons.
There's no reason to think he won't flirt with 30 percent usage again this season, but his chances of ending the year as an All-Big Ten first-teamer hinge on Northwestern's ability to grind out wins in a similar fashion to last season.
Buie hit a career-high in 2-point shooting last year at 46.7 percent but shot just 31.8 percent from 3-point range on 201 attempts. The next step for him individually is matching that volume while making better than 35 percent of his attempts.
4. Jahmir Young, Maryland (6-foot-1, guard, fifth-year senior)
Forecasting an up-transfer to the Big Ten is always tricky, but Young made the transition look easy.
The 6-foot-1 lefty averaged 15.8 points, 4.6 rebounds and 3.1 assists in his first season in College Park and led the Terps to an NCAA tournament appearance in Kevin Willard's first season.
Young knows how to balance facilitating and generating offense for himself. His assist rate ranked in the top ten in the Big Ten, but he can also score from anywhere on the floor. He shot close to 38 percent on 3s in conference play last season, ranked 15th in free throw rate (FTA/FGA) and converted at an 83.2 percent clip from the line.
Defensively, he's one of the better on-ball perimeter pests in the conference. He ranked fifth in league play in steal percentage.
After testing the NBA draft waters, Young is back for a fifth college season and is expected to be the centerpiece on a Maryland roster looking to improve upon last season's eight-seed in March Madness.
3. Tyson Walker, Michigan State (6-foot-1, guard, fifth-year senior)
Walker is one of the best tough-shot makers in the entire country. Per Synergy Sports, he scored .19 points over expected on his half-court shot attempts last year and shot better than 40 percent on off the dribble and catch-and-shoot jump shots.
Walker cut turnovers out of his game last season, with a 21.2 percent turnover rate down to 10.3 percent, and attempted almost twice as many threes as the previous season. He still connected at a 41.5 percent clip from deep, finishing the year 59-of-142 for the year.
If you are shooting over 40 percent from 3-point range, you generally need to shoot more often. That applied to Walker after his junior year, when he made 47.3 percent of 74 attempts, and still applies to him this year after making 41.5 percent of 142 attempts. There's no reason that Walker can't attempt more 3-point shots in his fifth year.
In previous eras, Walker's impressive play in the NCAA tournament would have felt like the bittersweet end for a player who had put everything together in the closing moments of his career. Instead, he'll use his COVID year and lead the Spartans for one more year – one with more preseason expectations than we've seen for a while in East Lansing.
2. Terrence Shannon Jr., Illinois (6-foot-6, guard, fifth-year senior)
It seemed like a foregone conclusion that last season would be Shannon's only campaign in the Big Ten, but the Chicago native is running it back for a fifth season.
As a likely second-round NBA draft pick, Shannon's decision to return to school was likely driven by the NIL deals he secured as one of the best guards in college basketball. And he'll be worth every penny to the Illini.
Shannon was a problem for Big Ten guards to defend last season as he used his size and shiftiness to get to his spots and score or draw fouls. He had the best free throw rate (FTA/FGA) in the Big Ten, an impressive feat in a league featuring Trayce Jackson-Davis and Zach Edey.
His outside shot isn't the most consistent – 32.1 percent last season – but it's good enough to keep defenses honest. As one of the better perimeter defenders in the league and one of the league's premier open-court scorers, improving his shooting consistency is the key for Shannon in his final season.
1. Zach Edey, Purdue (7-foot-4, center, senior)
There's not much more to say about Zach Edey, who racked up 22 KenPom MVPs last year, including the first 11 games of the regular season. Edey is returning for another season despite sweeping every national player of the year honor in 2022-23.
Edey let the nation at 17.4 points per game created out of post-ups and anchored a Purdue defense that allowed the 10th fewest shot attempts per game around the basket.
His size and ability changes the floor dynamic in every game. He demands attention from multiple defenders and helped Purdue finish 1st in the Big Ten in offensive rebounding rate, defensive rebounding rate, free-throw rate and free-throw rate allowed.
Purdue fell short in the NCAA tournament with a shocking upset defeat against Farleigh Dickinson. Still, there's no reason to think Edey shouldn't be the national player of the year frontrunner again this season.
Filed to: 2023-24 Big Ten preview