Big Ten's top 25 players for 2023-24 season: 10-6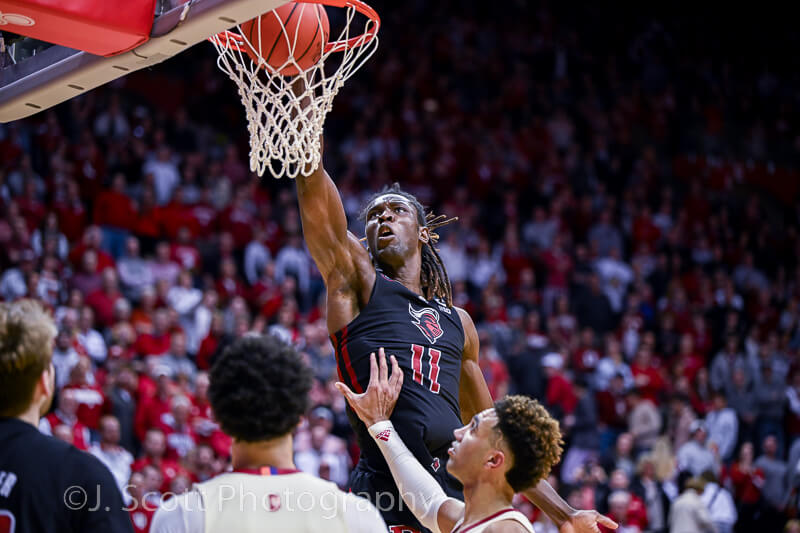 With the official start of practice just a few weeks away, UMHoops and Inside the Hall have once again partnered to bring you our annual preseason breakdown of the top 25 players in the Big Ten.
The series is broken into five parts with one post each day this week. Our fourth installment of players 10-6 for the 2023-24 season is available below:
Previously: 25-21, 20-16, 15-11
10. Zed Key, Ohio State (6-foot-8, center, senior)
Key might be one of the hardest players in the conference to evaluate this season. He looked like one of the breakout players in the country for 13 games last season. He was averaging 13.4 points and 8.4 rebounds in 26 minutes per game, shooting 71 percent on twos and 32 percent on threes.
Four minutes into Ohio State's home loss to Purdue, everything changed. Key injured his shoulder and was never the same player. He tried to play through the pain but wasn't nearly as effective. Ohio State went 1-11 over the next 12 games that Key played; he averaged 8.1 points and 6.6 rebounds while his shooting averages plummeted to 46 percent on twos and 20 percent on threes.
That November and December version of Key is a potential all-league player while the injured version doesn't sniff the list. Ohio State's chances at a bounceback year hinge on Key's ability to get healthy, stay healthy and rediscover that non-conference form.
9. AJ Hoggard, Michigan State (6-foot-4, guard, senior)
A second-team All-Big Ten selection last season by the media, Hoggard returns to a Michigan State roster with major expectations.
As a junior, he ranked sixth in the country in assist rate (38.7 percent) after ranking first in the country in assist rate as a sophomore. He's changed his body considerably since arriving on campus in East Lansing, trimming his body fat and getting into better shape each season.
His 3-point percentage improved by more than 10 percent last season and his free throw percentage improved by more than 17 percent. He was one of the best in the league last season at drawing fouls and then converting from the line. His free throw rate (FTA/FGA) in Big Ten games last year was the third-highest in the conference.
Hoggard also played some of his best basketball to close out the season last March, scoring 25 points in a narrow 98-93 overtime loss to Kansas State in the Sweet Sixteen.
8. Olivier Nkamhoua, Michigan (6-foot-9, forward, fifth-year senior)
This season, Tennessee graduate transfer Olivier Nkamhoua is the highest-rated transfer on our list. The 6-foot-9 power forward tested the NBA draft waters before returning to school and committing to Michigan over West Virginia, Baylor and others.
His upside is evident from 27-point outbursts against Texas and in an NCAA Tournament win over Duke, but he was held to single-digit scoring in 19 games last season in Tennessee's egalitarian system.
With its top three players departing, Michigan is banking on Nkamhoua having more in the tank as a high-usage focal point. He flashed the ability to stretch the floor playing with Finland in the 2023 FIBA World Cup, and Michigan should feature him as a post-up creator at the power forward spot.
Nkamhoua's best games prove he can be one of the best power forwards in the conference, but he needs to produce on a nightly basis to prove it.
7. Coleman Hawkins, Illinois (6-foot-10, forward, senior)
Hawkins is one of the most intriguing talents in the Big Ten, but the 6-foot-10 do-it-all forward hasn't combined all of his talent and versatility to create the finished product that everyone thinks is there.
He can stretch the floor, but he's never shot better than 29 percent from 3-point range for a season. He has uncanny passing ability for a 6-foot-10 forward, but he's posted a turnover rate of over 22 percent in back-to-back seasons.
Hawkins is still one of the most versatile defensive players in the league. His versatility allows Illinois to seamlessly play big (with Hawkins at the four) or small (with Hawkins at the five) without defensive sacrifice.
There's a reason that Hawkins is on the NBA radar and if he can clean up his decision-making and make a few more jump shots, he could prove it.
6. Cliff Omoruyi, Rutgers (6-foot-11, center, senior)
While Trayce Jackson-Davis, Zach Edey and Hunter Dickinson were considered the Big Ten's best frontcourt players last season – and justifiably so – Omoruyi was at the top of the tier just below that trio.
He nearly averaged a double-double as a junior – 13.2 points and 9.6 rebounds per game – and swatted a career-best 2.1 blocks per game.
He was the Big Ten's best shot blocker with a block percentage of 9.4 in league play and also ranked in the top five in offensive and defensive rebounding percentage.
After testing the NBA draft waters, Omoruyi is back in Piscataway for a fourth season, where he'll again anchor the frontline for Steve Pikiell. With Cam Spencer, Paul Mulcahy and Caleb McConnell all gone, Omoruyi's usage should be even higher than the 24 percent from a season ago.
Filed to: 2023-24 Big Ten preview