6-Banner Sunday: Roster and recruiting news, Hoosiers in the pros and more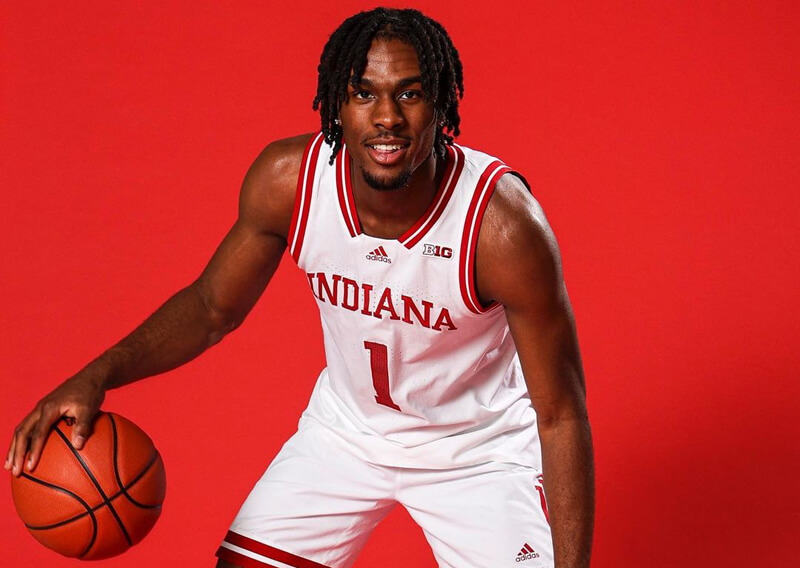 6-Banner Sunday is Inside the Hall's weekly newsletter in partnership with The Assembly Call. Almost 10,000 Indiana fans receive the newsletter each week. In addition to appearing each week on the site, you can also opt to receive 6-Banner Sunday by email. A form to subscribe via email is available at the bottom of this week's 6-Banner Sunday.
Welcome to another edition of 6-Banner Sunday, a joint production between The Assembly Call and Inside the Hall, and presented by our friends at Trueblood Real Estate, where we highlight the five most essential IU basketball stories of the past week, plus take a look at how the other IU sports programs are doing.
No story as big as last week's conference realignment occurred recently. However, the sheer quantity of news was at an unusually high level in Hoosier Nation for an offseason addition.
A few topics regarding both the current roster and potential future recruits take center stage this week. Not to be outdone, though, several recent IU players made headlines as well. Besides this, Inside the Hall continued its series previewing the non-conference contests, tickets are about to be put on sale for one of Indiana's premier early tests, and new Bracketology was released. We will as usual conclude with a look at other Hoosier sports led by the conclusion of women's basketball's trip to Greece.
In a couple of brief nuggets, IU coach Mike Woodson is putting on a basketball clinic in late September and Inside the Hall and Assembly Call had new shows.
• Roster and recruiting news
• Hoosiers in the pros
• Inside the Hall's non-conference preview series
• Auburn game ticket on-sale date
• Updated bracketology
• Hoosier Roundup – Women's basketball concludes Greece trip
Looking for tickets to upcoming Indiana games? Vivid Seats has you covered. Most of the non-conference schedule is already on sale at Vivid Seats and games are being added regularly. Vivid Seats is a full-service provider – with an industry-leading customer service team, reachable by phone or online during extended business hours. (These links are Inside The Hall affiliate links, so a commission will be paid to ITH if you click and make a ticket purchase. We appreciate your support!)
Banner #1 – Roster and recruiting news
A couple of incoming players and some potentially further down the road are making big impressions. The person who turned heads the most was Oregon transfer Kel'el Ware who figures to fill the role vacated by Trayce Jackson-Davis. Ware participated in the Nike Skills Academy most of last week near his former university and impressed with his strong performance. Partly because of this, as well as his vast potential, he is listed as a possible first-round pick in next June's draft along with top-10 newcomer Mackenzie Mgbako. However, this duo is not the only one with high expectations as rising sophomore Malik Reneau appears to be vastly improved from 2022-2023.
While the roster for the upcoming 2023-2024 team is set, the future seasons are more up in the air. While the program is in on many top prospects for 2024-2025, none have committed yet. On3 released updated rankings and several targets continue to be near the top. Liam McNeely and Derik Queen appear to be the ones the Hoosiers have the best chance of eventually getting and they stand at No. 19 and 20 respectively. Other priorities are No. 14 Boogie Fland, No. 23 Tyler Betsey, No. 28 Patrick Ngongba, and No. 47 Jaeden Mustaf. A few other players who IU is still in are No. 1 Dylan Harper, No. 7 Asa Newell, No. 16 Annor Boateng, No. 21 Khani Rooths, No. 29 Austin Swartz, and No. 32 Curtis Givens. Also, in terms of Queen, he appeared on ESPNU this weekend as part of the UA Next Elite 24.
Banner #2 – Hoosiers in the pros
Turning to Hoosiers of the recent past, several items of interest occurred here. Most importantly, Miller Kopp was able to ink a deal with a team in France to begin his pro career.
Of players who donned the Cream and Crimson in 2022-2023 and are now playing professional basketball in America, both Jalen Hood-Schifino and Trayce Jackson-Davis will get to compete in NBA games as early as possible. This is because both Hood Schifino's Los Angeles Lakers and Jackson-Davis' Golden State Warriors will play on Oct. 24 on opening night as part of TNT's nationally televised doubleheader.
Finally, Grace Berger's WNBA time is well underway. Last Tuesday, she had one of her best games of the summer with 14 points against the Los Angeles Sparks. It was just the third time in 26 games she has reached double figures as a rookie. Assembly Call was on site for the strong outing and had a column about her season for subscribers of their Community.
Banner #3 – Inside the Hall's non-conference preview series
Inside the Hall concluded its series previewing IU's non-conference opponents for the upcoming 2023-2024 season. This week North Alabama and Kennesaw State were looked at.
Banner #4 – Auburn game ticket on-sale date
Speaking of the non-conference, one of IU's big contests released more information this week. The four premier showdowns are the Nov. 19 and 20 matchups in New York as part of the Empire Classic (the team will play two of Connecticut, Louisville, and Texas), Auburn on Dec. 9, and hosting Kansas on Dec. 16.
The game against the Tigers is the one that had more details come out. It will be part of Holiday Hoopsgiving in State Farm Arena in Atlanta. Also, tickets will go on sale this coming Tuesday at 11:30 am for those who want to make the trek southward to see the Hoosiers play.
Banner #5 – Updated bracketology
While 2024's March Madness is still a long way away, Joe Lunardi continues to put out early bracketology nonetheless. With all offseason movement now basically over and rosters set, Lunardi released an updated look at where he thinks teams will be seeded.
According to him, IU is barely hanging on to a spot in the field as a No. 10 seed in the Midwest Region. They would face seven-seed Memphis to open NCAA Tournament play in Charlotte. The Hoosiers are one of seven squads from the Big Ten projected in at the moment, led by Michigan State and Purdue being one seeds.
Also, the Jayhawks are on the one line. This means if Lunardi proves correct, Indiana would face three of the four top teams during the 2023-24 campaign.
Banner #6 – Hoosier Roundup – Women's basketball concludes Greece trip
• While the competition ended in Greece, Women's Basketball still had more time on their trip to the Mediterranean country and blogged about it each day.
• Fall camp continues for football and they had a couple more players make preseason watch lists.
• Men's Soccer opened the season at no. 2 in the national polls and defeated Wright State 1-0 in their first exhibition match.
• Baseball is holding tryouts for walk-ons.
Volleyball has started practicing for the fall in anticipation of their season beginning in two weeks.
• Rowing coach Steve Peterson announced a few changes to his staff.
• Field Hockey released themes for each home game this fall.
• The athletic department announced it is switching from StubHub to SeatGeek as its official secondary ticket market provider.
Thanks for your continued support for The Assembly Call and Inside the Hall. We'll be back next weekend with a new roundup.
Now go enjoy yourself a 6-banner Sunday.
Aaron (Ari) Shifron
Assembly Call Contributor
Filed to: