2023-24 Non-conference opponent preview: Kennesaw State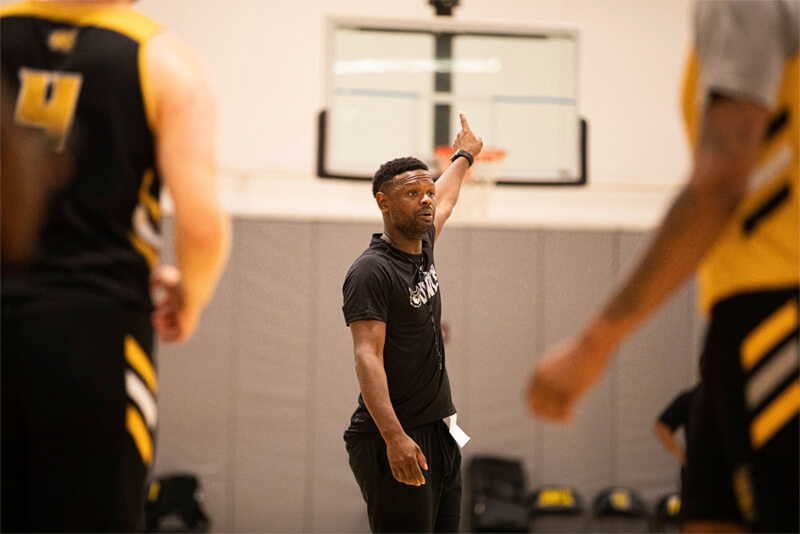 Indiana's 2023-24 non-conference schedule was finalized on June 27 and Inside the Hall will have a team-by-team look at each opponent. Today, the series concludes with Kennesaw State.
When Indiana took on Kennesaw State in December of 2022, the Owls were coming off arguably their most successful season as a Division I basketball program. They had posted 13 wins – more than the three previous seasons combined – won in the first round of the ASUN Tournament and head coach Amir Abdur-Rahim had just accepted a contract extension through 2026-27.
The contest between the two teams was more highly contested than most expected, with the Hoosiers narrowly prevailing 69-55. In the previous two matchups between the two teams, Indiana scored at least 90 points and won by over 20 points.
When the Owls travel to Simon Skjodt Assembly Hall for another late-December matchup, they will once again be coming in after posting their most successful season in program history. After going 26-9 and 15-3 in ASUN play and winning their first-ever ASUN championship, the Owls reached the NCAA tournament for the first time. They lost in the first round to Xavier, but finished ranked No. 115 in the country by Bart Torvik, largely surpassing expectations.
However, the 2023-24 Kennesaw State team will look significantly different than last year. Abdur-Rahim, after being named 2023 ASUN coach of the year, was hired as the head coach at the University of South Florida at the end of March. He is replaced by Antoine Pettway, an assistant coach at Alabama from 2008-2023. It is Pettway's first head coaching job.
Abdur-Rahim also took Kennesaw State's top three performers with him to USF in Chris Youngblood, Brandon Stroud and Kasen Jennings, which will drastically change the Owls' approach on the court. Youngblood, who was named first-team All-ASUN in 2023, led the Owls with 14.7 points per game and a total of 81 3-pointers, shooting at a 41.5 percent clip from beyond the arc. Stroud averaged 9.2 points per game, led the team with 6.7 rebounds per game and was second in steals with 50. Jennings averaged 6.2 points per game and appeared in 33 games; Youngblood and Stroud played in all 35 games.
While Kennesaw State will be without a great deal of talent, stability and seniority — all three players were entering their senior seasons — Pettway and his team won't be without hope. The only other Owl to start in every game last season, guard Terrell Burden, is returning for his fifth year. The Georgia native was named second-team All-ASUN and earned ASUN tournament MVP. Burden averaged 13.5 points per game for second-best on the team and led the Owls in steals with 57 and assists with 144 (4.1 per game).
Fellow fifth-year Demond Robinson will join Burden as the "veterans" on the squad. Robinson, a 6-foot-8 guard, was third on the team with 11 points per game, shot 54.1 percent from the floor and led the team with 31 blocks for fourth-best in the ASUN.
Three transfers and four freshmen will make up the new faces on the Kennesaw State bench, who come together as the No. 94 class in the nation, per 247Sports. Pettway hit the ground running and took after Abdur-Rahim, in a way, in bringing an Alabama player with him. Guard Jusuan Holt, who was recruited by Pettway and played for the Crimson Tide in 2021-22, transferred to Georgia for the 2022-23 season before committing to Kennesaw State for the upcoming season. As a Bulldog, the defensive-minded 6-foot-7 guard posted 3.2 points and 3.3 rebounds per game while recording 31 steals and 11 blocks in 31 games.
Jamel King, a 6-foot-7 forward from West Virginia University, and Rongie Gordon, a 6–foot-8 forward out of the University of Alabama at Birmingham, are the two other transfers on the Owls roster. All three transfers are expected to make immediate impacts.
RJ Johnson, who Pettway also recruited during his time at Alabama, will join the Owls for his freshman year. The three-star combo guard had offers from schools like Alabama and Georgia, as did his future teammate and fellow three-star Chase Clemmons. The point guard had offers from Nebraska, Georgia and Houston, but ultimately chose Kennesaw State.
The 2023-24 season will be one of learning and adjustments for the Owls as a program, with a first-year head coach at the helm. But with a roster made up primarily of experienced upperclassmen and some highly touted new faces, the Owls could very well put up another highly successful season. Bart Torvik has them ranked at No. 142 in the nation entering the season for third in the ASUN.
Filed to: Kennesaw State Owls