6-Banner Sunday: Roster movement heats up with offseason in full swing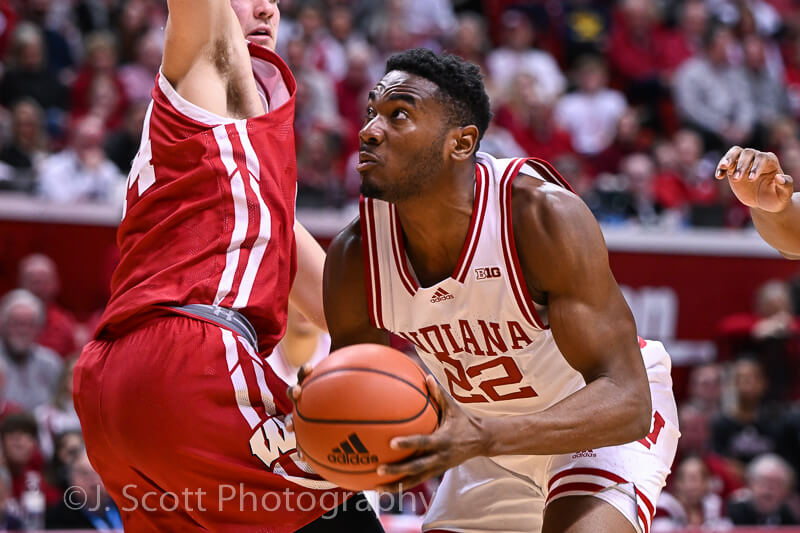 6-Banner Sunday is Inside the Hall's weekly newsletter in partnership with The Assembly Call. More than 9,000 Indiana fans receive the newsletter each week. In addition to appearing each week on the site, you can also opt to receive 6-Banner Sunday by email. A form to subscribe via email is available at the bottom of this week's 6-Banner Sunday.
Welcome to another edition of 6-Banner Sunday, a joint production between The Assembly Call and Inside the Hall, and presented by our friends at Trueblood Real Estate, where we highlight the five most essential IU basketball stories of the past week, plus take a look at how the other IU sports programs are doing.
With basketball now over on the court in Bloomington, the offseason is in full swing. With the transfer portal and lots of roster turnover, both Indiana squads generated a lot of news this week regarding who will be on the team in 2023-2024.
While looking ahead is the primary story of the last few days, the past and present also generated headlines. This is because the 2022-2023 Hoosiers won multiple awards and this weekend's Final Four generated some exciting results. Also, Assembly Call had new shows and we will as usual conclude with other IU sports led by softball's record winning streak.
• Men's team roster updates
• Women's team roster updates
• National postseason awards include several Hoosiers
• Final Four results
• Assembly Call shows
• Hoosier Roundup
Banner #1 – Men's team roster updates
No one in Hoosier Nation generated more headlines than the men's basketball squad who had multiple roster announcements in regards to 2023-2024. In terms of subtractions, as expected Jaylen Hood-Schifino announced he is entering the NBA draft and will forgo his final three years of eligibility. He will join Trayce Jackson-Davis as the two IU players likely to hear their names called in June.
Also, Tamar Bates and Jordon Geronimo announced they will be departing and going into the transfer portal. While the portal can take away, it can also give the team new players. Payton Sparks announced he is joining the squad for 2023-2024 from Ball State and more may join him later. At this moment the Hoosiers have nine players projected on scholarship for next season. As a result, they can add up to four more additions via transfers or a late signing.
Also, Inside the Hall has a list of who is coming and going in the Big Ten as of this moment.
Banner #2 – Women's team roster updates
While the roster for the men's squad remains very much in flux, the women will return almost the same cast of players that led them to their record-breaking season in 2022-2023. Program legend Grace Berger is out of eligibility and will enter the WNBA draft. Besides Berger though, every major contributor is back for 2023-2024 and the Hoosiers should once again contend for a Big Ten and National Championship. A couple of players at the back of the roster did enter the transfer portal in Mona Zaric and Kiandra Browne. They join Kaitlin Peterson in the portal who left mid-season.
The Hoosiers may look to add a couple of bodies for next year in the portal. However, for the most part, they will almost certainly roll it back with the elite lineup (minus Berger) that took the court for the final time a couple of weeks ago. This includes Yarden Garzon, Mackenzie Holmes, Chloe Moore-McNeil, Sydney Parrish, and Sara Scalia starting. They will be joined off the bench by rising sophomores Lexus Bargesser, Lily Meister, and Henna Sandvik. Also, two highly-ranked freshmen in Lenee Beaumont and Jules LaMendola will come on board.
Banner #3 – National postseason awards include several Hoosiers
While the rosters for next season are still being set, 2022-2023 was very much a success despite the earlier-than-anticipated exits in the NCAA tournament. As a result, several noteworthy awards were won by the Hoosiers.
First and foremost Jackson-Davis received multiple accolades in his final go-round with IU. However, the biggest honor of all may have gone to Teri Moren who was named National Coach Of The Year by the AP along with other acknowledgments. Berger and Holmes also received recognition.
Banner #4 – Final Four results
While the Hoosiers are out, the tournament continues. First off, in arguably the most hyped women's basketball matchup of all time, Caitlyn Clark and Iowa upset previously undefeated South Carolina and Aliyah Boston. The Hawkeyes will take on LSU as they look to become just the second women's Big Ten team in the NCAA era to cut down the nets. Should Iowa finish the job (3:30 pm today on ABC), they will join 1999 Purdue as champions from the same league IU plays in. The 2000 Michigan State men's squad won March Madness and is the last one do to so from the conference.
On the men's side, it was a heartbreaking end for former IU manager Dusty May as Florida Atlantic lost at the buzzer to San Diego State ending their Cinderella run. UConn crushed Miami to take the other spot in the national championship. The Aztecs will look to be the first true mid-major program to win it all since fellow Mountain West opposition UNLV did it in 1990. Meanwhile, the Huskies will try to match Indiana and Duke with five rings. Connecticut has won every one of its titles since 1999.
Banner #5 – Assembly Call shows
Assembly Call had several shows this week. This included an emergency episode following Sparks' commitment as well as their normal AC Radio on Thursday. Meanwhile, Doing The Work was also on the air to wrap up the women's season.
Banner #6 – Hoosier Roundup
• Softball continued its record winning as they set the program mark for most victories in a row at 19 following triumphs over Maryland, Butler, Purdue, and Ohio State. The team is now 26-9 and 6-0 in the Big Ten and is in position for their first NCAA tournament since 2011 should they continue at this level or close to it.
• Baseball finally suffered a defeat to Penn State on Saturday to end their recent hot streak. Before this, they knocked off Ohio State and Kent State and currently sit at 18-8. With an RPI of 35, they are also in the discussion for a spot in the NCAA tournament for the first time since 2019 if they can carry on as they currently are.
• Water Polo defeated Arizona State.
• Women's Tennis lost to Penn State and Nebraska.
• Men's Tennis fell to Northwestern.
• Track and Field took part in the Pepsi Florida Relays.
• Men's Golf competed at the Don Benbow Invitational.
• Football set its spring event for April 15.
• Field Hockey signed a recruit and transfer as well as naming team captains.
Thanks for your continued support for The Assembly Call and Inside the Hall. We'll be back next weekend with a new roundup.
Now go enjoy yourself a 6-banner Sunday.
Aaron (Ari) Shifron
Assembly Call Contributor
Filed to: