Q & A: Andrew Martin of Midwest Basketball Club talks Payton Sparks and his fit at Indiana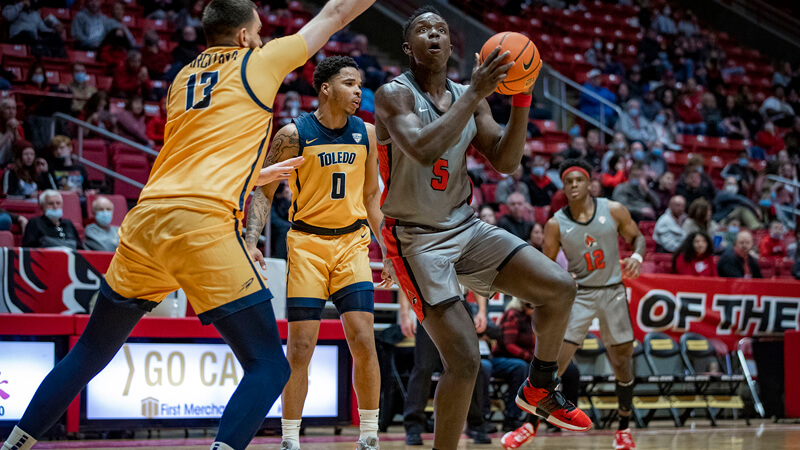 Andrew Martin of Midwest Basketball Club is as familiar as anyone with Ball State transfer Payton Sparks, who committed to Indiana on Wednesday morning.
Inside the Hall spoke with Martin about the potential impact of Sparks on the IU program, his growth and development and more.
Our full Q & A is available below:
ITH: From a basketball perspective, what stands out about Payton, and what can he potentially bring to Indiana?
Andrew Martin: "The dude is tough as nails, man. He's probably one of the nicer kids that you'll ever get to meet just in person. But I don't know what happens when he steps in between the lines, he just turns into a different dude. He plays with a lot of passion, energy. Obviously you can tell by his stats. He's 13 and 9. A lot of that, things weren't run through him on the offensive side. As long as they're winning games, he's happy.
"He just fights. If you look at the analytics, he had an absurd free throw rate. The dude is a hard guard in general. He's a low post presence and he's just tough to guard. If you get him one-on-one, it's probably going to be a bucket. He just competes and wants to win. I think he brings that toughness. I think the culture at Indiana has changed and I think he fits right in with doing whatever it takes to win.
What do you think it was about this opportunity at Indiana that intrigued him? 
"It was the opportunity to compete. He bet on himself. I'm proud of the kid. He had two great years in the MAC at Ball State. Freshman of the year and then he was second team All-MAC as a sophomore. He wanted the challenge. And that's where I commend him. He's like, 'hey, I want to play at the highest level I can play at.'
"And with Indiana losing Race (Thompson) and Trayce (Jackson-Davis), that frontcourt opened up a little bit. You've still got Malik (Reneau), but there's a lot of opportunity there for minutes. And he's betting on himself to compete and hopefully win the job and be the best player he can be. When Clif (Marshall) gets his hands on the kid, I think he's going to be a different beast. He's a big dude."
What has it been like to watch his growth as a player from when you first met him until now?
"It's been pretty special. We keep tabs on all of our guys. The cool thing now is with ESPN+, you can turn it on and watch any of your guys play, which is pretty neat. Just being to watch Payton play and compete, it's been fun. With him, he still plays the same way he did in high school. He plays a little bully ball, but he competes his tail off. He rebounds everything and wants to win. It's just exciting to be a part of that and watch him grow. We've got a good relationship with the family and Payton and helping him through this process was pretty neat."
What was the amount of interest he had in the transfer portal?
"I told him going in, 'you are going to have a busy day and a busy week when it comes out that you are in the portal.' He had everybody calling. Butler, Ohio State, Virginia, Arkansas, Oklahoma, Iowa State, Seton Hall, Dayton, the list goes on and on. The fact that Indiana called was a pretty special one for him. It was a dream. Obviously being an Indiana kid in the middle of nowhere in Winchester, Indiana… Indiana is a pretty cool opportunity for him. Not many kids get to live out their dream. We're proud of him for sure."
How many years did you work with him at Midwest Basketball Club?
"It was a weird dynamic. It was the COVID year. One of our adidas coaches saw him at a Crossroads event and said, 'hey, we gotta get this kid. This kid is really good. Great kid, great family.' And we built a relationship, but then COVID happened. So that AAU season, we were only able to play one or two events. We played over in Indiana because they were open at the time. You could tell then, he was just a beast out there. He played a bunch of top 100 guys and had a game with 20 and 15. He just always competes.
"I truly believe that if COVID didn't happen, he probably would have been at the power six level. But with that and the coaches not being able to see him… he was kind of a late bloomer. But he had a ton of offers out of high school. A lot of mid-majors. But the coaches never got to see him live, really. He was kind of a diamond in the rough. I told him, if he stayed at Ball State, he'd probably be a player of the year in the MAC by the end of his career. And sure enough, he's freshman of the year in the MAC and second year, he's second team. But the thing that he's always wanted to do is challenge himself. And that's been pretty awesome. He can play with anybody in the country and he's going to show it. We're excited to see his journey continue."
(Photo credit: Ball State Athletics)
Filed to: Payton Sparks